New house hunters searching for inexpensive homes may be the key to resuscitating the ailing housing market.
Sales of homes priced less than $100,000 are up 25 percent from just a year ago, whereas all other housing price ranges are down, according to the National Association of Realtors.
"It's very important for me to own a house, so I can provide for my family," said Carlos Canjura, a first-time home buyer who recently purchased a new residence along with his family in Independence, Mo., for $95,000.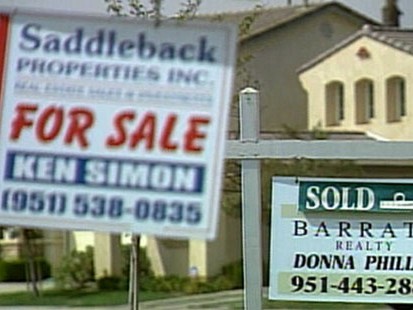 Cheaper Homes Are Hot Buys
And houses on the auction block for less than $50,000 are even hotter, with their sales a whopping 48 percent higher than a year ago.
"Good Morning America" took a look at the most viewed homes for less than $100,000 on real estate Web siteZillow.com to see what can be bought at the bargain basement prices.
There were properties like a beautifully landscaped three-bedroom home in Akron, Ohio, available for $87,000 and a cabin-like house in Westwood, Calif., that is surrounded by million-dollar homes priced at just $90,000.
In Jacksonville, Fla., there was a newly-renovated house on a river with a brand new front porch for $60,000, and a $49,000 house in a walkable Minneapolis neighborhood offers three bedrooms with hardwood floors.
And in Glendale, Ariz. , $41,000 will get you a four-bedroom, two bathroom house with a pool and waterfall
"I think it's a great opportunity to buy a home if people stay within their budget," said National Association of Realtors chief economics Lawrence Yun.
Foreclosure Spur Home Sales
Many of these homes across the nation are inexpensive because of foreclosures.
The National Association of Realtors says 40 to 50 percent of the homes on the market are either properties that have been foreclosed on or short sales that are being sold for a loss because the owners can't make the payments.
Canjura managed to buy his home through an innovative program that advances people the government's $8,000 first-time home buyer tax credit to use for their down payment.
"This has really helped a lot of individuals kind of jump off the fence and become home owners," said Greg Spurgeon, director of Missouri Housing Development Commission.
The Tax Credit Advance Loan Program came just in time for the Canjuras, who are expecting their third child soon. And the surge in low-priced sales comes just in time for the economy.
While sales of houses in all price ranges more than $100,000 are down from last year, there's hope for higher-priced homes too because when somebody buys a $100,000 home, often the sellers trade up to something more expensive. That stimulates the entire chain.
Click here for more information the government's $8,000 tax credit.