South Carolina's first lady, Jenny Sanford, turned to her friends for support after news broke of her husband's extramarital affair with a woman in Argentina.
According to family friends Lalla Lee and Chip Campsen, Jenny Sanford is concerned primarily with protecting her sons and repairing her marriage.
"Jenny's perfectly justified, by any standard, of just filing for divorce and saying, 'I've had it with you and I'm taking the boys and I'm taking assets and I'm out of here.' She's perfectly justified in doing that. But she also should not be criticized if she has a desire to forgive if there is repentance, to reconcile that family because of the importance of that particular family," Chip Campsen said.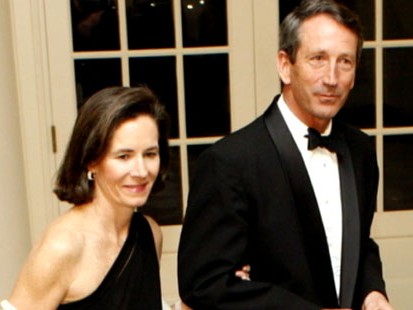 The relationship between the Campsens and the Sanfords began 30 years ago when Chip Campsen and Mark Sanford became friends when the latter was in high school.
"I met Jenny when Mark married her in '89 I think it was and moved to Charleston," Chip Campsen said.
"We were the first couple to actually have them to our house over to dinner, according to Jenny," Lalla Lee Campsen said.
The Campsens have served as close confidants as Jenny Sanford tries to navigate her way through one of the year's biggest political scandals.
While her husband has faced criticism, Jenny Sanford has received accolades for the way she has handled the public scrutiny of her marriage and her husband's affair.
In a statement released Thursday she said she was open to forgiving her husband for his "inexcusable" actions.
"Trust has been broken and will need to be rebuilt. Mark will need to earn back that trust, first and foremost with his family, and also with the people of South Carolina," the statement said. "The real issue now is one of forgiveness. I am willing to forgive Mark for his actions."
Friends said Jenny Sanford has relied on her strong faith to help her cope during this difficult time.
"Her strength is in her faith and, as she said, the Lord. And daily, she has turned to him," Lalla Lee Campsen said. "She has relied upon a verse that she has shared with me in Romans that says, 'Rejoice in hope, be patient in tribulation, be constant in prayer.' And that has been a reflection of Jenny throughout these past weeks and months — that she has kept her eyes focused on the principles and values to which she dearly holds — and she has stayed strong and firm, and because of that, she has not been shaken."
Learning the Truth About the Affair
When Mark Sanford went missing, it ignited a media firestorm about his whereabouts, which culminated in his admission of an extramarital affair.
Lalla Lee and Chip Campsen said Jenny Sanford learned of her husband's whereabouts the same way everyone else did — the governor's now infamous press conference.
Initially, Jenny Sanford wasn't worried when her husband went missing.
"She really was not concerned for his well-being from the standpoint that they had agreed to separate for a period of time," Lalla Lee Campsen said. "She knew — or she felt — that he was OK wherever he was. She did not know his whereabouts. They had not spoken for some time."
What Jenny Sanford didn't anticipate was that her husband was in Argentina meeting with his mistress.
"They had had a discussion about that trip, and she had told him that she did not want him to go there," Lalla Lee Campsen said. "She had no idea he was there."
When Mark Sanford finally revealed where he had been during his six-day absence, Jenny Sanford was noticeably absent at the hastily scheduled press conference.
Unlike other scorned political spouses before her, Jenny Sanford didn't stand alongside her cheating husband as he admitted his affair to the media.
Jenny Sanford Handles the Publicity
Lalla Lee Campsen said she doesn't know if Jenny Sanford made the decision not to attend.
"I don't know if she was asked to go or not, but knowing what I know of Jenny, I don't believe she would have been there had she been given the choice," she said.
"She would not, in my opinion — if given that choice — because she's strong, and she's not going to stand by and condone that behavior or appear that she's doing so," Chip Campsen said.
The Campsens were with Jenny Sanford as she watched her husband admit the details of his deception.
"It was a very painful time for her, even though she was aware — as the public became aware of where he'd been," Lalla Lee Campsen said. "It truly was a day filled with sadness and grief, but it was also a day filled with love and support and hope.
"Jenny has held onto hope and she has four huge reasons to hold onto hope and her four sons -- and she realizes, if at all possible, reconciliation would be the best for her and for the future generations of her family," she said.
The Possibility of Reconciliation for the Sanfords
While Jenny Sanford has stated her desire to try and revive her broken marriage, her husband has also been vocal about his feelings.
Gov. Sanford said his mistress was his soul mate, but that he would try to fall in love again with his wife of 20 years.
The philandering politician's statements haven't won him any bonus points with South Carolina residents, some of whom are calling for his resignation.
The Campsens didn't say how Jenny Sanford felt about the revelation, but did have view on it themselves.
"My reaction is that I was very disappointed in that and that certainly did not help matters," Chip Campsen said. "I often use the analogy that a marriage is like a boat. And either you're pumping water into the boat or you're pumping water out of the boat. He needed to be pumping water out of the boat and not in it."
What's Next for the Sanfords?
The governor's statement wasn't a game changer for the Sanfords' marriage, but it did put additional strain on the tense situation, Chip Campsen said.
The Campsens said for the marriage to be saved, there must be forgiveness and reconciliation.
"I think actually she said she's willing to forgive Mark and work toward reconciliation," Lalla Lee Campsen said. "But reconciliation really takes humility on the part of Mark and of others and a desire — as we know, it takes two to tango. And she's willing to put forth effort. She married Mark for better or worse and this is the worst. And she took that commitment very seriously."