The LoPilato family is on a mission. The Brookline, N.H., family of four wanted to spend its summer vacation at Disney World in Florida, but also wanted to do it inexpensively.
Matriarch Lynne LoPilato is a part-time psycho-therapist and her husband Peter works full-time at a pharmaceutical company. Already he's survived a couple of layoffs.
"Thankfully, Peter is still working, which is good because you never know what might happen," said Lynne, who, with Peter, has two kids, Bryanna and Gulianna.
So, a reasonable budget was top priority when the family started planning its adventure to the Sunshine State.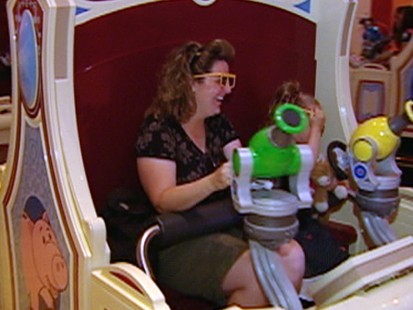 "It was going to cost us about $4,500. So then, when we got the camper, we go, 'Why don't we drive down to Disney and stay at the campground?'" Peter said.
That decision cut the vacation cost by more than half and gave the LoPilatos more time. Instead of $4,500 for one week, which did not include airfare for the family of four, the price became $2,000 for 12 days.
"It's huge, it's huge savings," Lynne said.
By using the camper they own, they were able to keep costs low, spending $350 on gas and no money on a hotel.
Their next stop was AAA. There, Lynne saved more money by using AAA's travel agency to book their campsites, buy park tickets, and get free tour books and maps.
The LoPilatos also were able to save money by heading to the grocery store to pick up the perishables. Lynne's preplanned list helps her save money.
"You get excited about going, and it's easy to forget things and if you forget things, then that means that you have to buy it on your way," Lynne said.
The grand total was only $123 at the supermarket to supplement what the LoPilatos brought from their home pantry and freezer.
After packing up the camper, the LoPilato family adventure began.
Peter drove the entire 1,400-mile trip himself with two overnight sleeping stops, one in Maryland and one in South Carolina.
Only a small tire issue delayed them from getting to their destination on schedule.
But once inside the Magic Kingdom, Bryanna and Gulianna were all smiles as they met some of the famous characters and donned cool glasses.
The family also only used cash to avoid spending too much money. The LoPilatos said when people charge things on a credit card, they tend to forget about them until they come home to an enormous bill.
The special moments that the LoPilato family shared would not have been possible without some research and planning.
"I think family vacations are important. If you plan ahead you can get the good deals. There are deals that can save you a lot of money," Peter said.
How to save on Your Summer Travel
AAA national public relations managing director Yolanda Cade has additional tips on how any family can save big bucks on vacations.
"Travel is really on sale this summer," Cade said.
Tip No. 1: Plan early.
If you've already taken your vacation this year, now is the best time to start planning for next year.
"You are actually going to get a better rate by booking early and not waiting until the last minute," Cade said.
Tip No. 2: Plan your gas stops by using the fuel cost calculator.
This way you can find out your total gas cost as well as plan your stops along the way.
Tip No. 3: Pack lightly.
"Pack only what you need and you also want to avoid putting items on the top of your car," Cade said. "This also helps to increase the fuel efficiency of your vehicle."
AAA's Tips for Summer Travel
The following travel advice was provided by AAA. Click here to visit their Web site.
Saving money when vacationing is not just about finding deals and discounts. It is about getting maximum value for your money, while taking the trip you really wanted.
Before You Travel
Think about what you really want from a vacation: Seeing the sites along the way? Getting there quickly and then relaxing? Engaging with family and friends? Spending some time alone?
Four people sharing the expense of a car and hotel rooms can travel for less money than two, but sometimes getting quickly to a distant destination is well-worth the cost of airline tickets. Time spent alone or with one special person can be as priceless to some as spending time with extended family and friends is to others. Make plans accordingly.
By focusing on your most important vacation goals you can avoid wasting time and money on aspects of a trip that don't really satisfy your needs. Getting what you want for what you spend is the key to saving money on your vacation.
Establish a budget: Determine how much you are willing to spend on a vacation including transportation, accommodations, food and entertainment. Know whether you are going to pay cash for your entire trip, if you will finance part of the trip and set spending guidelines for yourself. Finance charges add to vacation costs, try to avoid them. If you do need to finance part of your trip use a credit card with a low rate of interest or one that offers travel benefits or fuel price rebates.
It is a great idea to establish a vacation savings account similar to the accounts many people establish for holiday gift giving. By saving money every month toward your vacation goals you will be able to travel to places you really want to go without worrying about the cost while you are there.
Determine how long you will be away from home: Every extra day adds to the cost of a trip, but taking a trip that is too short can be expensive too. Why waste money on a trip that leaves you stressed out and tired, or with a sense of missed opportunities and too little time away from it all. It's better to take the days you need to refresh and recharge, than spend money without accomplishing your vacation goals.
Be flexible on travel dates: The costs of visiting a destination can vary greatly based on when you travel. To increase savings select two to three possible travel dates and check prices before booking. For lower prices avoid traveling during special events. These can include holidays, sporting events, conventions, graduations, festivals, etc. During peak travel season demand is typically high and fewer savings are available. If your dates are flexible, research your destination and seasons that offer more bargains. Travel in the off and shoulder season. The costs savings can be great and you will have the added bonus of fewer crowds at area attractions.
Select several destinations: Select at least three destinations that you would like to visit and compare costs online or with a travel agent , of getting to and visiting each destination. By being flexible, you can take advantage of seasonal cost differences and special promotions.
Think big: Touring all of the western National Parks, the maritime provinces of Canada or all of Disney's parks in Orlando may be out of reach this year, but in year or two it could be attainable. Go ahead and take the trip you can afford now, but fix a year and date for taking your "ultimate dream trip" whether it is on the road, a cruise ship or overseas. A great vacation is an investment in memories that will last a lifetime. For many, the return on money invested in a dream trip is extremely high.
When It Comes to Money
Establish a budget: Determine how much you are willing to spend on a vacation including transportation, accommodations, food and entertainment. Know whether you are going to pay cash for your entire trip, if you will finance part of the trip and set spending guidelines for yourself. Finance charges add to vacation costs, try to avoid them.
It is a great idea to establish a vacation savings account similar to the accounts many people establish for holiday gift giving. By saving money every month toward your vacation goals you will be able to travel to places you really want to go without worrying about the cost while you are there.
Book early: You know where you want to go and how much time and money you have. Although last minute discounts can be found, typically the best bargains and availability are accessible to those who book three to 12 months in advance. AAA.com features a variety of discount packages every day. Ask about the property's cancellation policy at the time of booking and consider trip interruption insurance if your trip is especially expensive or your personal schedule could suddenly change.
Last minute shoppers have a limited selection to choose from. Unlike retail store purchases, you can't return your vacation if you buy the wrong one when pressed for time.
Take advantage of free planning tools: AAA offers free TourBook travel guides and maps to members, but many of AAA's online travel planning tools are available to everyone at AAA.com. You can also write to most tourist boards in advance for free brochures and coupons and you can also find many brochures and information at your travel agent's office. Travel information is available online and your local library may have other guides available.
Use a travel agency: If you are planning a complex itinerary or an especially expensive one visit a travel agent. A qualified travel agent, such as your AAA travel agent, works directly with travel providers and will be better equipped to negotiate discounts for you and advise you on other savings or benefits that may be available. Purchasing travel as part of a package may also provide special savings and benefits not available anywhere else; such as AAA's Disney vacation packages.
Visit mid-week or on the weekend: In many markets hotel rates tend to be more expensive during the middle of the week because of business travel schedules. In other areas popular with leisure travelers, rates may be more expensive on the weekends because demand for rooms is higher at that time. Know the difference in the area you plan to visit.
Find lodging that suits your needs and budgets: Lodgings vary greatly by costs and amenities. Most destinations have properties that range from budget to deluxe. AAA TourBook® listings, also available at AAA.com, include Diamond Ratings for more than 58,000 AAA Approved® restaurants and lodgings. All properties are rated on a scale of One to Five Diamonds allowing travelers to easily identify properties that fit their needs and budgets.
Take advantage of discounts: AAA members who visit AAA.com to book a hotel room are more likely to find a better rate there than on other leading Web sites, according to a recent survey. In a review of several online travel booking sites, AAA.com offered AAA members the best publicly-available rate on partner hotels 67 percent of the time.
Use frequent guest points: Join frequent guest programs for several hotel chains. After you have accumulated enough points in one of the programs you can trade them in for a free night, or perhaps a deeply discounted room price. At check-out remember to make sure your account is being credited for your stay.
On the Road
Rent or take your own vehicle? Depending on the number of people in your party and the age, size and fuel economy of the vehicle you own, it may make sense to rent a vehicle for your trip. This is because you may be more comfortable in a larger vehicle, get better fuel economy on a smaller vehicle or be more confident driving a newer car. AAA estimates the full cost of owning and operating a typical new car at 54 cents per mile, including depreciation and gasoline. That means driving 100 miles per day costs about $50. If you decide to rent look for discounts such as those available to AAA members through Hertz.
If you take your own vehicle, have it inspected by a professional technician, and tell them to pay special attention to safety items and factors affecting fuel economy. There are few things worse and potentially more expensive than experiencing a roadside breakdown during a trip. Have your vehicle serviced at a AAA Approved Repair shop and make sure you have access to road service in case you need it. AAA inspects and certifies repair shops as a public service. You can find a AAA approved shop at AAA.com. A fully-maintained vehicle will save on fuel expenses.
To get better fuel economy, minimize weight: Pack only what you really need and keep luggage secured inside the vehicle rather than strapped on the roof where it will create wind resistance. Bags that are loose inside the passenger compartment can become an airborne hazard in a crash, so put them in the trunk or secure them with a cargo net, bungee cords or other fasteners.
Get up-to-date accurate maps and routing information in advance: AAA maps and detailed TripTik routings are available free to members at your local AAA office. Alternatively, anyone can create and print their own routing on the newly enhanced TripTik Travel Planner on AAA.com. Plan routes so you can travel at constant speeds and avoid congestion to save fuel. Also avoid two-lane roads with lots of stop signs and traffic signals unless you are taking a scenic drive. If you are taking the scenic route, take maximum advantage of free and low-cost points of interest along the way either by watching for informative road signs, or by consulting maps and tour guides. Avoid toll roads too, unless travel time is more important than expense.
Consider taking a GPS Navigation device with you to avoid getting lost and to make driving in unfamiliar areas easier. It may be a portable or handheld device such as a Magellan unit, or you may be able to turn your GPS-capable cell phone into a navigation system by downloading a program such as AAA Mobile®Navigator. Both Magellan and AAA Mobile Navigator offer turn-by-turn directions, as well as information on AAA Approved lodging and restaurants, Points-of-interest, Show Your Card & Save locations and AAA Approved Auto Repair facilities.
During a road trip it is a good idea to create a specific budget to allot for fuel costs and to plan fuel stops in advance. Travelers can calculate their trips expected fuel costs in advance by using AAA's Fuel Cost Calculator at FuelCostCalculator.com. By using AAA's TripTik Travel Planner on AAA.com, travelers can access the latest fuel prices at more than 100,000 U.S. gas stations, and see time-saving construction and historic traffic congestion information. Knowing where the typically lowest-cost re-fueling stations are can also cut down on time-wasting extra stops.
Take advantage of miscellaneous discounts. For additional savings visit AAA.com/discounts to research discounts available at your destination and along your route. These can include attraction discounts, shopping and restaurants.
Start trips early in the day while traffic is light. Pack light snacks and drinks in a small cooler and plan meals stops to coincide with likely periods of traffic congestion when traveling through metropolitan areas, or when refueling. Be sure to get plenty of rest before you go and pause often enough to avoid becoming overly fatigued behind the wheel. You can use your cooler to store food and drinks in your hotel room.
Once You're There
Take advantage of discounts only locals may know about: Visit a local AAA office at or on the way to your destination for additional AAA area discounts.
Ask if any special benefits are available to you at your hotel. Many hotels offer things such as free breakfasts, late checkouts, access to special amenities, or even a discounted extra night stay.
Visit the Tourist Board office or Visitor's center at your destination: Many of these offices have coupons available for local attractions, restaurants, etc.
If you bring a Laptop with you and your hotel offers free wi-fi, or use of a free computer in the lobby, you can research, update or change last-minute travel decisions.
Find out what is fun and free or very low cost: Inquire at the hotel, AAA office or visitors center about lake or ocean beaches, parks, gardens, historic sites, museums and zoos. Many areas have free or low cost recreation opportunities, such as renting a canoe or hiking. Concerts, craft and antique fairs, car shows or art festivals may also be occurring during your visit.
Cut back on souvenirs, but take a digital camera: Capture your trip in photographs and memories to serve as reminders of your vacation. Send digital photos using a cell phone, laptop or hotel computer to friends and family before you get home. Make a scrapbook or slide show on your computer when you get home.
If you must take souvenirs home, check out the T-shirts at the local grocery store or pharmacy. Frequently chain retail stores sell similar items at lower cost than those found in small gift shops.
Take advantage of public transportation. If available, public transportation is one of the most inexpensive ways to get around. Research the availability and system your destination has to offer before you arrive.
Keep meal costs down: Meal costs can be reduced by eating the main meal at midday to take advantage of lower lunch prices at restaurants. Many restaurants also offer children's menus and "early bird" dinner specials at reduced prices. A picnic lunch purchased at a local market can also be a fun and money-saving option.