Fans know Melissa Rycroft from "The Bachelor" and, most recently, for finishing third on the recent season of "Dancing With the Stars." But many don't know that Rycroft, a special contributor for "GMA," is also an expert bargain hunter.
In fact, when Rycroft recently announced live on "GMA" that she and boyfriend Tye Strickland became engaged, the frugal fashionista also made sure to let everyone know that wasn't her only news.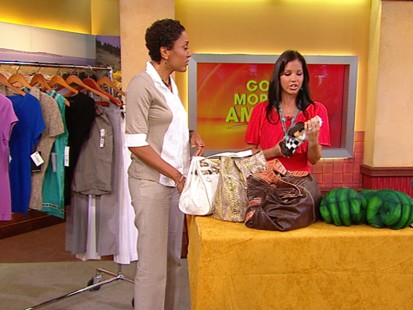 "I went shopping this weekend and got a really good deal on shoes," she said.
Rycroft stopped by "GMA" with shoes under $10 for Diane Sawyer and Robin Roberts. She was wearing an outfit purchased for under $50 total, "head to toe." But she also sported her new engagement ring, which she joked was "not part of the deal."
Rycroft has great advice on how you can save a bundle on your next trip to the shopping mall.
Bring Backup:
Always shop with a friend, Rycroft advises. That person will tell you if your choices will really work and deserve a place in your wardrobe. Just because it's inexpensive doesn't mean you should buy it and let it sit in the closet.
Dress Up Your Discounts:
Buy at a discount, she says, then dress it up! Just because you pay a little, doesn't mean you can't make it look like a lot.
Time Your Trip:
Rycroft says you should ask a manager for the best days to buy. For example, Tuesdays and Wednesdays are the best days at one of her favorite stores, Sam Moon Accessories. She knows on those days she'll find the freshest merchandise and parking for miles.
Stock Up on Gifts:
Always look for things you can give as gifts later. At Ross Dress for Less, Rycroft was looking for jeans, but she also found toys for one of Strickland's nephews and the Chef Statue Collectible for her mom.
Melissa Rycroft's Steals and Deals:

Two men's neckties: $28 each, $14 each at the buy one, get one half-price.


Women's athletic socks: $12 each, $6 eachl at the buy one, get one half-price.


4 T-shirt blouse: $12.99 each


Office blouse: $19.99


Dana Buchman dress pants: $41.99


Dana Buchman dress blouse: $36


Walking shorts: $12.99

Rycroft calls this store, "Dallas's best kept secret," where she buys "pumps, open-toe, sandals, boots" and more.

Brown pattern pump: $9.99


Gold reptile pump: $7.99 with the buy one pair, get a second for $7.99 deal.
"I've even been known to go here to get cute red carpet looks!" Rycroft said on "GMA."

Fish necklace: $6.80


Work pants: $24.80


Black work blouse: $10.50

"The best spot in town for great fashionable jeans," Rycroft said.

Collectible chef statue: $7.99 (discounted from $16)


Hulk Smash Fists (children's toy): $6.99 (discounted from $25)
"I especially love the jewelry," Rycroft said.

Scarf: $6.75


Handbag: $17.20


Handbag: $20.20


Necklace: $5.75