Unrestrained pets cause 30,000 accidents annually, according to AAA. Veterinarian Dr. Marty Becker stopped by "GMA" to discuss the latest products in pet travel.
Find out how you can keep your pet safe and healthy while you're on the road.
According to a survey by Veterinary Forum magazine, 75 percent of people take their pets along for a car ride. Owners need to be prepared to care for their pals when they're in the car and out of it.
Bamboo Pet Quick Control Leash Plus Seat Belt Latch
The Bamboo Pet Quick Control Leash Plus Seat Belt Latch latches on to your car's seat belt to keep your pet in place and stops it from moving around in the back seat, which can distract the driver.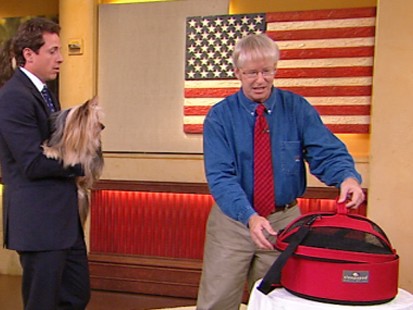 Kurgo Auto Zip Line
The
Kurgo Auto Zip Line
is based on the same concept — using what's already in your car to keep your puppy secure.
It uses the hooks by the door that many people use to hang dry cleaning. This allows your dog some freedom of movement and prevents your furry friend from bouncing out of the car when you open the door.
Kurgo Skybox Booster Seat and Kurgo Copilot Seat Cover
Most canines are curious. Just like people, they want to see the scenery. This booster seat is for smaller dogs. It is used to keep them from jumping up and down, trying to get a good look out the window.
It also has an adjustable tether to attach to a dog's harness to keep him strapped in. It installs easily and is collapsible for storage. The Kurgo Copilot Seat Cover is used to keep pet hair from covering car seats. It's waterproof, stain resistant and tough enough to stand up to lots of pawing.
Our Pets Store-N-Feed
Our Pets Store-N-Feed is a great product because it stores food and treats, comes with a self-watering system to keep water fresh and has a ridge to keep any splashes or food off the floor. It will grow with your pet. You can adjust the height as your pet gets bigger.
Homes Away From Home
The rule of thumb when choosing a crate for your pet is it should be large enough so that your pet can stand, turn around and lay down comfortably.
Petmate Portable Pet Home
The Petmate Portable Pet Home pops up to create a dog house, which makes it easy to store when it's not in use.
It has a sheepskin pad for comfort and comes in all different sizes.
Mobile Pet Bed by Sleepypod
The Mobile Pet Bed can be used in the car, on the ground and even to tote your pal around town. It won a design award alongside the iPhone and the smart car, so it has a pretty good pedigree.
You can secure it in your car by slipping the seat belt through this loop. It has a shoulder strap and handles so that you can carry it.
It works as a kennel, too, with comfortable bedding that you can take out to wash.
Additional Road Tips
To keep your pet from feeling car sick, feed him a light meal four to six hours before traveling. Try bringing ice cubes along because they can be easier on your pet's tummy than large amounts of water.
Stopping every 2-3 hours is a good idea too. The stops are not only for potty breaks, but also to let your pal stretch his legs and work off some excess energy.
Other Products You May Want to Try
Bamboo Pet Silicone Travel Bowls
The Silicone Travel Bowls by Bamboo Pets are designed to keep pets hydrated and fed while on the road. The feeding bowls conveniently collapse to less than half an inch, making them great space-savers and easy to pack.
Bergan Travelette Stroller Carrier
The Travelette Stroller Carrier is a soft-sided pet carrier with detachable wheels for strolling. It has two exterior storage pockets and an adjustable shoulder strap that doubles as a leash. This stroller is also airline approved for in-cabin use.
Bramton Company Bags on Board
Bags on Board is a cylinder of 30 bags that comes with a colorful dispenser and is available in various designs. The dispenser attaches to your dog's leash, so a bag is always there when you need it. The plastic bags are 100 percent biodegradable and can be refilled when they run out.
PetSTEP Tote'N Store
The Tote'N Store weighs 6 pounds and opens to five feet in length when fully unfolded, The Tote'N Store will fit in virtually any vehicle, leaving plenty of room for people, pets and cargo, and it's especially great for medium to small dogs that have difficulty jumping due to age, recent surgery or other physical factors.
Pet Top Portable Drinking Device
The Pet Top Portable Drinking Device is a great accessory for pet owners that comes in handy if you take your pet on long walks, to the park, or on trips. It is a unique patented bottle top which fits most standard water bottles.
Cerenia
Cerenia is a safe and effective medicine that prevents vomiting caused by motion sickness in dogs. It is the first FDA approved medicine for motion sickness in dogs, and it's non-sedating, so most dogs won't feel tired or drowsy after taking it.
Sherpa Pet Carrier
These fashionable dog and car carriers are soft-sided for comfort. A mesh panel on each of these portable dog carriers gives your pet suitable ventilation.
The dog carriers all have adjustable shoulder straps to make toting your dog or cat manageable. For long or extended journeys, a washable faux lambskin liner keeps your pet snug and cozy. Each of these travel pet carriers is small enough to slide easily under an airline cabin seat.
The Hydro-Go by Veterinary Ventures
The Hydro-Go by Veterinary Ventures is the perfect accessory for outdoor camping and hiking trips with your pet. It is the first and only pet canteen with a fold-out funnel bowl. The bowl and canteen work together to form a funnel, easily allowing any unused water to be poured back into the canteen.