Donte Stallworth, 28, had a bright future ahead of him. He was a star wide receiver for the Cleveland Browns and had recently negotiated a $35 million contract with the team. But it all came crashing down when, after a night of partying in Miami, Fla., Stallworth drove drunk and struck and killed a man.
"I've always wanted to help make a change in the world, but I never imagined in a million years, it would be under ... these circumstances," Stallworth told ESPN's Michael Smith in an exclusive interview.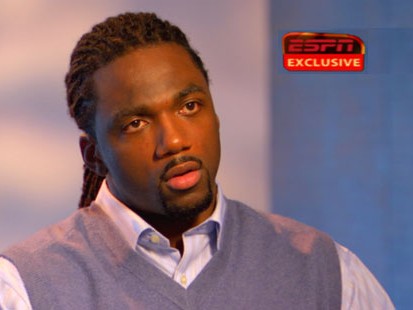 See Michael Smith's exclusive interview with Donte Stallworth on "E: 60" today at 7 p.m. ET on ESPN.
Mario Reyes, 59, who had worked the night shift at a construction site, was running to catch his bus when Stallworth's car hit him.
"I'm coming around the bend at about 40 mph and I see Mr. Reyes in the bus lane to my right and suddenly he runs into the street," Stallworth told Smith. "So, from there, I flicked my lights and honked my horn in an approach to try to warn him and I applied my breaks."
Stallworth immediately called 911 and reported the accident.
"Listen, this guy just ran in front of my car," Stallworth said in the 911 call. "You have to send an ambulance right now, man."
Paramedics could not save Reyes.
"I started crying," Stallworth said. "I was heartbroken. Everything had unfolded."
The toxicology report later indicated he had marijuana in his system and a blood-alcohol content of .126, above the legal limit of .08.
Stallworth pled guilty to DUI manslaughter, an offense punishable by up to 15 years in prison. Instead, he was sentenced to 30 days in jail and he reached an undisclosed settlement with the Reyes family.
Additionally, he has two years of house arrest and has another eight years of probation. Stallworth must also serve 1,000 hours of community service and his driver's license was suspended for life. The NFL has suspended the wide receiver indefinitely.
Special Treatment?
Smith asked Stallworth about the 30-day sentence, which many argue was a case of special treatment.
"A lot of people suggest, that if you weren't Donte Stallworth, NFL wide receiver, that you wouldn't have been able to reach this kind of agreement." Smith said. "What do you say to that?"
"The fact that I was a professional athlete could have made this a whole case a lot, a lot harder than it was," Stallworth responded.
Smith told "Good Morning America" today that he does not believe Stallworth got special treatment by striking the plea deal.
"The prosecutor told me it was 50-50 as to whether they could get a conviction at trial," Smith said.
Stallworth said Reyes ran out in front of his car "from the beginning," Smith said, and prosecutors would have had trouble proving Stallworth was "solely responsible" for the tragedy.
"He's very remorseful," Smith said. "He realizes he played a role in the death of another human being. He is haunted by this."
Stallworth said it is difficult living with the fact he is to blame for Reyes' death.
"It's just a hard thing to deal with," Stallworth said. "It's very hard to deal with every day. Every single day."