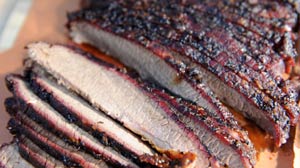 Elizabeth Karmel's Texas Hill Country Brisket
(Steve Fenn/ABC News)
From the kitchen of Elizabeth Karmel
Barbecue doesn't come any purer than what they serve in the hill country and Central Texas. The rub is simply salt, coarse-ground black pepper and cayenne, and the meat is flavored by the sweet smoke of post oak. This is a 'no sauce' zone where folks savor the unadorned meat that is rich and beefy, a little bit salty and ringed a rosy pink from the smoke. At Hill Country Barbecue Market in NYC, we celebrate authentic Texas barbecue and we learned from the best. For us, the best is Lockhart's Kreuz Market where your fingers are your forks and the best way to eat the meat is with a nibble of a saltine cracker, a bite of longhorn cheddar and some of the best sweet pickles you'll ever put in your mouth! This brisket recipe is written for the home cook and will turn out a brisket that is as close to authentic Texas barbecue as you can get outside of Texas! -Elizabeth Karmel © 2009 Elizabeth A. Karmel, executive chef of Hill Country, recipe adapted from Taming the Flame: Secrets for Hot-and-Quick Grilling and Low-and-Slow BBQ
Cook Time:
Over 120 minutes
Ingredients
1 (7-9 pound) whole beef brisket, untrimmed
1/2 cup Lockhart dry rub (click here for the recipe)
Kosher salt
1 bottle beer
Post oak or oak wood chips, soaked in water for 30 minutes
Cooking Directions
Grilling method: indirect/medium-low heat
Prepare brisket:
Sprinkle brisket liberally with the rub of your choice. Set-up grill for indirect cooking and place smoker box in gas grill. Pour beer into a drip pan and place the drip pan on the charcoal grate between the two piles of briquettes. In a gas grill, pour the beer into a small drip pan and put on the far-left corner of the cooking grates.
Note: the beer is in the pan to add moisture to the cooking environment while the meat smokes. This is a good idea anytime you smoke-cook foods for a long period of time because smoke reduces the moisture in the air.
Place wood chips that have been soaked in water for 30 minutes directly on the gray-ashed briquettes, if using charcoal, or in the smoker box in your gas grill.
Place brisket (fat side up) in center of the cooking grate over the drip pan. You will not turn the brisket during the cooking time at all. Grill 5-7 hours or until meat thermometer registers 180°f. When done, remove from grill and let rest 20 minutes. Slice thin and serve with assorted accoutrements including pickled okra, avocado slices, jalapenos, white onion, longhorn cheddar cheese, and saltine crackers or sliced white bread.
Note: if using charcoal, be sure to add fresh briquettes each hour to keep the heat constant.
Serves 8 to 20, depending on appetite