Tiger Woods announced today that he will not play in the golf tournament he was scheduled to host Tuesday, citing unspecified injuries he suffered when he mysteriously crashed his car outside his home late last week.
"I am extremely disappointed that I will not be at my tournament this week," Woods said in a statement posted on his Web site. "I am certain it will be an outstanding event and I'm very sorry I can't be there."
The golf champion was supposed to play in and host the 2009 Chevron World Challenge and hold a press conference on Tuesday. The press conference, which was certain to be dominated by questions about the early morning crash, has been canceled along with Woods' appearance on the links.
"We support Tiger's decision and are confident the strong field and excellent course will provide an exciting week of competition at the Chevron World Challenge," said Greg McLaughlin, Tiger Woods Foundation President & CEO.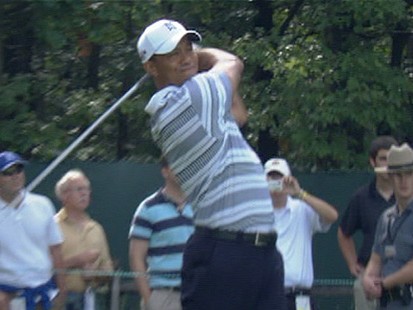 Woods will not participate in any other tournaments in 2009 and will return to action next year.
The golf star's absence at this week's golf tournament continues days of silence for Woods, who has stayed mum since plowing his SUV into a tree on his Florida property early Friday morning.
Despite inviting investigators to speak with him three times and then backing out, Woods has not made a statement to police, and his lawyer indicated to ABC News that he likely never would.
Sunday, Woods broke his silence about the SUV accident, issuing a statement callling the incident "a private matter."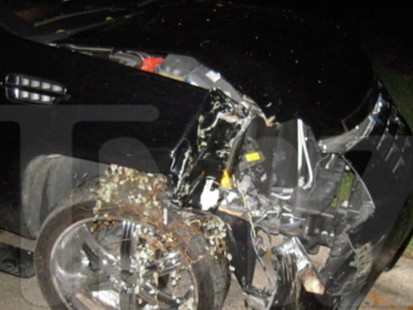 The Florida Highway Patrol released a statement today saying that Woods has provided investigators with only his driver's license information, vehicle registration and current proof of insurance.
"The crash investigation is ongoing and charges are pending," according to the FHP.
Woods was scheduled to host and participate in the Chevron World Challenge at the Sherwood Country Club in California this week, an event that he has won four times since 2001.
Woods' earlier statement, also posted on his Web site, praised his wife for "acting courageously" to help him after his accident and denounced "unfounded and malicious rumors that are currently circulating about my family and me."
The reference in his statement to rumors may have involved a story published last week in the National Enquirer reporting that Woods had been seeing a New York nightclub hostess, and that they were recently together in Melbourne, where Woods competed in the Australian Masters.
The woman, Rachel Uchitel, denied having an affair with Woods when contacted by The Associated Press. On Sunday, she flew to Los Angeles and was met by high-profile attorney Gloria Allred at the airport.
Uchitel didn't speak to reporters except to ask that she be left alone. Allred, however, confirmed to the AP that she would be representing Uchitel.
Meanwhile, Woods said in the statement that the auto accident was "a private matter and I want to keep it that way."
Woods' lawyer, Mark NeJame, told ABC News Sunday, "We stand by his [Woods'] previously released statement, regarding his privacy," and said neither he nor Woods would be making comments to anybody, including, in Woods' case, the police.
Brennan said that regardless of what comes of the accident, it's unlikely Woods' relatively pristine public image would be badly tarnished.
"Obviously Tiger Woods and his people are very controlled, very disciplined -- he's possibly the most disciplined athlete on the planet," Brennan said. "I don't think he has anything to worry about with the current endorsers. [But] I don't know that others will be jumping on the bandwagon this week. .... My sense is that Tiger will be just fine in the long run."
Woods Refuses Cop Talk for Third Time
Sunday the Florida Highway Patrol released audio of a 911 call by a neighbor reporting the accident and said that for the third time, Woods refused to talk with officers.
"Just after 1 p.m., lawyer Mark NeJame contacted the Florida Highway Patrol to inform us that he is representing Tiger Woods," read a statement from highway patrol spokeswoman Sgt. Kim Montes. "NeJame stated that the interview that was scheduled for today has been canceled. ... The traffic crash remains under investigation and charges are pending."
Investigators previously were turned away at Woods' Orange County, Fla., home both Friday and Saturday.
If Woods, 33, and his wife, Elin Nordegren, 29, choose to say nothing, officials simply may proceed with the investigation without their statement.
Woods and his wife are not required to give a statement to police about the accident, but if either does it must be truthful, Florida legal experts said. If not, they added, there is a slim chance they could be charged with resisting arrest without violence, a misdemeanor with a maximum penalty of a year in jail and a $1,000 fine.
Rather than speaking to police, Woods appealed directly to the public on his TigerWoods.com home page.
"As you all know, I had a single-car accident earlier this week, and sustained some injuries. I have some cuts, bruising and right now I'm pretty sore," his statement said.
"This situation is my fault," it continued, "and it's obviously embarrassing to my family and me. I'm human and I'm not perfect. I will certainly make sure this doesn't happen again. This is a private matter, and I want to keep it that way. Although I understand there is curiosity, the many false, unfounded and malicious rumors that are currently circulating about my family and me are irresponsible. "
911 Recording, Photos Give Details on Tiger Woods' Accident
In the hours before the statement, bits of new information about the crash fed the public curiosity Woods cited.
Sunday The Wall Street Journal first reported elements of the 911 call made by the neighbor who heard the accident and observed the scene.
"I need an ambulance immediately," the caller said at the start of the recording, which lasted more than four minutes over a shaky connection and featured numerous drop-outs. "I have someone down in front of my house. They hit a pole."
He added, "I have a neighbor, he hit the tree and we came out here to see what's going on."
The caller said the victim, who turned out to be Woods, was "laying on the ground," apparently unconscious.
"We don't know what happened. We're figuring it all out right now," the caller said before the phone connection was lost.
The 911 call came in at 2:28 a.m. Friday and officers arrived at 2:33 a.m., the Orange County Sheriff's Office said. Upon arriving, they saw Woods in the condition the caller described -- unconscious on the ground, but breathing, according to a sheriff's dispatch report.
On Saturday, ABC News affiliate WFTV was first to run photos showing Woods' black Cadillac Escalade smashed into a tree.
The WFTV images and 911 information fit the initial, broad police descriptions of the event -- that Woods crashed his vehicle into a fire hydrant and then a tree near his Windermere, Fla., home.
The eight crash photos on WFTV showed the SUV's front passenger tire crashed into the tree with a golf cart and blanket beside it. The eyewitness who took the photos said there were two golf irons in the street and both backseat windows were broken, WFTV reported.
Windermere, Fla., Police Chief Daniel Saylor said Friday that Nordegren, who told officers she was in their house when she heard the accident and came outside, used a golf club to smash out the back window and get her husband out of the car.
"My two officers arrived to the scene and found Tiger Woods laying on the ground in front of his vehicle with his wife over him rendering first aid," Saylor said, according to WFTV.
Tiger Woods: 'My Wife, Elin, Acted Courageously'
But open questions remain, such as where Woods might have been going at such an early morning hour, how he lost control of his vehicle, and whether any other circumstances contributed to his sustaining facial lacerations, and ending up bloodied, unconscious and bound for a hospital.
Such questions fueled online reports including purported details about the accident unconfirmed by ABC News.
Woods' statement suggested Saylor's account of Nordegren's role might be the whole story.
"The only person responsible for the accident is me," Woods said. "My wife, Elin, acted courageously when she saw I was hurt and in trouble. She was the first person to help me. Any other assertion is absolutely false.
"This incident has been stressful and very difficult for Elin, our family and me," he added. "I appreciate all the concern and well wishes that we have received. But, I would also ask for some understanding that my family and I deserve some privacy no matter how intrusive some people can be."
After his wife's aid, Woods was en route to a hospital because of his injuries by 2:52 a.m., the sheriff's dispatch report said.
He later was released from Health Central Hospital in Ococee, Fla. after being treated for what the hospital and Woods' publicist described as "minor" injuries.
The sheriff's office departed the scene at 3:53 a.m. and turned over the case to the Florida Highway Patrol.
Could Tiger Woods Be Charged?
Investigators said alcohol was not involved. The Associated Press reported that the vehicle's airbags did not deploy.
Since the accident, police have talked of an ongoing investigation and said possible charges were "pending."
However, Florida legal experts told ABC News on Sunday that it appeared charges were unlikely.
Even so, besides the possibility of a resisting arrest charge stemming from any false statement to authorities, Woods could be charged with careless driving -- a civil infraction carrying a fine of less than $200 -- for hitting the fire hydrant and tree, they said.
Making charge less likely, they added, was the apparent absence of witnesses to say Woods actually was driving carelessly and the fact that accident occurred on an apparently private road not open to the public.
ABC News' Susan Donaldson James and Jason Stine contributed to this report.