After Jennifer Tesche of Madison Heights, Mich., questioned the appropriateness of a cheer her 6-year-old daughter was kicked off the cheerleading squad.
"All I had wanted was a voice and to have an objective discussion about it. They didn't hear me out," Tesche said on "Good Morning America" Friday.
The line of the cheer Tesche took issue with: "Our backs ache, our skirts are too tight, we shake our booties from left to right."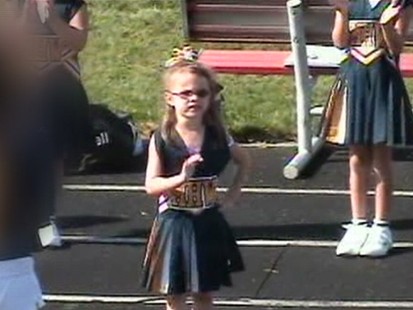 "I think it's inappropriate. It's suggestive and outdated," Tesche, herself a former cheerleader and cheer coach, said. "I think it brings down the morale of the spirit of cheerleading."
Tesche took her concerns to the local media -- a move which enraged many in the cheer community. Members of the Wolverine flag football cheerleading league voted unanimously Tuesday to keep the questionable cheer, but remove Tesche's daughter, Kennedy, from the squad.
"It took every ounce not to cry with her," Tesche said, "But I knew I had to stay strong."
Tesche said it was unfair to punish Kennedy. "Don't punish the 6-year-old. Why punish her? It's her that's hurting. It's her that can't cheer with the organization anymore."
The league members said that Tesche should have handled the issue internally and by bringing it to the attention of the media, she cast a bad light on the squad.
"This is like a family and to me if you attack your family what are you going to do? You know people are going to be upset," said league member Susan Murdock.
Kennedy's cheerleading coach even weighed in, sparing words with Tesche on a local radio show.
"I am directly quoting this lunatic," said coach Lisa Ernest. "She [Tesche] said, 'I don't mind the booty shaking so much, but it's the back aching and the skirt being too tight I don't understand.' And I said to her one time their back aches and their skirts are too tight because they're standing on this black top for two hours cheering for these boys."
Booty Cheer Sparks Controversy
Tesche said before she took her concerns public, she raised the issue with the director the association and discussed it with other parents, who also said they were also not in favor of the cheer.
"It's a terrible situation we have a lot of incensed parents," said league president John Pastula. "I feel terrible. It's the worst thing I have had to deal with in my 12 years in the league."
Kennedy is allowed to come back to the squad next season on probation, but with all the bad blood there's not much to cheer about anymore.
"It should have been a simple fix," Tesche said. "To single out a six year old isn't right."