For the first time, an investigational HIV vaccine has shown it can protect people from the virus. For over 20 years, scientists have been trying to find an AIDS vaccine that effectively prevents HIV from spreading. During that time 32 million men, women and children have died from the disease.
In a large phase III trial conduted in Thailand, reseachers report the vaccine reduced the risk of infection by 31.2 percent compared with a placebo.
More than 16,000 young adults took part in the study. Half of them were given the placebo and half were given the trial vaccine.
Of the roughly 8,000 who took the placebo, 74 became infected with HIV. Among those who received the trial vaccine, 51 became infected with HIV.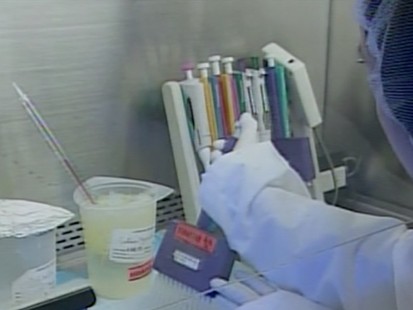 "I am very encouraged at these results -- the first such encouragement in two decades," said Dr. James Curran, a professor of epidemiology at Emory University who was not involved in the trial. "While this does not merit immediate application, this will reinvigorate interest in the crucial goal of seeking a highly effective vaccine."
"This is the first HIV vaccine candidate to successfully reduce the risk of HIV infection in humans," said Lt. Gen. Eric Schoomaker, the Surgeon General of the U.S. Army.
The army was one of the partners on the trial, along with the Thai Ministry of Public Health, the National Institute of Allergy and Infectious Diseases, Sanofi Pasteur, and Global Solutions for Infectious Diseases.
"We are very excited and pleased with the outcome of this trial and congratulate all those who participated in it," Schoomaker said in a statement.
He added that the study is "an outstanding example of international, and interagency, collaboration."
But some in the medical community are cautious about the results.
"This is not a vaccine that would be marketed right now," said Dr. Jonathan Jacobs of Weill Cornell Medical Center. "It is extraordinarily exciting for people who have seen negative results for 20 years straight, but there's still a lot of work that needs to be done. So this is really just the beginning, but an exciting beginning."
Unanswered questions remain -- scientists don't know why this particular vaccine works opposed to ones tried in the past. And while it is somewhat effective in Thailand, it's unclear if it will work on different strains of the virus around the world.
As one scientist said today, "It's not the end game. This is the beginning."
"If we can stop those infections we could spare millions and millions of people," Jacobs said.
The trial tested a so-called "prime-boost strategy" using two different medications.
The first, dubbed ALVAC-HIV, was a canarypox virus, engineered so it could not cause disease and modified to carry synthetic versions of three HIV genes, known as gag, env, and pro.
A Primer Vaccine May Help Fight HIV Infection
Volunteers were either given four injections of ALVAC-HIV over six months, or a matching placebo.
At the last two injections, the volunteers were also given a placebo shot or a shot of AIDSVAX B/E -- a vaccine candidate that was proved safe but not effective in an earlier trial.
The idea was to prime the immune system with the first vaccine and then boost it with the second. Researchers hoped to elicit both antibodies to HIV and killer T cells that would destroy the virus.
Future Research May Make HIV Vaccine a Reality
Both medications contained HIV fragments from two strains, one is common in Europe and North America -- and another strain is found in Thailand and Southeast Asia.
The trial was controversial when it started, largely because of the previous failure of the AIDSVAX component.
But some believe this could be a first step toward an effective vaccine.
"It's promising in that there is a significant effect," said Dr. John Bartlett, chief of the division of infectious diseases at the Johns Hopkins Medical Institutions, and chair of the Infectious Disease Society of America's task force on antimicrobial availability. "It gives a clue about what might work so that the second generation can be tested."