Six-year-old Jasmina Anema has three strikes against her -- she has a rare and often lethal form of leukemia, she has no siblings and she is black.
But with a bevy of celebrities taking on her fight to find a bone marrow donor, the New York City child has one last chance to find an elusive cure.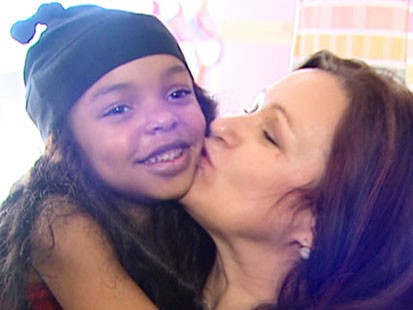 Because Jasmina is African American, she has barely a "one in a million" chance of finding an
exact match
, according to her mother, fashion designer Theodora Anema, who is white.
The charismatic girl has survived four rounds of chemotherapy and her next line of defense would be finding a sibling donor. But Jasmina was adopted, the "creation of a one-night affair," and has no brothers or sisters or any known close relations, Anema told ABCNews.com.
Family and doctors say it's hard to believe she has only about a month to live, given her extraordinary energy and upbeat attitude. From her hospital bed, Jasmina told ABCNews.com that she was "having fun" playing a Curious George game on her computer at New York University Medical Center.
"She's a happy camper and doesn't know what's happening," Anema told ABCNews.com. "She's a very vivacious child and does have a lot of energy. She is tolerating the chemotherapy so well, she has been up late at night dancing and jumping up and down."
Rihanna, Other Stars Support Ailing Jasmina
The first star to be smitten with the charismatic kindergartner was Rihanna, the pop singer . Soon, others followed: Grammy nominee Calvin Richardson, New York Knicks Chris Wilcox, Boston Celtic star, Paul Pierce and the Hornets' Tyson Chandler.
"When I saw the video, it broke my heart," Rihanna told PEOPLE magazine in February. "It is so unfair that for a black patient it's so much harder to find a bone marrow match."
Singer Kelly Rowland of Destiny's Child helped Jasmina celebrate her birthday, spending hours with the kindergartner, who lives in New York City's Greenwich Village.
"This young, beautiful little girl needs a match," Rowland told ABC's New York station WABC-TV. "When you meet her you just can't help but fall in love."
'Natural Killer' Leukemia
Jasmina was diagnosed with the most aggressive form of leukemia -- NK T cell -- and her doctors say she must find a donor match within one month. The "NK" stands for "natural killer," according to Anema, and occurs in only one percent of all childhood cases.
Fighting the disease is hard enough -- with only a 1 in 4 chance of a cure -- but being a minority makes finding a bone marrow match nearly impossible, due to a shortage of minority donors.
African Americans have more complex HLA (human leukocyte antigen) types -- the "bar code on every one of our cells," according to Dr. William Carroll, who directs NYU's pediatric hematology oncology program, so donors for black leukemia patients must be African-American.
According to the National Bone Marrow Program, of the 7 million Americans listed as donors, only 7 percent, or about 550,000, are African-American. Other minorities are also under-represented: only 3 percent are Hispanic and 2 percent Asian.
They estimate that a marrow or blood cell transplant could benefit more than 10,000 children and adults with life-threatening diseases each year. More than 70 percent of all transplants are for leukemias.
Jasmina and her mother are working with DKMS, the world's largest marrow donor center, to enlist donors from the general population at upcoming events in New York, Boston, Oakland and Dallas. They are targeting African Americans whose HLA types can help Jasmina, but recruitment is difficult.
"There are several reasons why [minorities] don't donate: distress in the health care system, fear of the actual procedure and not enough education about being a donor," said Katharina Harf, co-founder of Germany-based DKMS.
The organization, which has 1.8 million donors worldwide, has set up offices in the United States to recruit more minority donors, particularly those who are Hispanic.
Bone Marrow Donation Simple
In reality, becoming a bone marrow donor is simple: genetic typing is done with just a swab inside the cheek. The information is placed in a computerized national data bank where doctors can look for a patient match.
Donating a bone marrow is not complicated or painful. In most cases, stem cells are collected from donor blood; 20 to 30 percent of the time, bone marrow is withdrawn from the hip, not spine, in an out-patient procedure done under anesthesia.
Campaign Yields 7,000 Potential Donors
"We could be lucky if we found one match in 20,000, and if we're not lucky, a rare type might be one in several million," Harf told ABCNews.com.
Since the celebrity-driven campaign began, Jasmina's cause has attracted 7,000 African- Americans to register as donors, some of whom might eventually be a match after more testing. These donors could also potentially help other African Americans.
DKMS helped to create the video, "ONE For Jasmina," which initially caught the attention of Rihanna. The video is narrated by the girl's best friend, Isabelle Huurman, whose father, like Jasmina's mother, is from The Netherlands.
The girls -- both African Americans with white families --- have been friends since they were 2 years old. Their mothers met at a party and discovered they had adopted daughters, four months apart, from the same agency. They learned Chinese at the same pre-school and both speak Dutch.
Anema, who is a fashion designer and single mother, adopted Jasmina when the girl was 3 days old. The child's racial make-up is three-quarters black and one-quarter Cherokee Indian and Caucasian.
Jasmina has always been a healthy child until Jan. 20, when her mother took her to the doctor for what seemed a minor infection on her foot. "It looked like a bug bite, which is rare in the winter," said Anema. "It started swelling and itching and so I went by the pediatrician."
Doctor: 'Hop in Taxi Right Now'
The doctor felt an enlarged spleen and liver and did a blood test. When she found Jasmina's white blood cell count was high, she sent her directly to the hospital. "She said hop in the taxi right now and go there," said Anema.
Mother and daughter have lived at the hospital ever since. Chemotherapy treatments have caused Jasmina to develop painful mouth sores. She wears a cap-like wig with long braids to compensate for the hair that has fallen out.
"You just live in surreal world, saying to yourself, 'This is not happening,' she said. "But it's not difficult just for me, it's difficult for a lot of people," said Anema, who hopes to raise awareness to help all ethnic groups find bone marrow matches.
The highest success rates in bone marrow transplants for leukemia are done when children are in remission, but so far, Jasmina's tumor has been resistant to chemotherapy. "Without a low level of cancer cells, the chance of a cure is remote," her doctor told ABCNews.com.
"We'll go to transplant, but we don't know a more successful option," said Carroll. "Chemo alone is unable to cure this."
Doctors have found "a lot of promising matches," which will require more "granular" analysis to see if they can be given to Jasmina, according to Carroll. But time is running out.
Cord Blood Donation Another Option
Her doctors are also looking for a cord blood donor, which can be effective in children. In some cases, the experimental procedure can yield 50 to 60 percent survival rates, according to Dr. Gary Kleiner, pediatric immunologist, University of Miami School of Medicine.
"Cord blood has an advantage over marrow for minorities," said Kleiner, who is not treating Jasmina. "Marrow has to be an exact match. Cord can be a mismatch."
Cord blood, taken from placental tissue, is also quicker if a match is found, as it is frozen and does not require live donation.
"We don't know why [it works], but the T cells in cord blood are less mature," he said. "We think the cells are more naive. But it's only good for children and not adults."
Meanwhile, Jasmina's mother vacillates between hope and despair. "One doctor is not optimistic and the other doctor is. One says the glass is half empty and the other half full."
Jasmina's doctors agree the challenge to cure Jasmina is daunting.
"I'm the optimistic one," said Carroll. "We know a cure is remote, but we haven't taken away any hope."
But it's Jasmina's spirit that makes her fight so inspiring.
"Despite the aggressive chemotherapy, she has sailed through this," said Carroll. "In my career I've never seen anything like this. She is playing and zipping around and animated. We're delighted."
"Obviously, children are smaller and more fragile, but they have an enthusiasm for life," he said. "They live for the day and take one day at a time and it gets them through. The rest of us worry about what's coming down the line."
As for Jasmina's mother, "All I can say is I have great friends, incredible support -- fantastic friends."
WABC-TV's Carolina Leid contributed to this report