Pediatric emergency physicians appear to be making widespread use of the anesthetic propofol, otherwise known as Diprivan -- but they're using the drug in the radiology suite, rather than in the emergency department proper, according to Dr. Michael Mallory of Children's Healthcare of Atlanta.
The anesthetic, which figured prominently in the multi-drug death of singer Michael Jackson on June 25, 2009, is primarily used by pediatric emergency physicians to sedate children undergoing magnetic resonance imaging (MRI).
"While technically an off-label use," Mallory told attendees at the Pediatric Academic Societies meeting in Vancouver, "the use of propofol for sedation of pediatric patients by non-anesthesiologists outside of the operating room is now commonplace."
To describe that use -- and to look at adverse events and patient demographics -- Mallory and colleagues studied data collected prospectively by members of the Pediatric Sedation Research Consortium.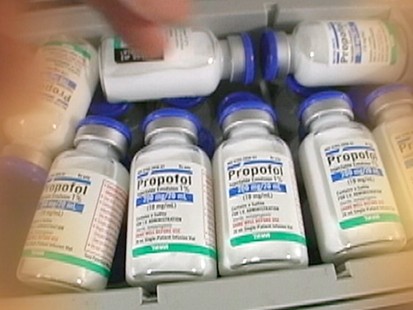 The data includes 25,433 propofol sedations performed by emergency physicians, which Mallory characterized as the "largest case series" of such procedures collected.
Of those, Mallory said, the vast majority (22,068) were performed in radiology, mostly to calm patients for magnetic resonance imaging. Only 211 took place in the emergency department, he said, fewer than the 4,459 in a dedicated sedation unit, 918 in a pediatric specialty clinic, and 543 in other locations.
The overall rate of any complication was 5.83 percent, Mallory said. The largest number were related to the airway an unexplained need for positive pressure ventilation, which occurred in 1.4 percent of patients, he said.
Airway obstruction or desaturation occurred in approximately 1 percent of patients and apnea in 0.5 percent, he said. There were no reported deaths.
Interestingly, Mallory said, sedation for painful procedures was associated with a lower risk of adverse events. After his presentation, Mallory told a questioner he and his colleagues have no explanation for the latter finding, but are probing it further.
The study has a range of limitations, Mallory cautioned. He noted that the data may not generalize to other settings, because practitioners involved were sedation specialists.
Also, adverse events were not completely defined, self-reporting could lead to bias, there was no underlying protocol, and the researchers conducted multiple tests, which may have produced statistically significant results by chance.
The findings are not surprising, according to Dr. Lonnie Zeltzer, a pediatric anesthesiologist at the University of California Los Angeles. "Clinically, there's a push to make sure kids don't have procedure pain and that's a good thing," she said.
But, if not surprising, the findings are worrisome, Zeltzer said because the risks of propofol are higher than other anesthetics used in children and people should be specially trained to use it. "It's a general anesthetic," she said in a telephone interview.
People using the drug should be skilled in resuscitation and airway management and have the child on a cardiac monitor as well as taking other precautions, she said.
Zeltzer added that it's especially worrisome that much of the use, according to the study, was for children about to undergo imaging. Propofol is intended to prevent pain, she said. "To use that to keep a child still ... there are other methods," Zeltzer said. "It's an overuse."