Alex Kiker, 11, thought she was going to the hospital Monday for a follow-up test in her treatment for Hodgkin lymphoma.
Alex, of Rockwall, Texas, was instead surprised with a flash mob by the nurses and doctors who have cared for her at Medical City Children's Hospital in Dallas since her January diagnosis.
The nurses and doctors' choreographed dance also revealed another major surprise. Alex was told her wish to stay in an over-water bungalow had been granted by Make-A-Wish North Texas.
"Alex loves to swim in the ocean and play in the sand but she's always said her least favorite part of the beach was the walk from the condo down to the water because she burned her feet," her father, Cody Kiker, told ABC News. "Her wish was to stay in an over-water bungalow so she could just jump right in the water as soon as she wakes up."
Alex will soon be able to do that when she travels to the French Polynesia with her parents and older sister. Kiker said Alex is still over-the-top excited about the surprise and upcoming family vacation.
"As the day wore on, she would randomly scream and I'd ask her, 'What's that for?' and she'd say, 'We're going to Bora Bora,'" Kiker said, naming the French Polynesia island that Alex wrote about in her Make-A-Wish request. "By the end of the night, I didn't have to ask what the random screams were for."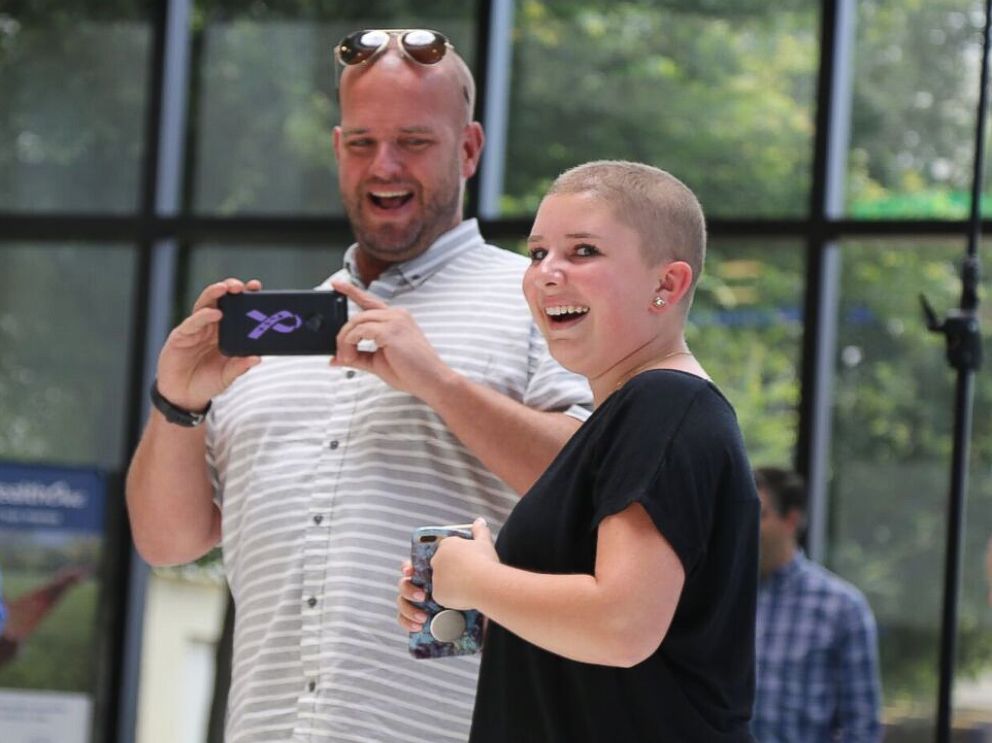 The family will be able to celebrate the end of a grueling medical battle for Alex. The sixth-grader underwent four rounds of chemotherapy after her cancer diagnosis and has been out of school since January.
She was declared in remission from Hodgkin lymphoma last month. Alex's diagnosis was nodular lymphocyte-predominant Hodgkin lymphoma (NLPHL), a subtype of Hodgkin lymphoma described as a rare disease by the National Institutes of Health (NIH).
"She has had the best attitude but hasn't always been super easy," Kiker said. "When her hair started falling out, that was really tough for her."
He added, "But she has handled it very well and others who have observed her attitude have really been lifted up."
Alex's nurse at Medical City Children's Hospital, Deb Echtenkamp, described Alex as a "wonderful, outgoing girl" who was "always engaged" in her care and with her nurses and doctors.
Echtenkamp, manager of the pediatric hematology/oncology program at Medical City, said participating in the flash mob for Alex was "so rewarding" and a good outlet for the hospital's medical staff.
"There's a lot of things we do as nurses that are not fun or pleasant," she said. "To be able to be on the flip side when a patient gets their dream come true helps to recharge our tanks and bring us joy and happiness as well."
Kiker said Alex thought she was getting in the way of a photo shoot when she entered the hospital Monday and saw a crowd and camera crews. Once she realized the attention was all for her, the girl was "overwhelmed."
"She commented after it all calmed down that her face hurt from smiling so much," Kiker said of Alex. "She was very excited."