Ohio boy with seizure disorder gets wish to meet April the giraffe, calf she birthed on live stream
Alex Johnson and his family traveled from Ohio to New York for his wish.
— -- An Ohio boy who lives with a life-threatening seizure disorder fulfilled his dream of meeting April the giraffe and her calf, Tajiri.
Alex Johnson, 11, and his family traveled from their home in Avon, Ohio, to Animal Adventure Park in Harpursville, New York, Tuesday to meet the giraffes.
Alex received a behind-the-scenes tour of the park, in addition to meeting April, Tajiri and the calf's dad, Oliver.
Alex, who is non-verbal, has complications including a brain injury, epilepsy and chronic obstructive pulmonary disease (COPD) due to loss of oxygen during his birth. His mom, Dawn Johnson, adopted Alex at the age of four.
Johnson said Alex became fascinated with April earlier this year when the Animal Adventure Park began live-streaming her pregnancy on YouTube.
"He's visually impaired, but he can see big objects and contrasts," Johnson told ABC News. "He watched the giraffe cam for so long."
Well over one million people watched the zoo's live-stream as April gave birth to Tajiri in April.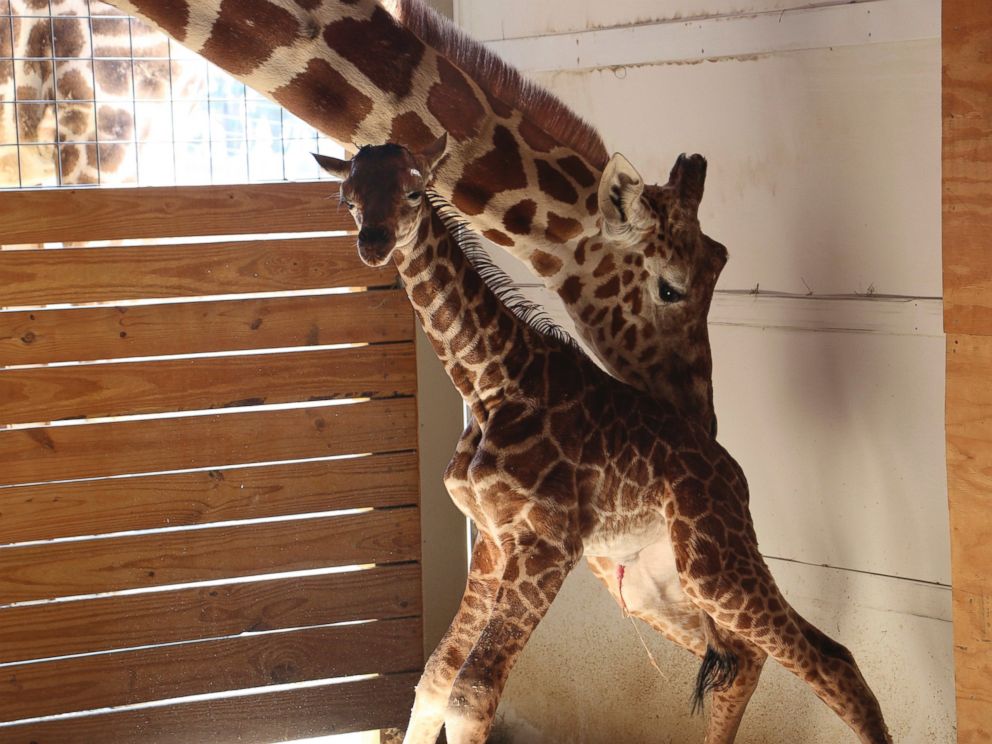 Alex had just returned home from a hospital stay a few days before Tajiri's birth and perked up when he learned April was finally in labor.
"He was so sick and just sleeping," Johnson recalled. "I told him, 'Alex, April is about to have her baby,' and he woke up to watch the entire birth process."
Alex, who communicates yes and no by lifting his arm and shaking his head, respectively, told Johnson he wanted to see April when she presented him with a few options for his wish through Make-A-Wish Foundation.
Make-A-Wish Central New York gave Alex stuffed giraffes before his visit and "treated him like a king," according to Johnson.
"He held his stuffed giraffe the whole drive," Johnson said of the family's six-hour drive to New York. "We are so thankful for the opportunity. This is huge for us."
Jordan Patch, the owner of Animal Adventure Park, described making Alex's wish come true as easy.
"When we received the call from Make-A-Wish, this was truly a no-brainer for us," Patch said in a statement. "April has had such an impact worldwide and we want to ensure that her exposure not only has an impact on animal conservation efforts, but also on any lives that she can touch in a positive way. Alex and his family are wonderful people and we were all happy to meet them and welcome them to our park."
Zoo officials named the calf Tajiri, a word in Swahili that means hope, after holding an online naming contest. The winner of the contest was "Allysa's choice," referring to Allysa Swilley, the giraffe keeper at Animal Adventure Park.
Swilley, who led the care for April over the 16 months of her pregnancy, and other park officials chose the winning name, Tajiri.