— -- A pro-choice advocacy group that is the lead plaintiff in a federal lawsuit against a controversial rule in Texas that would have required fetal tissue to be buried resulting from the circumstances of many miscarriages and abortions hailed a judge's order to temporarily block its implementation.
"We will keep saying it over and over again: Women deserve better," Amy Hagstrom, CEO of Whole Woman's Health, said in a statement in response to the judge's granting a temporary restraining order on Thursday. The rule had been scheduled to be implemented on Monday, Dec. 19.
"We're confident that our recent victory at the Supreme Court in Whole Woman's Health v. Hellerstedt gives us strong ground to stand as we continue to fight these coerced mandates from overzealous politicians that strip personal decisions away from women and families," Hagstrom added, referring to a June victory in the U.S. Supreme Court, which struck down a different law that had imposed stricter requirements for abortion-providing clinics.
The defendant in both cases, John Hellerstedt, is the commissioner of the Texas Department of State Health Services.
Whole Woman's Health, an advocacy group that also operates clinics that provide reproductive health services, is the lead plaintiff in the lawsuit seeking to stop Texas from implementing a rule requiring medical providers to bury or otherwise inter fetal tissue.
Hagstrom said the rule would "not create any health benefit for women and is strictly designed to limit access to safe, quality abortion care."
U.S. District Judge Sam Sparks issued a temporary restraining order on Thursday afternoon delaying the rule from taking effect until Jan. 6, when he is expected to rule on whether it can be implemented. A preliminary hearing has been scheduled for Jan. 3.
Sparks' decision came four days after the Center for Reproductive Rights filed a lawsuit on behalf of multiple medical clinics and abortion providers, including Whole Woman's Health, calling the rule "unconstitutional."
The Texas Health and Human Services Commission finalized the rule last month to "protect public health in a manner that is consonant with the State's respect for life and dignity of the unborn," according to a preamble released by the commission last month. Women who have a miscarriage or abortion at home are exempt from the rule.
In June, Whole Woman's Health won a case against the state of Texas in the U.S. Supreme Court to overturn a law known as "HB2." That law had imposed stricter requirements for abortion-providing clinics, leading many of them to shut down.
Known as "TRAP laws," the regulations had required women's health clinics that provide abortions to have hospital-like surgical facilities, and also required doctors to have admitting privileges to local hospitals. Only six clinics in the state could meet the requirements and the others were forced to close. The Supreme Court said that created an undue burden for women seeking an abortion. Four days later, the fetal burial rule was proposed.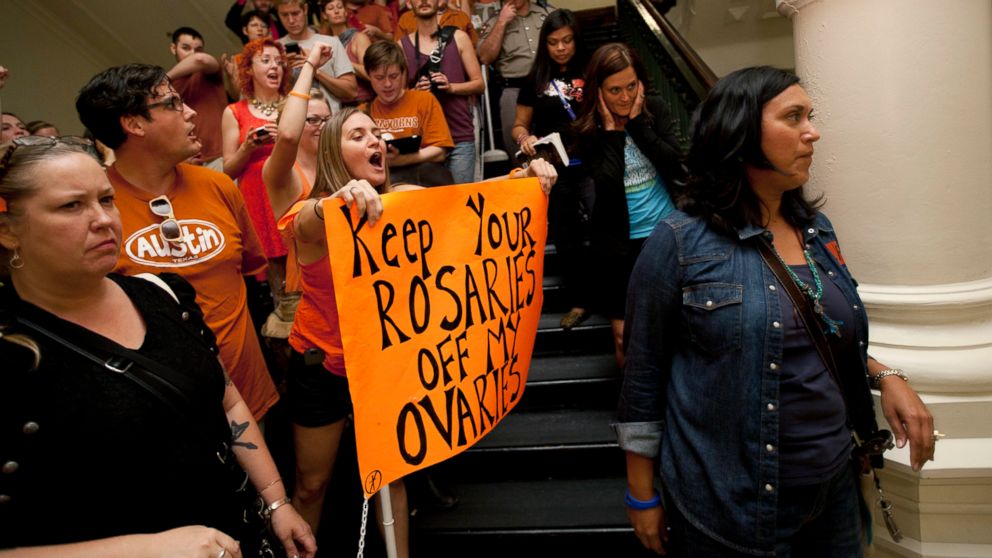 The Texas Health and Human Services Commission declined to comment today on the temporary restraining order.
However, the agency's attorney, John Langley, argued in court on Thursday that public health was "a side issue" to providing for the dignity of the fetus, the Houston Chronicle reported.
"Just don't put it in the place where you put the trash," Langley said in court, according to the Chronicle. "Respectfully, your honor, I don't see what's wrong with it."
David Brown, senior staff attorney with the Center for Reproductive Rights, said the fetal burial rule should be permanently "struck down."
"We are pleased that the court has prevented these outrageous restrictions from going into effect in Texas, where they would have created immediate and dangerous new barriers on women's access to health care," Brown said in a statement. "We look forward to demonstrating that these regulations are unwise, unjustified and unconstitutional, and should be permanently struck down."