If you enjoy cookies, crackers or ice cream flavored with peanut butter, well, don't for now.
Federal officials are warning Americans to avoid any snack food that includes peanut butter in the ingredients. They say that dozens of products made with peanut butter should not be eaten, because they may be contaminated with salmonella. The warning does not include peanut butter jars on grocery store shelves.
The nationwide outbreak is now linked to 470 illnesses and six deaths across 43 states. The investigation into what is causing the outbreak is taking on new urgency as officials confirmed salmonella contamination at a Georgia facility owned by the Peanut Corporation of America, which ships peanut products to 85 food companies.
Federal officials are scrutinizing some of the companies that Peanut Corp. supplies and urging the companies to test their products or pull them off the shelves. One of the companies, Kellogg's, has voluntarily recalled 16 of its baked products including Keebler Peanut Butter Sandwich Crackers, Keebler Soft Batch Homestyle Peanut Butter Cookies and some snack-size packs of Famous Amos Peanut Butter Cookies. The recall was announced despite more tests being needed to see if the salmonella found at the Peanut Corp. plant matches the strain that has made people sick.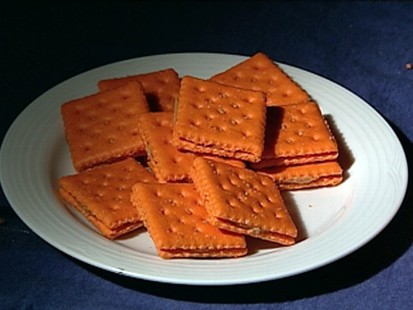 Caroline Smith DeWaal, the Food Safety Director at the Center for Science in the Public Interest, says that to be cautious, consumers might want to avoid the peanut crackers and candy bars that could be linked to this outbreak, at least until the companies are cleared by the FDA as not having used this peanut butter.
"The evidence isn't terribly good, but given the size of the outbreak and severity of the illnesses, it's critically important that the government move as fast as it can to really nail down the food source." DeWaal said. "Companies that have taken this peanut butter and mixed it in to other products, used it to create cracker, peanut crackers for example, are probably very concerned that their products could be linked to the outbreak."
Dr. William Schaffner, chair of the Dept. of Preventative Medicine at Vanderbilt Medical Center, says it is going to take time to determine the source of the outbreak. "This is a serious outbreak," Dr. Schaffner said. "Seeing that these cases that are scattered, doing the lab work and implicating the peanut butter is very, very difficult."
One reason there have been so many outbreaks of illness related to the peanut butter might be that Peanut Corp. sold to companies that distributed to schools, hospitals and nursing homes. Salmonella is particularly dangerous to the elderly and children, so health officials have been urging those institutions to throw out specific containers of peanut butter linked to the outbreak. They believe there may be more victims out there.
"It's generally estimated that for every case that we hear about there are approximately 38 other cases out there in the community that got sick or had some kind of illness. But were never sick enough to go to the doctor." said Stephanie Meyer of the Minnesota Department of Health.
Salmonella is the nation's leading cause of food poisoning. The Food and Drug Administration is advising consumers to contact a doctor if they have any symptoms. Common symptoms include diarrhea and abdominal cramping.