Investigators have linked at least three different kinds of E. coli to Nestle's cookie dough but remain stumped about how the bacteria got into the product, ABC News has learned.
The U.S. Food and Drug Administration has completed DNA testing of E. coli recently found in an unopened package of cookie dough at Nestle's plant in Danville, Va.
Those tests, according to sources familiar with the investigation and confirmed by the FDA, determined the genetic fingerprint of the E. coli found at the plant is different than E. coli that has been linked to a 30-state outbreak that has sickened at least six dozen people.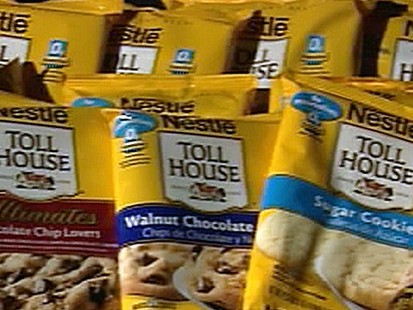 Sources also say an altogether different strain of E. coli was found in dough recovered from the home of a victim, meaning at least three different types of E. coli have been associated with cookie dough made by Nestle.
Follow ABC News' Brian Hartman on Twitter.
Today Nestle USA spokeswoman Laurie MacDonald told ABC News the Danville plant is slowly returning to production -- in phases -- after it was turned upside down in the wake of the E. coli outbreak.
MacDonald said the company dismantled its entire production line, inspected and cleaned all the parts and then put it back together. She said Nestle also has conducted extensive testing of ingredients. The company has discarded all ingredients that had been stockpiled and replaced them with all new flour, eggs, margarine and other items.
Before any ingredient goes into cookie dough in the future, MacDonald says, it will undergo "very extensive pretesting."
While the FDA has wrapped up its investigation of the Danville plant, inspectors are still searching for a plausible scenario for how any E. coli got into the dough.
"The investigation is winding up. It is not exactly over yet," said Dr. David Acheson, the assistant commissioner for food safety. "But we have not figured out the likely ingredient."
FDA inspectors who combed through Nestle's plant found only minor discrepancies and nothing that explains the E. coli mystery. In fact, Acheson said, investigators may have exhausted all of their leads.
"We've followed everything that we think is most likely and haven't come up with anything," Acheson said. "It is unlikely that we will ever make a final determination of how this contamination occurred."
The FDA does not, however, believe this was a case of product tampering.
"There's no indication that this was deliberate," Acheson said.
Tainted Cookie Dough Is One of Many Food Safety Concerns
Investigators discovered the first hard evidence of a link on June 29 when they found E. coli at the Danville, Va., plant where Nestle makes Toll House cookie dough.
The "smoking gun" was found in an unopened package of raw chocolate chip cookie dough that had been manufactured Feb. 10, 2009, but had not yet been shipped.
Nestle issued a press release June 29 confirming that the FDA had informed the company "that it has found and confirmed evidence of E. coli 0157:H7 in a retained production sample of 16.5 oz. Nestle Toll House refrigerated chocolate chip cookie dough bar."
Nestle had already issued a nationwide recall June 19 for its Toll House cookie dough products, acting on the strong suspicions of epidemiologists.
The food maker warned consumers not to eat raw Toll House cookie dough as fears about possible E. coli contamination spread to more than two dozen states.
For more information or questions about Nestle Toll House raw cookie dough, visit the company's Web site, www.verybestbaking.com.
At the time, health officials said they were not positive Toll House cookie dough was to blame, but Nestle took precautionary steps because many of the people sick ate the raw cookie dough.
"Consumers who have purchased these products should not consume them," the Nestle statement said. "Instead, we are asking that consumers return these products to their local grocer for a full refund."
Nestle does advise on its package that people should not eat raw cookie dough.
The company also stressed that its other products were OK to eat -- including its pre-baked cookies, chocolate chips, cocoa and ice cream made by Dreyer's and Edy's that contain cookie dough.
The FDA also released a statement June 19 about the cookie dough advising consumers to throw away cookie dough products already in their refrigerators.
"Cooking the dough is not recommended because consumers might get the bacteria on their hands and on other cooking surfaces," the FDA statement said.
Severe Symptoms
Symptoms of E. coli include dehydration, bloody diarrhea and stomach pain, though serious cases can lead to kidney failure. According to the Centers for Disease Control and Prevention, there are about 76 million cases of foodborne sicknesses in the United States every year.
Still, a recent study showed that many Americans ignore food recalls designed to keep them safe.
Earlier this week, federal health officials announced new measures intended to prevent tainted products from entering the food supply.
The measures, announced by Vice President Biden, Agriculture Secretary Tom Vilsack and Health and Human Services Secretary Kathleen Sebelius, included requirements to refrigerate eggs during transport and more stringently inspect poultry houses to prevent the spread of salmonella. It also included efforts intended to keep E. coli out of beef and prevent bacteria from entering fruits and leafy greens.
"There are few responsibilities more basic or important than the government making sure the families in America eat food that's safe," Biden said.
The changes came four months after President Obama laid out plans to improve food safety after concerns about tainted peanut butter and tomatoes, which were quickly followed by problems with pistachios.
Obama vowed to boost the number of food inspectors and modernize labs to better keep tabs on the nation's food supply, adding that vulnerabilities in the food-safety system stemmed in part from outdated guidelines.
"Part of the reason is that many of the laws and regulations governing food safety in America have not been updated since they were written in the time of Teddy Roosevelt," he said.