A Long Island infant celebrated his first birthday a few weeks ago, but there's another anniversary that his family won't soon forget: superstorm Sandy.
William "Will" Donovan was 3 weeks old when superstorm Sandy prompted an emergency evacuation of the hospital days after he started breathing on his own for the first time.
"It's really something to look back on and celebrate," said Will's father, Jeremy Donovan. "At this point, it's more of a celebratory memory than a stressful one. At that time, it was obviously only a stressful one."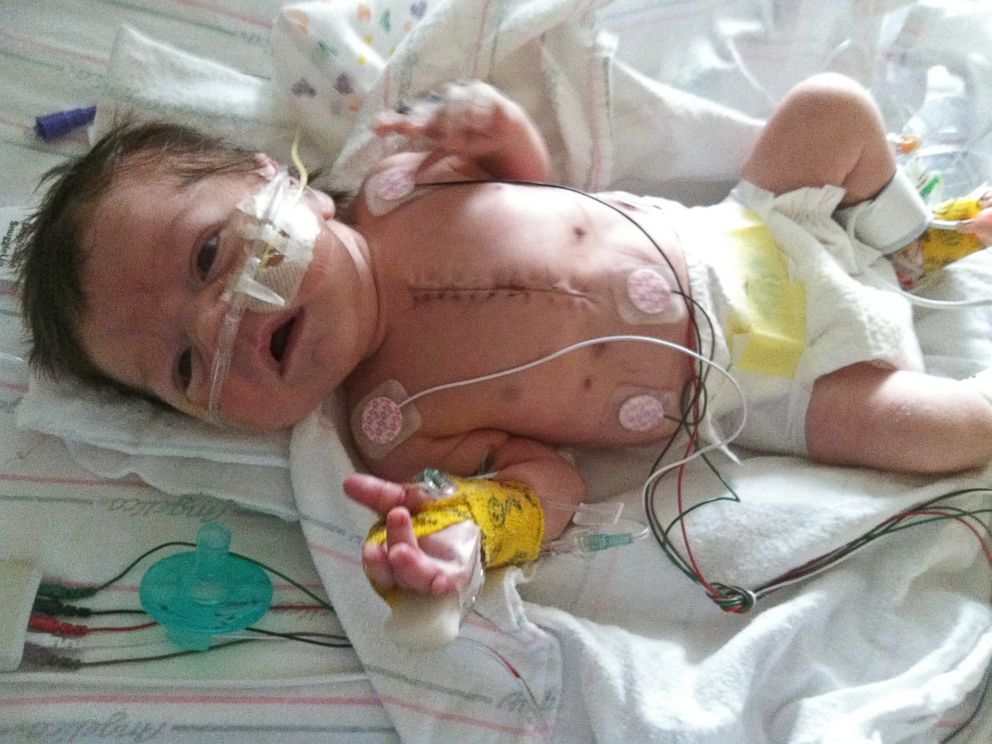 The
evacuation
that night would take hours and prompt Donovan to run 10 blocks to the hospital during the storm, argue with a security guard for 30 minutes, lose said argument, wait two hours outside the hospital, and run up 15 flights of stairs before he found Will and accompanied the team carrying him back down the stairs and to Mount Sinai Medical Center farther uptown.
"Of course, it was really only hard for me," Donovan continued, chuckling a little. "My wife slept through it. Will slept through it."
Read about Superstorm Sandy's tiniest survivors: embryos trapped in a flooded fertility clinic.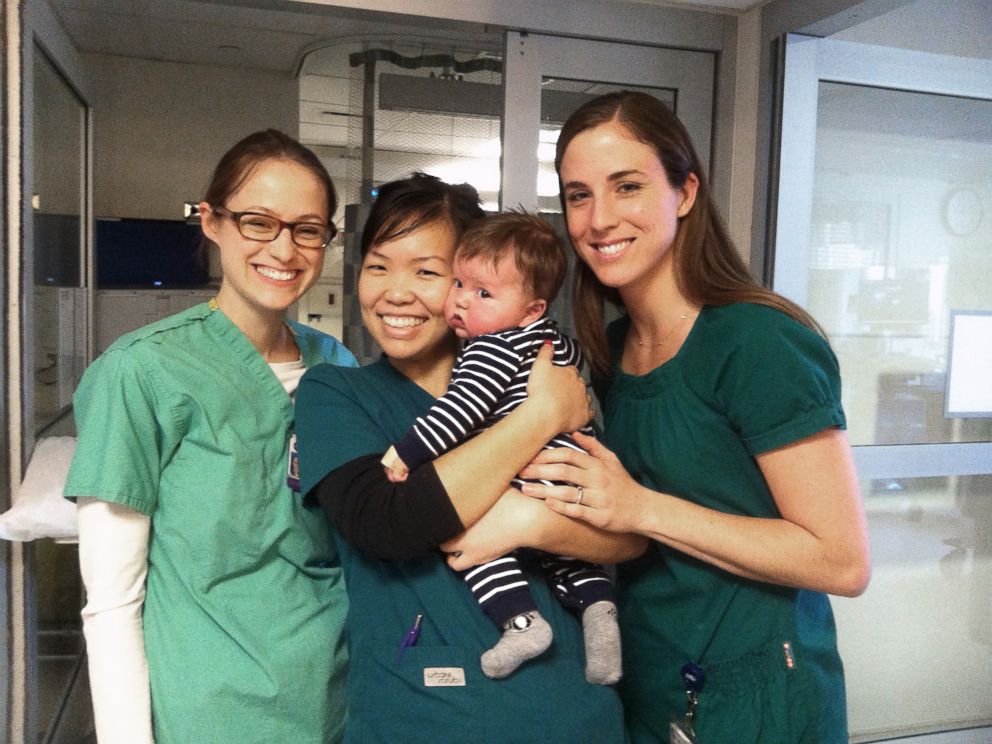 Will was born with a congenital heart defect: His left ventricle didn't work, Donovan said. He needed surgery when he was 3 days old to compensate for the fact that his heart had only one functioning pump instead of two, Donovan said.
When Sandy hit New York City on Oct. 31, Will was one of six patients in the Congenital Cardiovascular Care Unit on the 15th floor of the hospital, said Dr. Achiau Ludomirsky, who directs pediatric cardiology at the hospital. They were all between the ages of 5 days and 3 years old, and four of them had been on ventilators the week before, including Will.
But by the day of the storm, most of the babies were breathing on their own. Will stopped needing a ventilator about a week earlier.
"He was just getting to a point where he was wireless, as it were," Donovan said. "He was much more portable at a time where he needed to be, so it worked out very well."
The Donovans knew Sandy was coming, but the hospital was confident of its backup electricity generators and told families to either head home early or plan to stay through the storm. They went home to their temporary apartment 10 blocks away. They live on Long Island and temporarily moved to Manhattan just before Will was born, because they knew he'd need surgery right away.
Meanwhile, at the hospital, Lori Touchette, the head nurse on Will's unit, was having a semi-normal day at the Congenital Cardiovascular Care Unit. As the storm began outside, she and her colleagues made sure things were plugged in properly and that everyone had flashlights and charts printed on paper, just in case.
"It all happened around the shift change at 8 p.m.," Touchette said. "Someone had told us coming from the outside that First Avenue was flooded."
Aware of the pouring rain, gusting winds and surging East River, the day shift nurses stayed at the hospital even though the night nurses were coming in to replace them. Touchette had double her usual staff.
See photos showing superstorm Sandy's Wide Swath of Destruction
Then, the power went out. Although the hospital had backup generators, they were located in the basement, which flooded. The backup generators failed.
The ninth floor, where the neonatal and pediatric intensive care units were located, lost power first, prompting evacuations of children and babies when lifesaving equipment such as respirators failed, Ludomirsky said. The 15th floor, where Will and the others were staying, still had some power, but soon all 322 patients in the hospital would have to evacuate.
Medical students who lived across the street came to the hospital's aid when they heard what was happening. And, since so many hospital employees lived nearby, they, too, came to the hospital without being asked to.
Donovan and his wife, Jennie, lost power in their apartment at around 10 p.m., and were in bed an hour later when they got a text from a relative that the hospital had lost power. Wondering what that meant for Will, they tried calling the hospital, but the phone lines were down, so they tried searching its website, but it was down, too.
"I looked at my wife and said, 'OK, I'm going to go to the hospital,'" Donovan said.
Over the initial objections of his wife, Donovan left the apartment, braving 10 blocks in the wind and rain. Once he got there, a hospital security guard told him they were indeed evacuating, and he wasn't allowed inside.
He told the guard that his son was 3 weeks old and had just had heart surgery, but the guard wouldn't budge. Donovan then spent the next two hours watching the evacuation and hoping to find a way to get to his son as the flashing red lights illuminated the darkened street.
"More ambulances than you can imagine," he said. "I'm outside two hours just breathing exhaust fumes. It's amazing to watch so many people in such critical situations get wheeled out. ... Meanwhile, in my own head and heart, I'm worrying about my son."
Upstairs, Ludomirsky was helping children in the NICU and PICU down the stairs, triaging patients and building teams of nurses, doctors and therapists to help the babies down nine flights of dark, wet stairs with all their intravenous lines and equipment.
"The only time I can compare to that is a mass casualty situation," said Ludomirsky, who is from Israel and said he has been through three wars. "When you really get a lot of patients and individuals that you have to take care of them simultaneously, you have to triage. ... Thankfully, there's no bomb dropping on your head while you're doing it."
Then, Will's floor lost power, and it was time to evacuate the six children with heart defects.
At about that time, someone told Will's doctor, Dr Michael Argilla, that Donovan was waiting outside, and Arjilla came down to let Donovan inside. They ran up the 15 flights of stairs to the Congenital Cardiovascular Care Unit.
"We burst out onto the floor in pitch darkness," Donovan said. "Dr. Argilla turns to me and says, 'There were lights on the floor when I left.'"
Donovan was on his own as Argilla rushed to find his patients. A passing nurse told Donovan the kids had all just left to go to the first floor. He'd missed them.
Ludomirsky ordered that the baby who was still on a ventilator be evacuated first. But the staircase the NICU and PICU babies traveled down was now clogged with adult patients, so they had to find another way. The one they found had a vent that made it extremely windy in the corridor until they reached the 13th floor.
Still, the families remained calm.
"All these parents have babies that are really ill," Touchette said. "They're people who roll with the punches."
Touchette was with the baby who went down first, and she was in charge of squeezing the tiny AMBU bag attached to a mask that breathed for the baby as a doctor carried him down the stairs. They had to step in unison and be sure not to disrupt the multiple intravenous lines.
They had to do it all in the dark, damp -- and now windy -- stairwell.
"It seemed like it took forever at the time," Touchette said. "But it definitely took up less than 15 minutes."
Once that baby was downstairs, Touchette could help set up more teams of physicians and nurses to bring down the other five babies, including Will.
And as that group searched for a clear staircase, Donovan bumped into a nurse carrying a baby bundled in blankets.
It was Will. And he was sleeping.
They walked down the stairs together and rode in an ambulance to Mount Sinai Hospital. Donovan still marvels at how Will's nurse worked more than 30 hours that night.
"It's not like, 'That was our son's nurse one time.' It's 'That was our good friend, Annie,'" he said. "He fell asleep in bed and woke up in Mount Sinai. He slept the whole way through. ... He was totally comfortable in her arms."
The last cardio patient left the hospital at 2:30 a.m., Ludomirsky said, and the last pediatric patient left at 4:30 a.m.
"The next day, we started to do rounds in all the other hospitals, and families asked us how we were doing," Ludomirsky said. "'How are you doing after climbing up and down who knows how many times?' 'Did you get some sleep?'"
All Ludomirsky's patients are doing well, he said, and many of them have returned to NYU Langone for follow-up surgeries. Patients with congenital heart defects usually need a series of three surgeries: one a few days after birth, one a few months later, and one a few years later.
Touchette said many of the families sent Christmas cards and photos of their babies to show how well they were doing.
"Everyone went above and beyond expectations for their jobs," she said. "It shows you the type of people who work on this unit every day. People who really love kids and feel very empathetic toward families."
Will's family celebrated his first birthday at home earlier this month. He won't need another heart surgery until he's about 2 years old, and his latest echocardiograms looked great, Donovan said.
"First birthdays are always very special, but his was a little extra special knowing all that he's been through," Donovan said. "We celebrated the miracle that is Will."