There may be new hope for people looking for a diet pill that's both safe and effective.
Researchers found that participants in a clinical trial who took the drug Contrave for more than a year lost an average of 6.1 percent of their body fat. Trial participants who took Contrave began losing weight four weeks after starting the drug and maintained their weight loss throughout the 56 weeks of the study.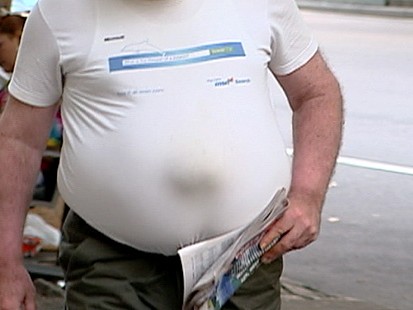 Researchers and some other experts say Contrave, which is a combination of the drugs naltrexone and buproprion, reflects a growing trend toward the development of weight-loss drugs made up of more than one active ingredient that could be more effective and safer than drugs that were once available or currently available. A panel from the U.S. Food and Drug Administration will review Contrave on Dec. 7.
Both naltrexone and buproprion have been around for some time and are used to treat different conditions. Buproprion is also known as Wellbutrin and is a common treatment for depression. Naltrexone is used to help people quit smoking or overcome drug addiction.
Contrave works on the same biological systems that control mood and appetite, and it's the first drug to combine buproprion and naltrexone as a way to lose weight. Researchers believe the main reason for the effectiveness shown in the clinical trial is the use of the two medications that target different areas involved in weight loss.
"We have to hit multiple points for better weight loss," said Dr. Ken Fujioka, a study co-author and director of the Center for Weight Management, Scripps Clinic. Fujioka is also on the advisory committee for Orexigen, the company that manufactures Contrave.
Nausea was the most common side effect. Trial participants also experienced headache, constipation, dizziness, vomiting, dry mouth and a temporary increase in blood pressure.
Dr. Kevin Niswender, assistant professor of medicine at the Vanderbilt University School of Medicine, said other side effects are possible with this drug.
"Whenever you target systems involved with mood, you have mood-related side effects," he said. Niswender had no involvement in the Contrave clinical trial.
"There were no signs of depression or suicidal thoughts in trial participants," said Fujioka.
Diet Drugs' Troubled History
Side effects have been the primary obstacle to pharmaceutical companies being able to keep weight-loss drugs on the market.
Since the FDA approved phentermine back in 1959, there wasn't another weight-loss drug approved until Redux in the 1990's.
That drug was ultimately pulled from the market in 1997 because of the association of its main ingredient, fenfluramine, with valvular heart disease.
Links to cardiovascular disease also doomed fen-phen, a combination of fenfluramine and phentermine. Fen-phen was also pulled from the market in 1997.
The demise of fen-phen illustrates perhaps the most daunting challenge to developing a diet drug -- combining efficacy with safety. While its side effects were very serious, fen-phen worked well.
"Fen-phen was probably the most effective medication we've had to date," said Dr. Robert Kushner, director of the Center for Lifestyle Medicine at Northwestern Memorial Hospital. Kushner is also an adviser to Orexigen.
There isn't an easy explanation for why there have been numerous high-profile diet drug failures.
"The body really defends body mass very rigorously. Whenever there's a little bit of weight loss, systems are activated to protect the body against starvation," said Niswender.
"Some diseases, like obesity, are severe and we need to use multiple medications to get control of them," said Kushner.
The Skinny on Today's Diet Drugs
While its fen-phen counterpart was pulled from the market, doctors still prescribe phentermine, which works as an appetite suppressant.
It was originally approved for only short-term use, but today, doctors use it for long-term weight loss.
"Obesity is now thought of as a long-term disease. When it was first approved, obesity wasn't well understood, so it was approved only for a short period of time," said Kushner.
Others say it should only be used for short-term weight loss.
"It's pretty good for rapid weight loss, but when you stop it, the weight comes right back," said Niswender.
It's also widely used because it's safe and cheap.
"It's generic, so it's the cheapest," said Dr. Priscilla Hollander, an endocrinologist at Baylor University Medical Center. Hollander is a clinical trials investigator for Orexigen, the manufacturer of Contrave. "It also has a good safety record."
The next drug, Meridia (sibutramine), hit the market in 1997. It's still available for use. Meridia increases the levels of serotonin, norepinephrine and dopamine, which makes people feel full.
Doctors say it's only "modestly effective," and does have a potentially dangerous side effect.
"Because it works on norepinephrine and epinephrine, there's a lot of risk for increasing blood pressure," said Dr. Lisa Ganjhu, a gastroenterologist at St. Luke's-Roosevelt Hospital, who was not involved in the Contrave trial.
"People that are overweight or obese have a much higher prevalence of hypertension," said Niswender.
An FDA panel is scheduled to review Meridia's safety in December.
After Meridia came orlistat, also known as Xenical. A lower-dose, over-the-counter version called Alli was approved in 2007.
Orlistat is a fat blocker, and while doctors say it's only mildly effective for weight loss, it's very safe.
"It stays in the gastrointestinal tract," said Kushner.
It has unpleasant side effects, such as loose stools and diarrhea, but doctors say those side effects are what help people lose weight.
"It teaches people to eat properly. They won't eat fatty foods because of the side effects," said Ganjhu.
"The mechanism is much more about bring about behavior changes, such as decreasing fat intake," said Niswender.
Questionable Future for New Drugs
While all the other drugs that have ever been used only contain one medication, there's a batch of new drugs that combine two of them. Contrave is one, and the others are Qnexa and Lorcascerin.
An FDA panel recently voted against recommending Qnexa for approval. Doctors speculated it had to do with potential side effects. Qnexa is a combination of phentermine and topiramate, a drug commonly used to treat epileptic seizures. Trial participants experienced double-digit weight loss with Qnexa.
"I think it had to do more with the topiramate," said Hollander, who has led clinical trials with Qnexa. "There's concern it can cause fatigue, loss of concentration, numbness and tingling."
Since Qnexa targets mood-related physiological systems, side effects can be mood-related.
"The FDA is very sensitive to issues about drugs that target systems that control mood, addiction and reward," said Niswender.
Lorcaserin is another combination drug that works by increasing the amount of serotonin, leading to increased satiety.
"Weight loss is not stellar - it's at the lower end of the weight-loss range," said Fujioka, an adviser to Arena Pharmaceuticals, who makes Lorcaserin. "Its safety looks good."
Experts believe combination drugs are key to non-surgical weight loss, and while they say drugs should only be one part of a multifaceted approach to weight loss that includes lifestyle changes, they believe the development of a diet drug that's both safe and effective is long overdue.
"Out of the past 50 years, there have only been three medications approved, and one is already off the market," said Kushner. "A third of the population is obese, and we only have a few medications."