Wang Youbao came to Beijing's Olympic Green with hopes of seeing the incandescent Water Cube and wiry Bird's Nest up close.
Unable to afford a ticket, Wang knew he couldn't enter the venues. But he believed he could at least wander around and feel the Olympic spirit for himself.
"I have a day off, so I thought I'd come and take a look at the stadiums," said Wang, who originally hails from southwestern Sichuan province.
But what Wang didn't realize was that tickets are required not only for venues but also for setting foot in the Olympic park.
Relegated to the perimeter of the Green by security tape, fences and checkpoints, he and thousands of others have been deflated upon learning that they can't touch the side of the Water Cube or check out the Adidas exhibit.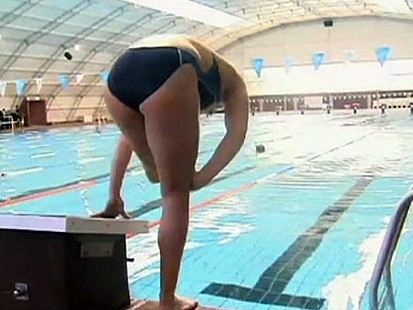 "The rest of us can only come here with our emotions and stand outside, Wang said. "We come all this way, and we are just missing this last step. Isn't that a little sad and disappointing?"
Traditionally, the Olympic Park has been a place for record-breaking athleticism along with a festive, celebratory atmosphere for both ticketed and ticketless fan. In Athens and Sydney, people crowded around public TV screens and carnival-like promotional events to get a piece of the Olympics.
But Beijing's Olympic Green is eerily quiet, almost desolate, except for the rumbling buses and credentialed journalists. Directly outside the park venues, a concrete jungle of parking lots and buildings stretches as far as the eye can see, while security checkpoints are staffed by smiling volunteers and guards packing automatic weapons.
Exhibits promoting the worldwide Olympic partners remain largely empty. At previous Olympics, the corporate sponsored events were some of the main attractions, with free giveaways and public concerts.
Ticketed fans and national teams have been impressed by the look and organization of this year's site, but when it comes to a spirited atmosphere, there's something to be desired.
Australian trainer Liz Jones arrived at the Games earlier this week. "Well, given that I am Australian, I thought the Australian [Olympics] was absolutely fantastic," she told ABC News. "But we probably are a little surprised that there's not a lot happening inside the Green, compared to what it was like in Australia."
"But the facilities are just amazing, and it's so clean," Jones said.
Christine Brennan, Olympics expert and author of several books on Olympic sports, has covered 13 consecutive Games as a journalist. The tone on Beijing's Green is distinctly subdued, she said.
"You don't get the sense that you did in Sydney or Barcelona or Athens or even Atlanta," Brennan told ABC News.
"After Friday night's opening ceremony, which was over the top, literally the greatest ever, you wonder, where are those beautiful video screens where people can watch the replays and dance and cheer. Where are the bands? Where is the party?" she asked.
"They are going by the book, and it's going to be an organizationally perfect Olympics probably, but are they missing out on some of the fun?"
American Kenan Baker from Texas is in Beijing to attend the Games and can't help but compare his experience here to the 2004 Athens Olympics.
As he exited the women's gymnastics team finals Wednesday, Baker said, "We went to the Olympics in Greece and it's a little bit more hostile here because you see the volunteers ... sort of marching down the street. On every corner, you see a soldier holding a big automatic gun."
"When we were in Athens, we were much more at ease, compared to here," Baker continued.
Baker's friend Raleigh Young agreed. "They are kind of like on edge a little bit."
Nearby, Yi Guicun, from northeast China, exited the Olympic Green after attending women's synchronized diving at the Water Cube, saying that buying tickets was "very difficult, extremely difficult."
He is right. Tickets for events in Beijing sold out in four hectic phases of ticket sales.
With a rare ticket in hand, Yi took an overnight train to reach Beijing, sitting up in a seat for the duration of the trip.
"My dream is to participate in the Olympics," Yi told ABC News.
As Yi was sharing his experiences on the sun-baked sidewalk, 15 ticketless fans gathered around to hear about his experience just inside the Green.
When ABC News surveyed the small crowd, only one had a ticket to an event -- and it was to be held in Tianjin, 45 minutes outside Beijing by train.
Another person in the group said, "I don't need to try. I know I can't get in. I don't have tickets."
Wrapped in an American flag, American Rachel Hoops couldn't help but notice the crowds of Chinese on the sidewalk, each hoping to catch a glimpse of their Olympics.
"We've been lucky enough to see some of the events, but I think it's not the same for other people," Hoops said.
"It's been kind of sad," she said. "We've talked to a lot of Beijing people here, and they are really sad and they feel like they have gotten nothing from the Olympics."
Hoops, who often travels to Beijing to visit her family, said, "A lot of things have just been causing problems [in Beijing]. Construction all these years ... and, finally, it's arrived and they are just getting very little payoff."
Brennan, the Olympics expert, wonders if perhaps the lonely Olympic Green is a manifestation of Chinese society.
"Not everyone reacts the same way [Westerners] do," Brennan said. "Maybe we are seeing [Chinese society] play out in many different ways, and this is China, which is to say it might be a little bit more rigid, more buttoned-down, certainly more buttoned-down than Australia."
But one local fan, who had been trying to catch a glimpse of the Water Cube, disagreed adamantly.
"We Chinese people like to gather together. We are friendly. We like to be together, and not shut ourselves in a room to watch [the Olympics]."