The powerful earthquake that struck the Abruzzo region of central Italy today has taken a huge toll: killing at least 150 people , and leaving tens of thousands of residents without shelter.
Survivors say the 6.3 magnitude quake was so strong that it was felt 60 miles to the west, in Rome, leveling entire towns and whole blocks of buildings in its path. More than 70,000 dazed residents were forced to spend the night outside despite rain and hail.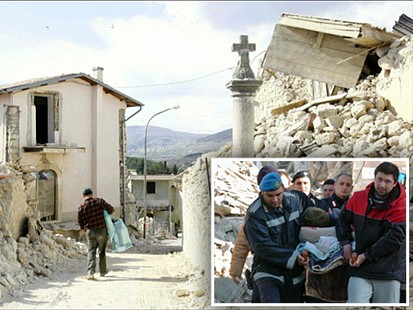 The entire
city of L'Aquila
in central Italy was braced to spend the night in streets, piazzas, parking lots or in cars, too afraid to return to their quake-shattered homes except to quickly grab blankets and other necessities before rushing back into the streets. Up to 50,000 may be homeless.
Thousands of rescuers rushed to the stunned city to help find survivors and dig out victims from Italy's worst quake in 30 years that turned much of the medieval city into rubble.
Rescuers told the Italian news agency ANSA they had pulled over 108 bodies from wreckage of L'Aquila and neighboring towns, and that numbers were expected to rise.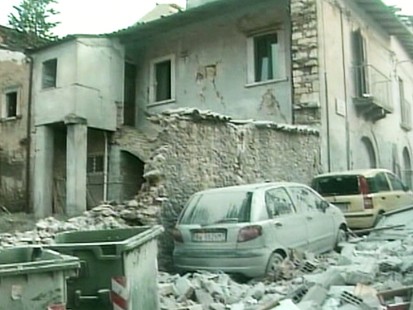 Firefighters and police furiously searched through the rubble of a collapsed dormitory of the University of L'Aquila, where one student is reportedly dead and eight remain missing.
"We dug with our hands," firefighter Domenico Di Bartolomeo told ABC News. "There was a 21-year-old student trapped and we got her out. Only her collarbone was broken."
Another 1,500 were injured and more than 70,000 were left homeless. More than 10,000 buildings were damaged or destroyed.
Italian Police Chief Antonio Manganelli said the massive temblor has left ''a horrible scene of death and destruction.''
''At the moment 4,000 rescuers are at work and concentrating on extracting people from the rubble,'' Italian Prime Minister Silvio Berlusconi said during a news conference from L'Aquila today. Berlusconi canceled a trip to Moscow to travel to the area and surveyed the damage from a helicopter.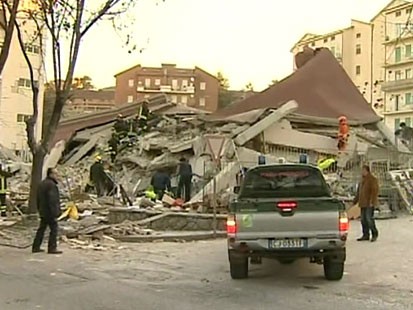 In Paganica, the town closest to the epicenter, police say 70 percent of the buildings are completely destroyed.
Centuries-Old Architecture Destroyed
Structures that had lasted centuries collapsed in the quake. Heritage Ministry Secretary-General Giuseppe Proietti told ANSA that the beautiful city gateway Porta Napoli, built in 1548 in honor of Emperor Charles V, tumbled to the ground. A large part of the 13th-century Basilica di Santa Maria di Collemaggio also collapsed, he said.
In Tempera, east of L'Aquila, architectural masterpieces, including a 16th century church, are in ruins. Two or three people were reportedly dead, buried under rubble. Emergency crews are waiting for heavy machines to dig them out. Up to 90 percent of the homes in this historic village center have been heavily damaged.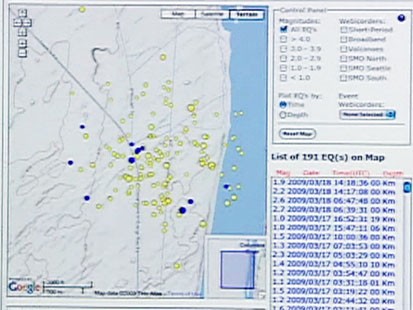 "This is the worst I've ever seen," said firefighter Paola Salciccia. "It will be days before we can account for everyone."
More heartbreaking was the human toll. ANSA reported that the hospital of L'Aquila was among the damaged buildings, leaving its doctors treating quake victims outside the building's main entrance.
ABC's Miguel Marquez reported from L'Aquila's Piazza D'Armi sports center, which has been turned into a makeshift emergency shelter where about 1,000 people congregated, too afraid of their own homes.
Rescue workers were setting up tent cities in the town's soccer and rugby stadiums and were trying to feed everyone.
ABC News producer Phoebe Natanson reported stores were closed and food was hard to come by. The owner of a hotel outside of L'Aquila told ABC News that although two of her three buildings are undamaged, she is afraid to let people stay in them until they are checked.
"A lot of people who know me and have had to leave their homes asked me if they could stay," said Delia Lorenzetti.
"We are OK here, but L'Aquila is destroyed," she said in tears.
Amid the devastation erupted a dispute over whether Italian authorities ignored a warning that a devastating quake was about to hit the region.
Did Italy Ignore Quake Warnings?
Gioacchino Giuliani, who is a resident of L'Aquila and works for the National Astrophysics Institute, began warning about a month ago of an impending jolt. While the area has been rattled by a series of minor quakes since January, Giuliani said he based his prediction on the concentrations of radon gas around seismically active areas.
People were urged to evacuate their homes, but police forced Giuliani to take his prediction down from his Web site and accused him of "spreading alarm."
Giuliani is demanding an apology, but Italian scientists are not giving him one.
They argue that is impossible to predict earthquakes and the radon theory has not been proven. They also note that Giuliani said the earthquake would hit another town, Sulmona, not L'Aquila.
"There was never anything written, all verbal," Enzo Boschi, head of the National Institute of Geophysics and Vulcanology, told ANSA.
"I don't know if the predictions based on radon will have a future or not, but the point is that Giuliani foresaw a catastrophic earthquake at Sulmona in mid-March, and a few days ago he foresaw another earthquake, and this past night he slept in l'Aquila," Boschi said.
The quake struck at 3:32 a.m. local time (9:32 p.m. ET Sunday) in a quake-prone region that has suffered at least nine smaller jolts since the beginning of April.
The Italian news agency RAI reported an additional 30 dead in the village of Onna on the outskirts of L'Aquila when their homes fell in on them. Nearly the entire town is destroyed.
The aftershocks of the quake continued, with tremors still being felt on the ground.
Laura Paolini, an American who has lived in L'Aquila for 20 years, told ABC News that she felt a couple of small quakes before the big one, which "felt like a bomb going off."
When it hit, she said that she knew she had to get out of the house.
Paolini, a concert violinist by profession, said she was so afraid to return home that she left behind her violin and her cats.
Many survivors were still in their bedclothes, carrying blankets and looking dazed, according to Marquez. Others dragged their suitcases and were careful to walk in the middle of the streets to avoid any further falling rubble.
Though cell phone lines and the city's water supply continue to function, gas lines have been interrupted.
Pope Praying for Quake Survivors
Civil protection, military and fire department personnel from all over Italy are now flowing into the area.
Pope Benedict XVI said he was "praying for the victims and in particular for the children" caught up in the tragedy.
President Obama also sent his condolences "to the families" affected and expressed hope that the damage would be minimized "as much as possible."
This was the biggest quake to hit Italy since 1997 when 10 people were killed and massive damage was done at and around Assisi. The death toll was the worst since 2002 when 20 died in a school near Naples.
ABC's Miguel Marquez and Phoebe Natanson contributed to the reporting of this story from L'Aquila, as did The Associated Press.