— LONDON -- Relentless airstrikes pounded rebel-held Eastern Ghouta for the sixth day in a row, hours before members of the United Nations Security Council will vote on a resolution to institute a 30-day ceasefire in Syria to deliver humanitarian aid and evacuate the sick and wounded.
The fierce bombing campaign, launched by Syrian government forces and their allies, has killed at least 462 civilians, including 103 children, and left more than 2,000 people injured, according to the Syrian Observatory for Human Rights, a U.K.-based monitoring group. The offensive is one of the deadliest of the seven-year Syrian civil war.
Residents say they find it difficult to describe what life is like under the intense bombardment.
"The situation is catastrophic," Siraj Mahmoud, a spokesperson for the White Helmets and resident of Eastern Ghouta who works under a pseudonym, told ABC News on Thursday. "It can't be described at all."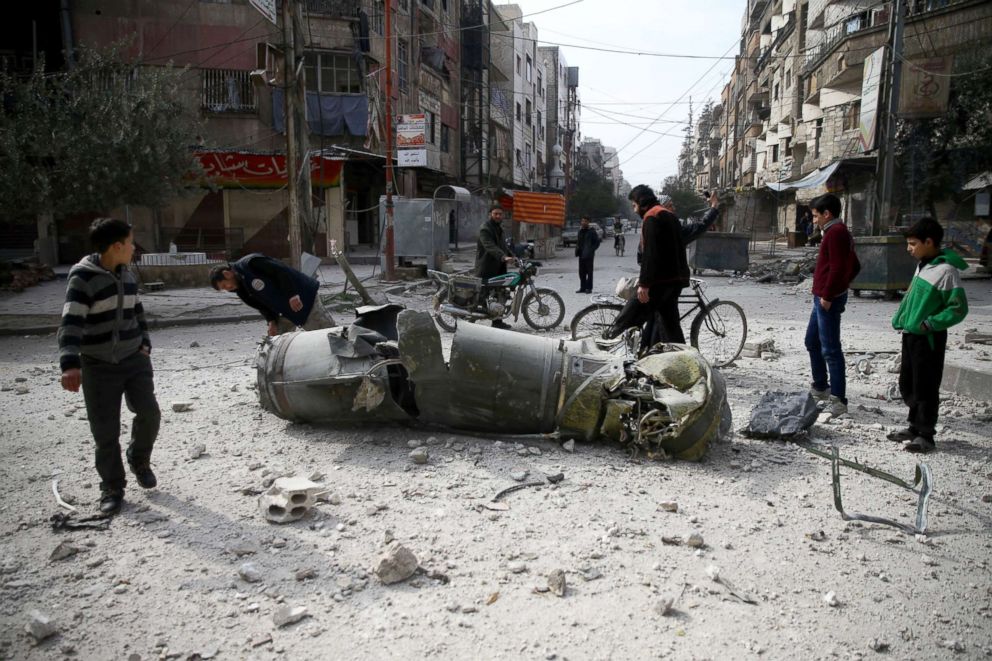 Eyewitnesses and monitoring groups said that multiple towns in the besieged enclave were bombed on Friday, including Zamalka, Harasta, Saqba, Hamouriya, Ein Tarma and Douma, which is the largest town in Eastern Ghouta.
"There are no houses that haven't either been flattened or damaged," Samira, a resident of Douma, who asked that her real name be withheld out of concern for her and her family's safety, told ABC News on Friday. Her own house was damaged on Wednesday night after a rocket was dropped on her street, she said. When the airstrikes intensify, she hides in the living room, which is the safest place in her apartment because it has no windows.
An estimated 400,000 people are trapped in Eastern Ghouta with little access to food, water, fuel, electricity and health care. More than 20 hospitals there have been attacked this week, according to the Syrian American Medical Society, which supports hospitals in Eastern Ghouta. Doctors in the enclave say they don't have trauma drugs and surgical equipment, making it difficult, if sometimes impossible, to save lives.
"I don't know how to describe what I feel when I see children in pieces and dead bodies," Amani Ballour, a pediatrician and hospital manager in Eastern Ghouta, told ABC News. "We don't know what to do."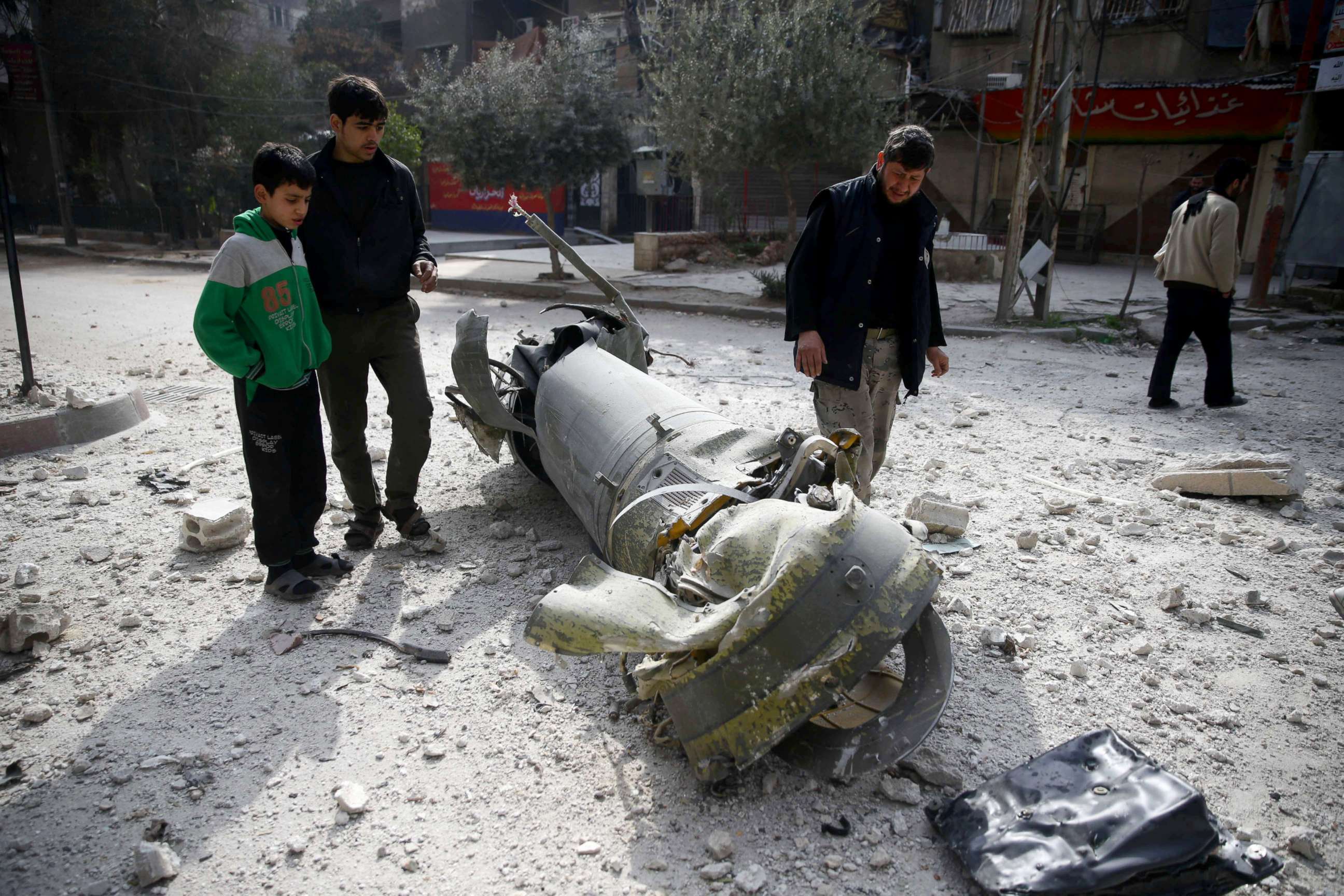 The United Nations Security Council met Thursday to discuss the situation in Eastern Ghouta at the request of Russia.
At the emergency meeting, Staffan de Mistura, the U.N. Special Envoy for Syria, called for a ceasefire.
"There is a need for avoiding a massacre, because we will be judged by history," he said.
Russia's U.N. ambassador, Vassily Nebenzia, called the resolution unrealistic and proposed amendments.
The recent surge in violence in Eastern Ghouta, which has been besieged by the Syrian government since 2013, is part of President Bashar al-Assad's campaign to seize Syria's last remaining opposition-held territories.
The Syrian government and its main ally Russia say their military offensive against Eastern Ghouta is necessary to overthrow rebels who have been firing mortars on Damascus. The Syrian state news agency SANA said that one civilian was killed and 60 were injured on Friday after opposition militants fired shells on Damascus.