Every time Staff Sgt. Alan McComie and the men of Alpha Company step across an invisible line not far from this tiny, isolated base, they grab their rifles a little tighter and step a little more carefully. The fighting always begins shortly thereafter.
The Taliban were born here in 1994, just a few miles away in a tiny, now crumbled mosque. They violently defend the land that is most historic to them, and they don't particularly appreciate when McComie comes too close.
"Their defensive belt is just a magical line that they don't want you to cross. And that's where they have their ambushes set up, and the IEDs," McComie says, referring to improvised explosive devices, or roadside bombs, which have killed so many Americans in Iraq and Afghanistan. McComie's best friend died from one just a few months ago.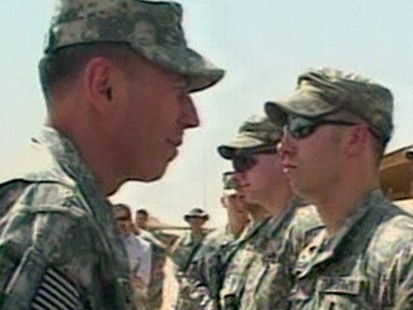 Alpha Company arrived in this district just 30 miles from Kandahar City at Christmas, inheriting a land so feared by the Soviet Army in the 1980s, it was nicknamed the "Heart of Darkness." Zhari district has never been controlled by the Canadian or American troops who have served here since 9/11, nor by the Soviets, who lost some of their final battles here.
Today, in Zhari and neighboring Panjway districts, the Taliban maintain massive influence over the area and the people, handing out justice, setting up daytime checkpoints and generally filling a vacuum created by the void of local government, according to local residents. Insurgents also use the area as a supply line and staging ground for attacks in Kandahar City, American military officers say.
Which is why, over the next few months, the two districts will become target number one for thousands of American troops pouring into this region trying to secure Kandahar, the Taliban's physical and spiritual heartland.
"Please don't use my name," says one local residents just a mile from this base when one of the soldiers is asking him questions. "The Taliban will slit my throat."
But making Zhari and Panjway districts secure for the local residents -- and maintaining that security -- will not be easy. Unlike in Kandahar City, where the United States will try to reduce violence primarily with police action, Zhari and Panjway will look more like a traditional infantry fight.
The battles will be made more difficult by a weak and still relatively small Afghan Army presence, and because of the historic shortage of American troops: soldiers here simply do not have the knowledge of the local community it needs to wage a counterinsurgency fight -- and the community does not have faith in the Army.
And the even harder challenge will be to create a local government which, along with Afghan police and army, needs to fill in the vacuum the Taliban have so easily exploited here.
Bloody Fighting Into Early Winter
"I think the government is not even in control of 10 percent of the area," says Mohammed Niyaz Serhadi, who was the district governor until he recently quit to run for parliament. His and his successor's office is inside an American base because of Taliban threats.
American commanders acknowledge there will be bloody fighting here through the fall and into the early winter. McComie's battalion commander, Lt. Col. Jeffry French, predicted in May that the troops who are now arriving in Zhari would "walk into a buzzsaw" without a major operation led by Alpha Company -- and that operation was cancelled at the last minute.
"This is one of the most complex nuts to crack in terms of the overall campaign," says French, whose men are being replaced by the second brigade of the 101st Airborne. "It would be a massive psychological blow to the Taliban if … follow-on forces come in here and establish persistent security. I don't think there's any greater effect we could have on the Taliban's ability to pursue the war."
The commanders of the second brigade, 101st Airborne have been told their most aggressive operations will have to wait until September because the Afghan soldiers who were supposed to have arrived last month simply haven't materialized yet.
"We could clear Zhari in seven days with our own guys and no Afghans. But what would be the point?" asks a senior U.S. commander in southern Afghanistan. "We have to wait and do it with the Afghans, even though it will be slower and more difficult."
But the Americans say attacks against the newly arrived forces have already increased. Lt. Col. Johnny Davis, who is based just a few miles down the road from Lak-o-Khel, will soon have six times the number of American and Afghan forces in Zhari as were there in May.
"The enemy knows," he says from Forward Operating Base Wilson, referring to the newly arrived troops. "They are testing us."
"Our main purpose is to find the Taliban and kill them"
The shortage of forces meant Alpha Company was only partially following the counterinsurgency guidance created by Gen. Stanley McChrystal, the leader of all coalition forces here until President Obama accepted his resignation. Alpha Company knew so little about this place when it arrived, many of their missions were "movement to contact" -- basically, patrolling until they were shot at.
The point was to see where insurgents were based and how they responded during a fight. Dealing with the population was, at least at the small Lak-o-Khel base, secondary. Lt. Chris Murray, McComie's platoon leader, got so used to being fired at, he expressed frustration during a recent lull in the fighting.
Speaking to a group of young men in the village closest to the base, he turned to his translator and said, "Tell them our main purpose is to find the Taliban and kill them. But when they're not around, we ask people questions to figure out what they want."
A School Filled With Explosives
What they want is nothing less than a sea change in their lives. Anybody who can afford to has left this area and moved a few miles to the north, on the other side of Highway 1, closer to Alpha Company's headquarters and where insurgents have fewer places to hide.
Those who haven't moved have to face not only Taliban intimidation but also the destruction that insurgents have wrought. There might be a dozen mosques in the immediate area but the only school in is abandoned and filled with IEDs. The Americans don't even bother going anywhere near the single building; they know if they cleared it out -- an extremely dangerous proposition -- there would be little stopping insurgents from rigging it again, and there would certainly be nobody volunteering to teach at the school because of Taliban threats.
"They're threatening them, they're taking their food, they're creating checkpoints and taking away cell phones and personal property," says Lt. Chris Ward, another platoon leader in Alpha Company who showed us the abandoned school. "The locals haven't decided yet that they want to standup. They're notorious for sitting on the fence until they feel like they know who's going to be the winner. We're trying to communicate to them that we are going to be the winners."
On a recent patrol with Ward and his men, that message was received skeptically.
Ward walked through the local bazaar, stopping to chat with about a half dozen shop keepers, most of whom had moved their homes because of the local Taliban.
"If… the warriors of Zhari district stand up to them, they will have no place to stay and they'll have to leave," Ward said to one shopkeeper, reflecting a realization that American troops in the area need the help of local villagers to bring security. "We want to encourage you to choose the winning side. We're here to stay."
Asked by a reporter if he was willing to stand up to the insurgents, the shopkeeper -- an old man who sold bread – was skeptical.
"We can help them if they promise to bring peace," he said.
And do you think the Americans can bring peace?
He paused. "They're here now. And there's no peace."
"A Lot of Hard Work"
Western Zhari's security problems existed long before Alpha Company arrived. As company commander Capt. Chris Ullrich points out, his men have effectively executed their first priority: clearing Highway One.
The paved, American-built road runs from Kabul to Kandahar, makes a right, and then runs right past Alpha Company's headquarters on its way to Helmand. When 2nd battalion, 5th Stryker Brigade arrived in this area last summer, the road was littered with burned out trucks -- physical reminders of insurgents' presence. Roadside bombs regularly destroyed local cars and convoys carrying American equipment. And farmers in the area -- so desperate use the road to deliver their crops -- were too scared to do so.
"I Don't Have a Rifle"
Today, the road is much safer. Constant American patrols, stepped up Afghan Army intelligence, and an intricate system protecting ditches that run beneath Highway 1 has eliminated virtually all of the bombs on the highway itself.
Ullrich argues that compared to Christmas, when he arrived here, Alpha Company has made huge strides in western Zhari. "Nobody had been here in years. We didn't have a lot of intelligence on how these guys communicated or operated," says Ullrich, whose skinny, almost angular face softens when he talks about his men.
Today, Ullrich argues Alpha Company has handed the newly arrived forces a "good understanding" of where and how insurgents launch attacks, as well as a map of the insurgent leadership itself. "That knowledge has taken a lot of hard work," Ullrich says, and the new units won't have to "start from scratch."
But Ullrich acknowledges that Alpha Company has only been able to manage so much, with few resources.
"I can go in and own it for a day or two days, but when I leave, they can move back in," he says with a sigh, referring to the insurgents. "I can't yet push in and get closer to the people and under the Taliban's skin."
"I don't have a rifle."
Commanders are confident that flooding this area with American soldiers will help change that. But they know there is a chicken and egg problem. The people of Zhari need to help the Americans in order to improve security here. But they seem unwilling to do that -- until they see an improvement in security.
On a recent day, McComie walked into a dusty, nearly vacant gas station to talk to the owner.
The man sat on one side of a small, cement structure. McComie sat just a foot away, trying to convince the man to use his cell phone to call the Americans with tips.
"You have a rifle, the Taliban have a rifle, but I don't have a rifle," says the gas station owner, who asked that he remain anonymous.
McComie said nobody would have to know he had called in a tip. The owner was unswayed. "We have spies in my room and you have spies on your base," he said.
After the conversation, an exasperated McComie walked out of the room and looked south of the highway, toward Sangisar, where Mullah Omar created the Taliban.
What was it like down there? Was there any security for the locals?
He sighed, and said, "None."