Democracy leader Aung Sang Suu Kyi was freed from house arrest on Saturday by the Myanmar government.
More than 200 of her supporters gathered outside her home in anticipation of her freedom and were joined later by thousands to welcome the release.
"I am thrilled by the news of her release," said former President Bill Clinton in a statement. "I was honored to present Aung San Suu Kyi with the Presidential Medal of Freedom in 2000 and I hope this signals a new direction for life within the country and for the country's relations with others beyond their borders."
Suu Kyi Spent More Than 15 Years Confined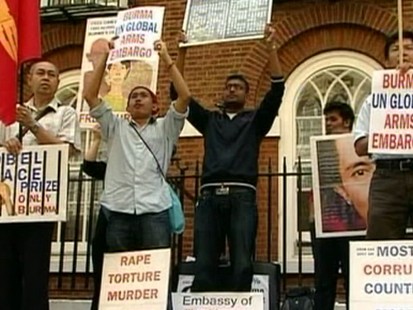 Suu Kyi's release ended one of the longest detentions of a high-profile, pro-democracy figure since
Nelson Mandela
in South Africa.
Suu Kyi, daughter of the founder of modern Burma, Aung San, was first jailed after rallying thousands of supporters in 1989, for an election which her National League for Democracy later won. However, the ruling junta refused to recognize the election results. Over the years, she has occasionally been offered freedom in exchange for banishment exile; but she refused, even when her husband was dying in England.
Fraud Claims Mar Election in Myanmar
The release follows the latest election in Myanmar, which was widely seen as fraudulent and which Suu Kyi's NLD boycotted due to a range of violations.
A report on the election by the dissident group Altsean Burma found, "widespread evidence of electoral fraud, irregularities, threats, harassment, and lack of independent monitoring characterized Election Day and the days leading up to it."
One remaining question is whether the government will allow Suu Kyi to engage in politics. Many dissidents doubt she would accept release without those assurances.