Artisanal cobalt mining swallowing city in Democratic Republic of the Congo, satellite imagery shows
Much of the world's cobalt comes from the Democratic Republic of the Congo.
LONDON -- As officials around the world call for a transition to a greener economy, one city is being transformed to accommodate the growing demand for one important mineral: cobalt.
The Democratic Republic of the Congo produces an estimated 70% of the world's cobalt, and most of it comes from the city of Kolwezi. Cobalt, which is mainly produced as a byproduct of copper and nickel, was ignored for a long time in favor of those more in-demand minerals. But now, the world is turning to it for its essential role in lithium-ion batteries for phones and electric vehicles, or EVs.
The Biden administration in January released a memorandum of understanding with the Democratic Republic of the Congo and neighboring Zambia, outlining plans to help strengthen the African countries' EV battery supply chain.
Satellite imagery provided by Planet Labs shows the dramatic growth of copper and cobalt mines in and around Kolwezi over the last 5 years as demand has skyrocketed.
Photos: The city of Kolwezi in satellite images from 2017 and 2022, shows the rapid expansion of cobalt mines.
The mines aren't only growing around the city, they are often creeping into people's neighborhoods. These satellite images of the west of the city reveal entire streets have disappeared over the last few years.
This rapid growth has changed the area as more land is conceded to mines. Anaïs Tobalagba, a policy researcher for RAID, a corporate watchdog organization, said the expansion has caused problems.
"A lot of the people who live on these lands have to be relocated. So they have to reinvent their livelihoods. And most of the time, you know, it's being faced with more and more poverty," she said.
Photos: Satellite images taken from 2017-2022 show the expanding mine near Kolwezi, DRC. Credit: Planet Labs PBC
This mining boom has also led many to turn to the industry for work. And while many work for established industrial mines and the large mining companies, many more work as artisanal miners, digging in informal pits alongside thousands in a cooperative without professional, large-scale equipment. Artisanal and small-scale mining are estimated to employ an estimated 200,000 people in the Democratic Republic of the Congo, and over a million more are indirectly involved through trade and transport.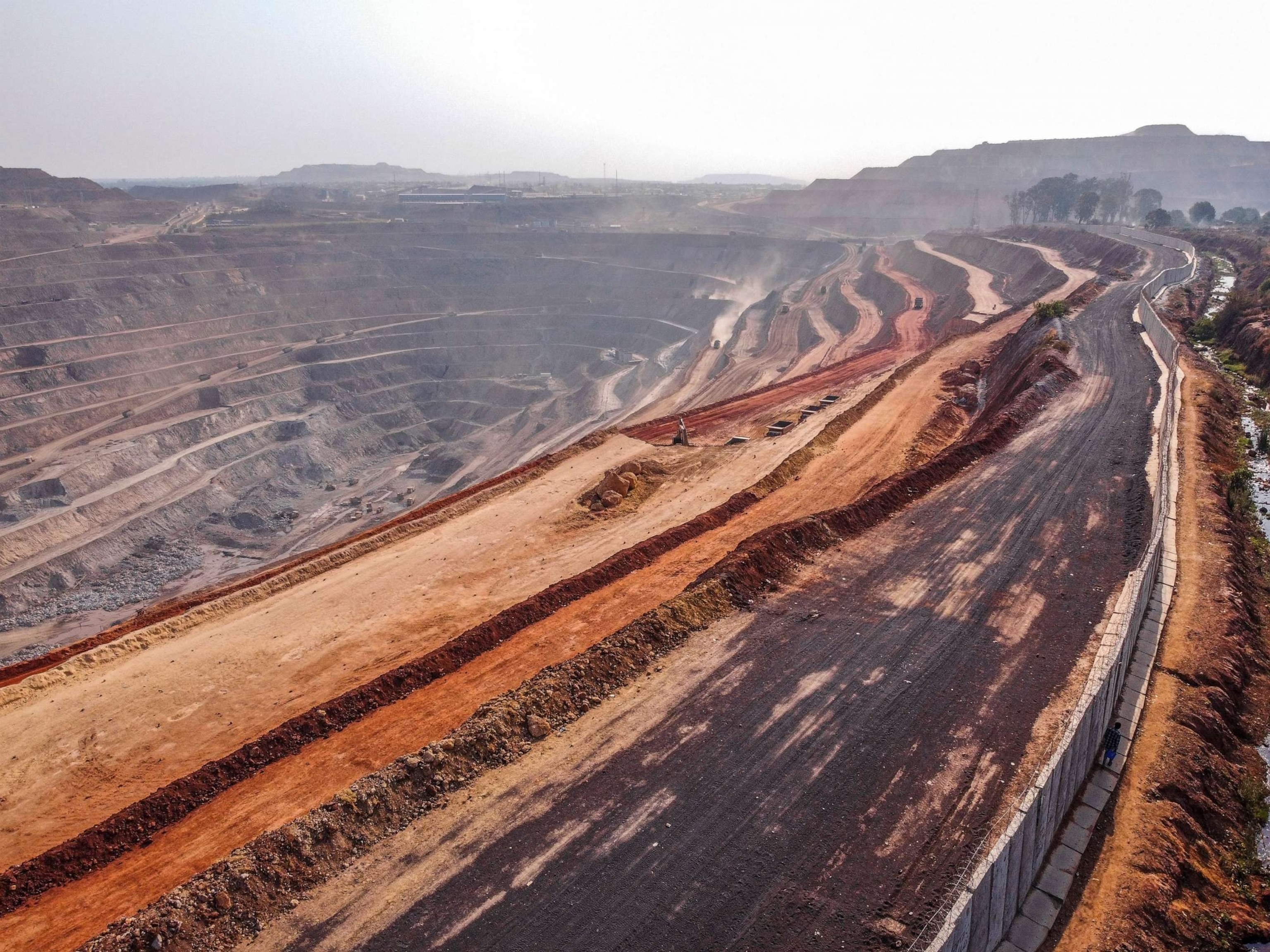 But this shadow economy is often dangerous and rife with human rights violations, observers said. Artisanal mining is often done with no personal protective equipment, in chaotic conditions. Mine collapses have caused hundreds of deaths and injuries. In October 2022, the U.S. Department of Labor added lithium-ion batteries to a list of goods produced by child labor, specifically because of children involved in the mining of cobalt in the country.
Siddharth Kara is a researcher in modern slavery and recently published a book on the cobalt rush. He said what he saw in Kolwezi shocked him more than anything he'd seen before, as "the severity and scale of human degradation and exploitation at the bottom of global supply chains, it just really shook me."
At mine sites he visited, "people were caked in toxic filth, children caked in toxic grime and filth and scrounging in pits, trenches and tunnels to gather cobalt bearing ore and feed it up the supply chain," he said.
A 2020 report by the Organisation for Economic Co-operation and Development estimated that between 18% and 30% of the cobalt produced by the Democratic Republic of the Congo is mined through artisanal mining. It is difficult to ascertain how -- and how much of -- this cobalt makes its way into the supply chain, and ultimately into the world's cellphones and EVs.
The industrial mines and the global mining companies that own them are adamant their operations are free of artisanal mining products. Even so, many are involved in initiatives to formalize artisanal mining. This would mean working with cooperatives of artisanal miners, and the DRC government, to massively improve working conditions, and integrate artisanal cobalt into the supply chain in a sustainable way.
David Sturmes is the strategic partnerships director for the Fair Cobalt Alliance. The FCA is an initiative working with mining companies and lithium-ion battery buyers like Tesla and Google, to improve the artisanal mining sector. It has worked with a Kolwezi mining cooperative to implement safety regulations, supply personal protective equipment, and eliminate child labor, at this cooperative's mine site.
Sturmes said he believes artisanal mining could be an opportunity if reformed, "if you actually invested into more productive, more efficient and safer working conditions. You could unleash an unfathomable potential."
However, the initiative remains targeted, working with one cooperative to understand the results of investment before expanding the program. Sturmes said, "it's a very complex and challenging environment to operate in," adding that it will take years, and massive investment to scale up.
Photos: The Shabara artisanal mine near Kolwezi, DRC, in satellite images from 2017 and 2022.
The Democratic Republic of the Congo government announced a centralized program to formalize artisanal mining 4 years ago, a plan still in its conceptual phase. Tobalagba, the RAID policy researcher, said she is hopeful that the United States' announcement to help with investment in the region will spur the local government to move forward and "develop their own infrastructures and their own manufacturing, their own refining of the minerals that they're producing."
Tobalagba said she worries that the situation as it stands now is unsustainable, "we're thinking about this energy transition as being something that will solve the environmental problems that the world is facing. But in reality, what's happening is the problem is just shifting from one part of the world to another."