It was a long Sunday morning for Um Fawaz and her three children. The bombing had reached peak levels over the last two weeks, even by east Aleppo standards, and finally what they'd been awaiting for months happened: Kurdish forces opened a crossing, allowing civilians to enter their safe enclave.
Interested in
Syria?
Add Syria as an interest to stay up to date on the latest Syria news, video, and analysis from ABC News.
"It was hell, my 1-year-old granddaughter was shaking uncontrollably, terrified by the sound of blasts getting closer and closer," she told ABC News from the safety of the house her family has taken refuge in.
There, in Sheikh Maqsood, under the control of Syrian Kurdish forces, the sky was tranquil. Kurdish forces have had a tacit non-aggression understanding with the government and have been largely spared the brunt of the bombing.
Over the weekend, the Syrian military launched a ground offensive on the forward lines of rebel-held east Aleppo, with the significant support of Hezbollah and other allied foreign armed groups. Their advance was swifter than anticipated. By Monday morning, opposition armed factions had lost a third of the territory they've been holding for years, bringing the government of President Bashar al-Assad the closest it's been since the start of the conflict in 2011 to asserting control over all major urban centers.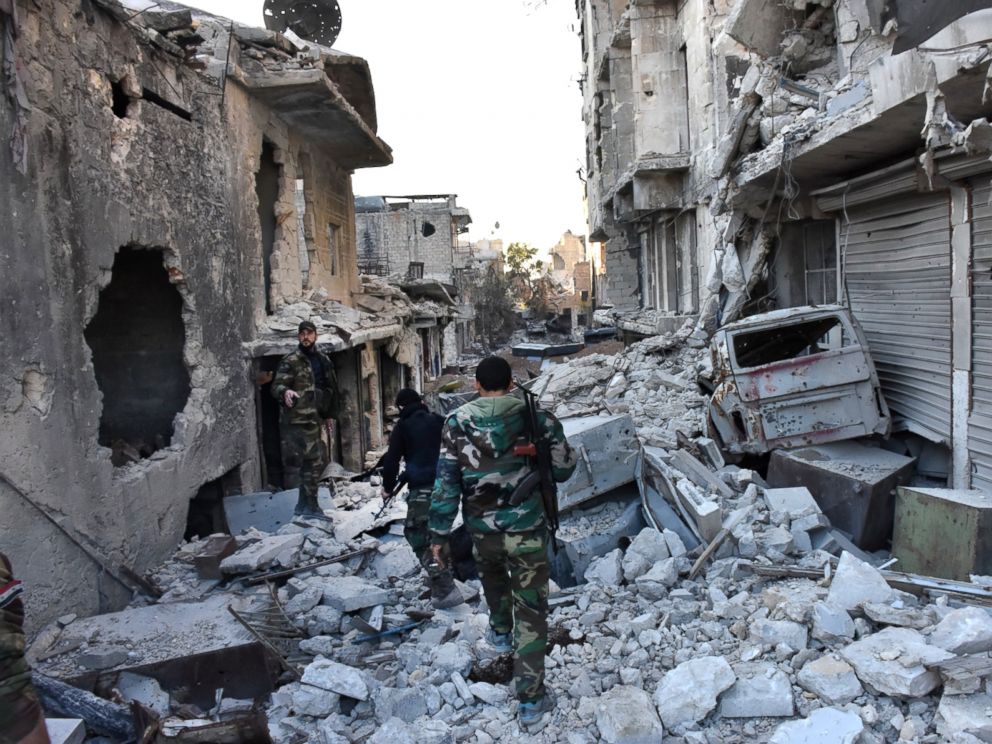 After months of intense Russian and Syrian aerial bombing, and relentless artillery shelling, rebel defenses in their most fortified areas buckled. Most symbolically, rebels lost control of Masaken Hanano, the first neighborhood they wrested away from the government in 2012.
"The situation in the city is chaotic, no one knows what's about to happen," one media activist said. Some residents found the frontline had suddenly moved to their doorstep.
Yousef Houran, a lawyer and activist from Aleppo, who now lives in the countryside of Idlib, said that some of his friends in east Aleppo had intended to leave as the government advanced but weren't able to.
"My friends were not able to leave to Sheikh Maqsood because of the intensity of the bombardments from warplanes and all kinds of weapons and missiles," he told ABC News.
Bana, a young girl in east Aleppo who received "Harry Potter" ebooks from J.K. Rowling after she shot to fame tweeting, through her mother, about her daily life under siege, said on Sunday that her house had been shelled, sharing a photo of herself covered in dust.
Those who are now safe from the bombing, fear retaliation from government forces. An activist told Amnesty International that some male residents of Masaken Hanano were taken to al-Nairab airport for interrogation and screening.
Amnesty International called on government forces to "ensure civilians are protected from revenge attacks" even though the organization could not verify these reports.
Um Fawaz, who asked that a pseudonym be used out of fear of retaliation for speaking to the media, was one of the more fortunate this weekend.
She fled Sakhour, her neighborhood in east Aleppo, Sunday afternoon with her two daughters, including one who is five months pregnant, her young son and her infant granddaughter. Her husband died before the conflict started in 2011.
"The Kurdish forces, God bless them, took us to this house. There are blankets but food is scarce, too many people are now crowded here." She is sharing a three-room house with 35 people. "It keeps us warm," she said with a laugh.
Nearly 7,000 civilians have fled west to Sheikh Maqsood since Saturday, according to Rami Abdurahman of the Syrian Observatory for Human Rights.
An additional 3,000 have moved east toward Masaken Hanano, now fully under government control, and from there were taken by government buses to the countryside and finally to an evacuation center in West Aleppo.
"Around 100 people or more returned to Hanano because civilians are running out of places to flee to," said Ibrahim Hilal, leader of the White Helmets in Aleppo, giving a much lower number than that of the SOHR.
The Syrian Red Crescent has not yet been able to provide a number for those who fled, but spokeswoman Muna Kurdi told ABC News that "many children and women came; they were given blankets and hot meals and medical teams are going around the evacuation center to provide medicine to those who need it."
Activists in east Aleppo told ABC News the numbers cited by the SOHR are inflated and that the majority of those fleeing took refuge in the Southern part of rebel-held east Aleppo, where the bombing continued Monday.
"We all know people who've had to leave their homes and seek security with friends and relatives. Everyone is hiding underground," Bara'a, a nurse who did not give her last name, told ABC News. "The aerial bombing is relentless, nonstop."
Syrian state television on Monday showed drone footage of deserted streets it said was from a few of the neighborhoods government forces and their allies entered over the weekend. The footage did not show devastated buildings opposition activists have shared.
Verifying the claims firsthand has become virtually impossible for journalists covering Aleppo as the city has been too dangerous to reach.
Last week, the United Nations warned that east Aleppo is now facing widespread starvation after the last U.N. food rations remaining in the city were distributed two weeks ago. Close to 250,000 people are believed to be in east Aleppo, including 100,000 children per UNICEF. They have been besieged for 94 days.
Some residents in east Aleppo said they still believed that the besieged city would remain an opposition stronghold despite the recent defeats for rebel forces.
"It has not affected my feelings at all because God is with us," Maha, a teacher in east Aleppo who did not give her last name, told ABC News of the recent advances by Syrian government troops. "And God will help us win."
Additional reporting by Lena Masri and Nasser Atta.