When Elian Gonzalez was found floating on an inner tube 60 miles off the coast of Miami 15 years ago, the fisherman who helped rescue him said finding the 6-year-old boy in the water was a "one in a billion" chance.
"You know, that day my cousin told me, 'we are not going fishing,'" Donato Dalrymple told ABC News. "The marine advisory said it would be a horrible day for small boats to be out there. We were on a 25-foot fishing vessel, not like we were out in the middle of the ocean with a big fishing boat. And there was nobody out there, completely nobody."
Dalrymple said a school of dolphins swimming close by drew their attention to the small boy.
"I tell you, I believe it was my destiny," he said. "My journey that day, as a missionary, a person of faith, just persisting with my cousin that we ran right into that inner tube. We went directly to it."
Elian was dehydrated and unconscious when he was pulled from the water, and was taken to Miami. Now 21 years old, Elian said he is thankful to the fishermen who saved him.
"Those are moments that no matter how hard I try to put them aside, they will always leave a mark on me," Elian told ABC News in an exclusive interview.
As would the next several months of his young life.
When he was just 6 years old, Elian said his mother and her boyfriend had given him sleeping pills before they got onto a small 16-foot fishing boat in the middle of the night to head for the United States. He remembers the boat capsizing during the crossing, and falling into the water, but there were inner tubes tied to the back of the boat and Elian said his mother loaded him onto one. He survived, but his mother was lost at sea. Her body has never been found.
After his rescue in 2000, Elian was placed in the care of his Miami relatives, who fought to keep him in the U.S. against the will of his father Juan Miguel back in Cuba.
"There were so many emotions and all at the same time when I was with my uncles," Elian recalled. "Everyone staring at me, thinking about me, the media, everyone staring at me. They didn't allow me that time to cry for my mother. To sit down and realize what had happened. I was simply a kid, and to me everything was a game."
The media circled the family's Old Havana, Florida, home where Elian stayed, as his relatives proudly displayed him as a victory over Communism.
"In the beginning it was difficult because I tried to get the support of someone," Elian said. "I had lost my mother, I didn't understand what was going on."
At the time, Elian said he turned to his cousin Marisleysis. "I saw her as a mother," he said. "And I tried to consider her like that."
"[My relatives] did try to give me a better life but they made a mistake, I believe," Elian continued. "Because they were against their own nephew. And I had to be with my father."
ABC News reached out to Marisleysis about Elian's offer at reconciliation and she said she was not interested in speaking on camera or even in hearing any recorded message ABC News had taped from Elian.
But his uncle, Delfin, did agree to speak to ABC News. We played a message from Elian for him, in which Elian comments on his Miami family and asked for an apology before he agrees to see them again. After watching the message, Delfin said Elian had been manipulated.
"It is not the boy's fault," he said. "That is where you see the manipulation of that ******* system. They destroy everything. They have destroyed that boy, they have him like a robot. Doing what he doesn't feel but everything he is saying is a lie. That is the reward we get for doing good. Taking care of him when he was defenseless and he didn't have anyone to take care of him and his own damn father said to take care of him until he could come get him. That is the reward that a poor family gets, that gave him love. I don't see why we should say sorry."
But in fact, after Elian arrived in Miami, his relatives kept the boy for weeks after his father went to the U.S. to get him, which led to the raid inside their home.
The Cuban government was not at the interview with Elian and did not attempt to censor ABC News' reports.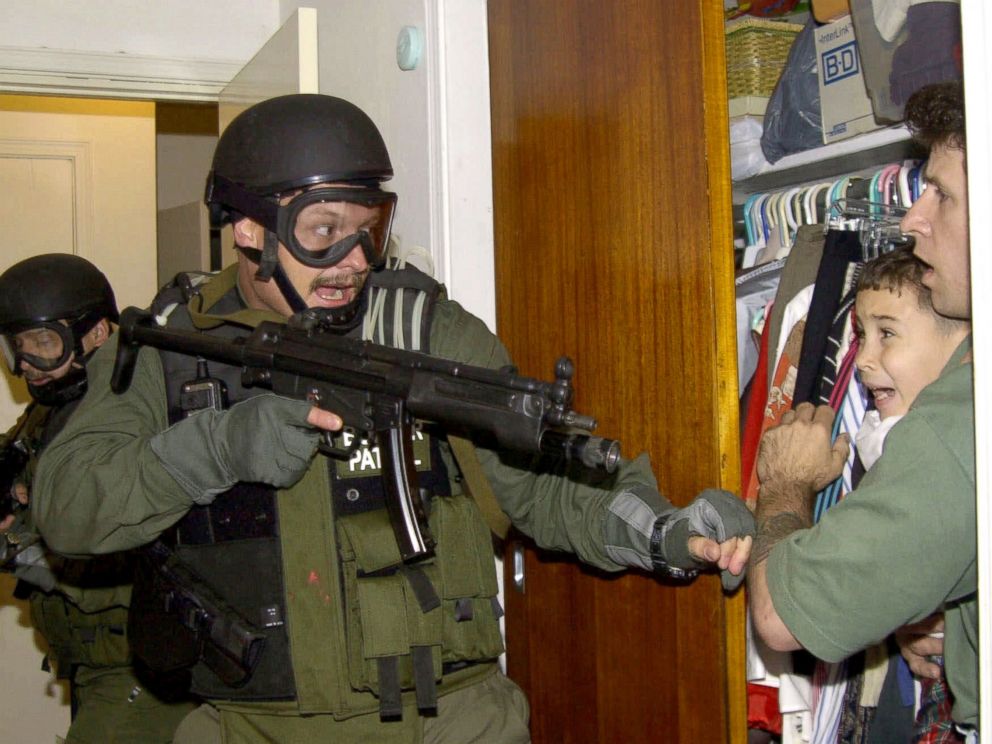 While the family may not be willing to move forward, the fisherman who rescued Elian all those years ago would. Dalrymple is the man holding young Elian in that iconic raid photo where he and the little boy are faced with a federal agent's rifle.
"Juan Miguel is a good man, he loves his son," Dalrymple said. "I couldn't imagine him, regardless of where he lives on this planet, being without his son."
"I do apologize," he continued. "Because I would love to see [Elian] again and just hug his neck and his father because this was a beautiful thing. What happened down there. It was never meant for me to try to aid and abet and hold him against his father regardless but it seemed like that's what it was at that time."
ABC News' Jackie Pou contributed to this report.