— -- Two days after parts of the French city of Marseille were engulfed in violence between Russian and English soccer fans ahead of a Euro 2016 match, French authorities have suggested the chaos was partly caused by a hardened group of Russian hooligans who came specifically to fight.
A large contingent of "well-trained" Russian hooligans, according to French prosecutors, came to Marseille planning to launch an attack on English fans.
"These people [the Russians] were well prepared for ultra-rapid, ultra-violent action," Marseille's chief prosecutor, Brice Robin, said at a news conference today. Around 150 "extremely well-trained" Russians had been involved in the fighting, striking at high speed so as to avoid arrest, Robin said.
A Russian fan, Vladimir, told the French news agency AFP, that he and around 150 others had traveled to France "to show that the English are little girls."
Parts of Marseille were turned into battle zones on Saturday, with English, French and Russian fans in a chaotic brawls, tangling with police amid barrages of bottles and breaking chairs over one another.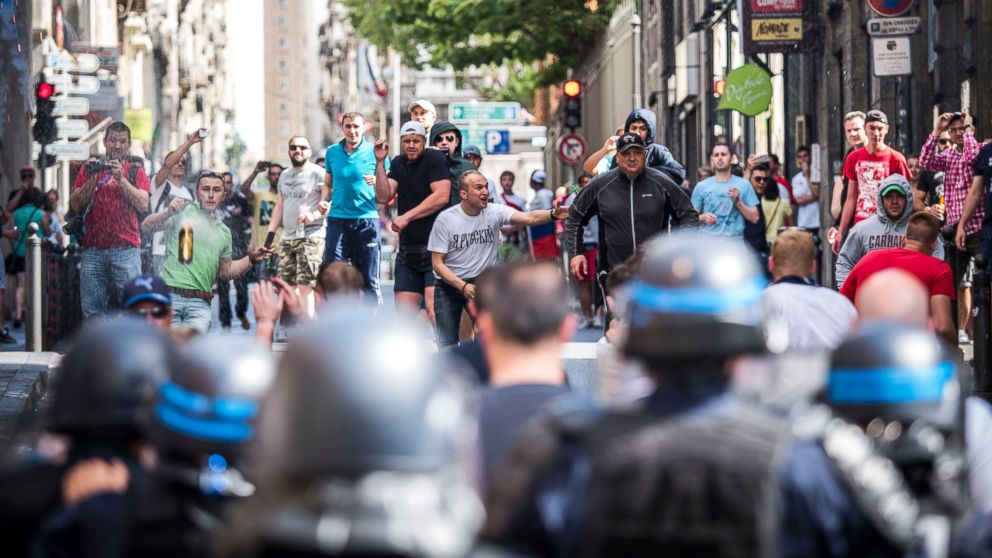 There were 35 people injured in the fighting, almost all British, with 20 people arrested, according to the prosecutor, but only two were Russian. The suggestion was that the Russian hooligans were well-practiced in evading the police.
Tens of thousands of England fans were in Marseille ahead of the 1-1 draw. Earlier in the day, dozens of them were fighting with police, as well as local French fans, mostly around Marseille's Old Port area. Police used water cannons and stun grenades on the crowds to try to restore order.
According to witnesses, including Russian and British journalists at the site, into this melee arrived dozens of Russian hooligans, who enthusiastically set upon the drunker -- and apparently less prepared -- Englishmen.
But while the violence was condemned immediately by Euro 2016 officials and in the British media, many Russian commentators, including state television, have been celebrating it as a feat of martial prowess.
"Well done our boys!" Igor Lebedev, an official from the executive committee of Russia's national soccer league, Tweeted. "Keep up the good work."
Russian state television ran a report depicting the clashes as a heroic combat between the outnumbered Russian fans and a drunken horde of Englishmen.
An article from the main Russian state broadcaster, Vesti, stated that "250 Russians from various corners of our country did not waiver and beat off an attack from a superior numbers of drunken islanders."
Lebedev and other commentators blamed French police for the violence, saying they had failed to take proper security precautions, like banning alcohol or removing glass cups from bars.
The tournament's organizer, UEFA, has warned that Russia and England could be disqualified if the violence is repeated.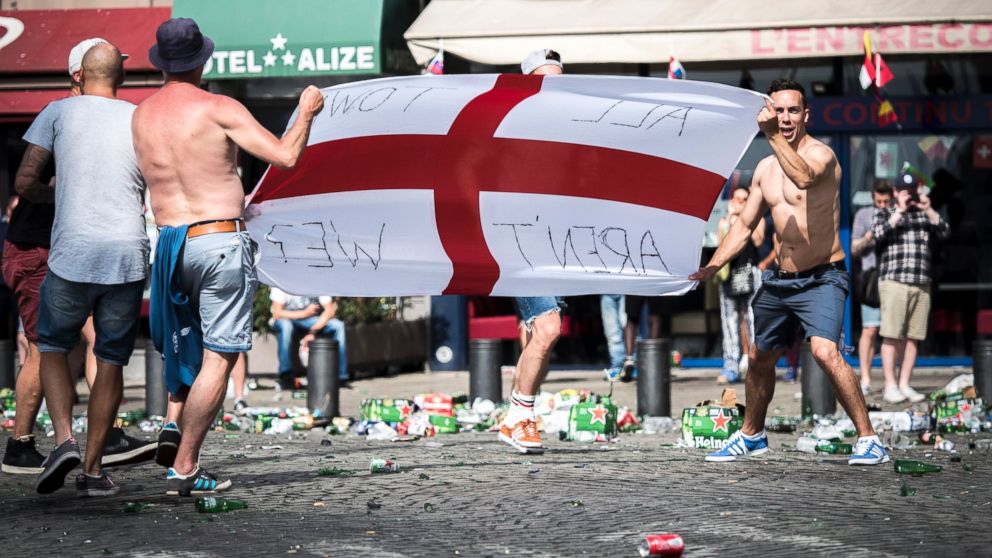 Russia's sports minister, Vitaly Mutko, appeared to acknowledge today the praise from home might be getting out of hand. After initially brushing off the incidents, he said today that the hooligans were "shaming Russia."
Russia's "ultras" -- as the full-time hooligan groups are known in Europe -- are notorious for their violence and organization. Some of the groups overlap with far-right and racist organizations. English soccer fans also retain a fearsome (and sometimes still deserved) reputation for violence while travelling, but hooligan culture there has waned after years of police crackdowns and zero-tolerance at matches. Some English fans, though, said Russian hooliganism was far more premeditated.
"They don't drink, they are consciously focused, they train for six months, preparing for acts of hooliganism and violence like this," Kevin Miles, of the British fan group, the Football Supporters' Federation, told the BBC, blaming the Russian fans for the violence.
Although some Russian fans have now returned home, there were concerns that the ultras might target other games. Russia plays Slovakia on Wednesday in the northern city of Lille. French authorities have already ordered alcohol to be banned near match venues and fan areas.
Dmitrii Lukukh, a former member of a Russian "hooligan firm," said that he knew some of his former colleagues were still in France but said if French police took proper measures there wouldn't be any major trouble.
"It's just usual fans," he told ABC News.
"Well, not absolutely usual," he said with a laugh. "But still fans."