— -- A 68-year-old Texas grandfather who was offered a seat on a subway in Rio de Janeiro shocked Twitter users around the world when he pulled off a stunt that would be difficult for a man even half his age -- a feat that was captured in pictures shared by his grandson.
Britton Barker, 19, shared a series of photos of his grandfather, Wayne McEntire, on Twitter Thursday morning after he "very respectfully declined" the seat offered by a young Brazilian man on a relatively crowded train.
"He is one of the kindest and most polite people I know," Barker said of his grandfather.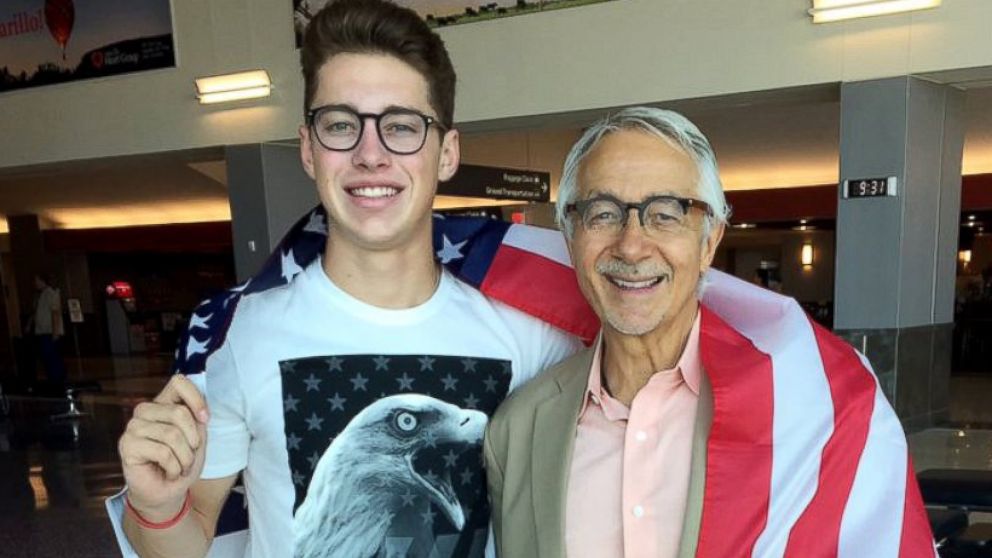 The pair, from Amarillo, were leaving Rio Centre after seeing some Olympic events and heading back to their apartment on the Copacabana Beach, Barker told ABC News.
After being offered a seat, McEntire can be seen grabbing a pole then using his upper body strength to hoist his legs in the air, his body parallel to the bench below him. A man in a green shirt looks up in amusement as he poses for the camera.
Several people approached him as they exited the train to tell him how "impressive" the move was and to ask him how old he was, Barker said.
"Someone offered my grandpa a preferred seat for elderly people on the subway and he did this," Barker wrote on Twitter. Barker said that his grandfather works out every day with light weights and maximum repetitions and has pulled similar tricks in the past, but never in public.
The post has been retweeted more than 38,000 times and liked more than 44,000 times. Barker tweeted "oops" in response to accidentally making his "papa" Twitter famous.
"I've never experienced anything like it," the teen said.
Barker will travel home to the U.S. tomorrow to move into his dorm at Texas Tech University while McEntire will stay in Rio for another week, Barker said. McEntire is an avid Olympics fan, and Rio is the fifth Olympic games he's traveled to since Los Angeles in 1984, his grandson said. He then went on to attend the Sydney games in 2000 to watch his friend Brandon Slay win a gold medal for the U.S. in wrestling.
After Sydney, McEntire traveled to Beijing in 2008 and London in 2012 with Barker's older brother, Barrett. McEntire plans on taking Barker and both his brothers with him to Tokyo in 2020, Barker said.