BEIRUT -- Israeli Prime Minister Benjamin Netanyahu said Monday Israel had obtained thousands of Iranian documents detailing Tehran's past nuclear weapons development program and showing what he said was a failure by Iran to declare those activities before signing on to an international nuclear agreement.
In an elaborate and sometimes theatrical presentation including full-screen slides and video clips of various Iranian leaders denying the existence of a nuclear weapons program, Netanyahu spoke first in English and then in Hebrew.
He presented as evidence of Iran's nuclear weapons initiative a trove of documents he said were acquired by Israeli intelligence from a secret storage location in south Tehran.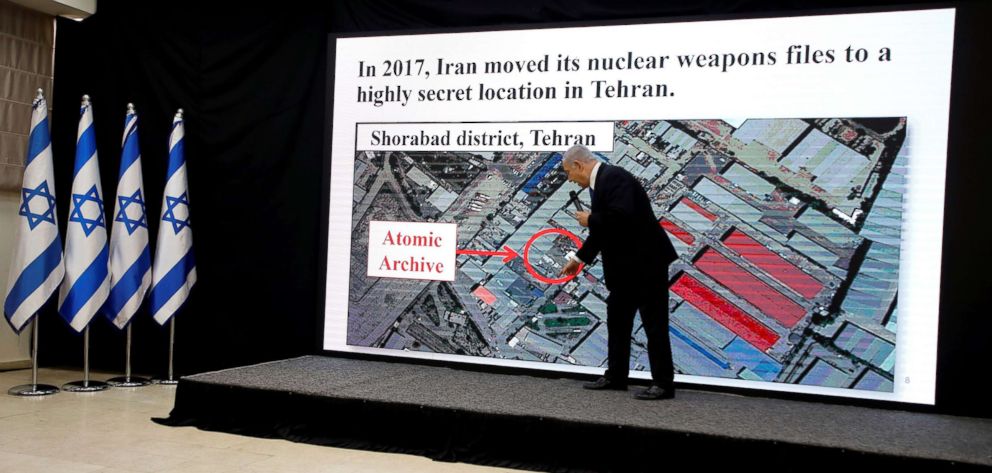 "Here's what the files included: incriminating documents, incriminating charts, incriminating presentations, incriminating blueprints, incriminating photos, incriminating videos and more," Netanyahu said, even though the documents showed dates that appeared to indicate past Iranian behavior rather than action taken since the agreement went into place in 2015.
The remarks came before a May 12 deadline when U.S. President Donald Trump is set to decide on whether to withdraw from the international deal on Iran's nuclear program.
"This is a terrible deal," Netanyahu said. "It should never have been concluded. And in a few days' time, President Trump will decide -- will make his decision on what to do on the nuclear deal. I'm sure he'll do the right thing -- the right thing for the United States, the right thing for Israel, and the right thing for the peace of the world."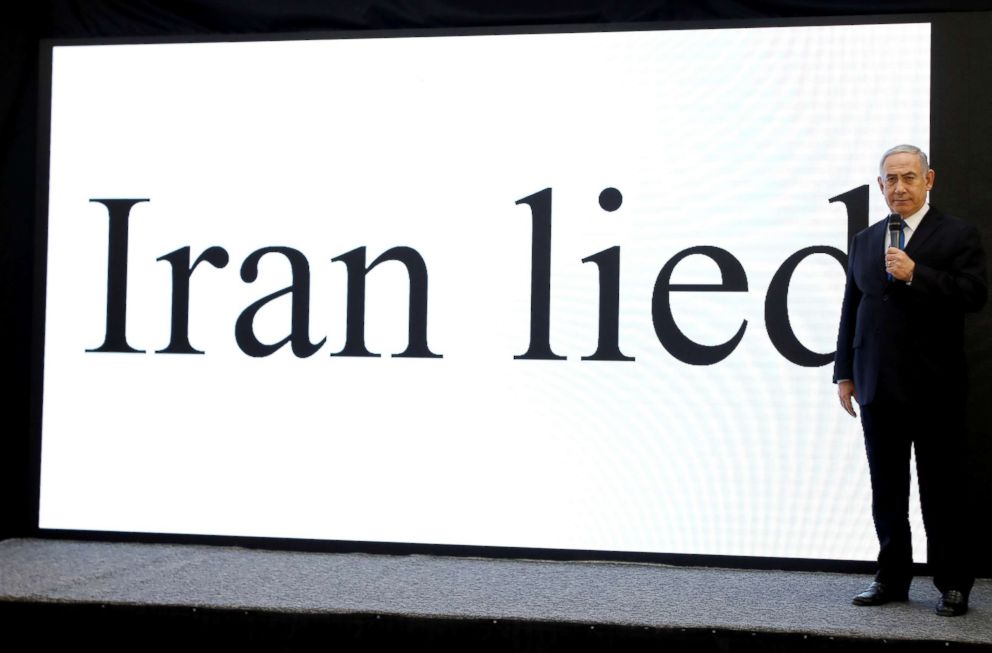 Tehran attacked the speech hours before it was even delivered, referencing Netanyahu's repeated rejection of the Iran nuclear agreement.
Referencing a 2012 speech Netanyahu delivered at the United Nations General Assembly, Iranian Foreign Minister Mohammad Zarif called Netanyahu the "boy who can't stop crying wolf."
During a White House press conference with his counterpart from Nigeria, Trump was asked if he will pull the U.S. out of the deal.
"I'm not telling you what I'm doing, but that doesn't mean I won't negotiate a new deal. We'll see what happens," Trump said shortly after Netanyahu concluded his presentation.
Zarif replied that Trump was "jumping on a rehash of old allegations."
ABC News' Ben Gittleson contributed reporting.