Madeleine McCann's parents say they're "greatly encouraged" by the expanding investigation into the case of their missing daughter that has yielded new leads.
Interested in
?
Add as an interest to stay up to date on the latest news, video, and analysis from ABC News.
"I am confident we're getting closer just by filling more pieces of the jigsaw,'' Gerry McCann said today in an interview with the BBC.
Gerry and Kate McCann released a statement Sunday, saying they are "greatly encouraged by new information coming to light.'' The McCann's statement comes days after British investigators announced they're scouring 39,148 documents containing data collected from thousands of mobile phones from residents and tourists who were staying in the same area, hoping to narrow down the 41 persons of interest, 15 of whom are U.K. nationals.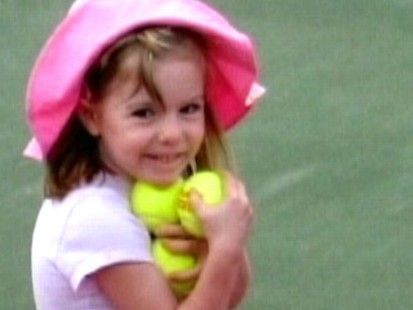 Portugal Police to Aid Scotland Yard's Hunt for Madeleine McCann
Madeleine McCann was just days away from her fourth birthday in May 2007 when she went missing from her hotel room bed while her parents dined at a nearby restaurant. The McCanns were immediately named suspects by Portuguese police but were eventually cleared.
By examining mobile phone data, authorities said they hope to map out exactly who was in the area at the time of McCann's disappearance and narrow the list of persons of interest considerably. The coastal village, which is situated in Portugal's Algarve region, is home to around 3,000 residents, plus numerous tourists.
Police Scour Phone Records for Clues in Madeleine McCann Case
"So you have a lot of temporary visitors, lot of people who were working in the hotels and the cafes, and tracing all of those people, linking real people to the phone numbers you have is going to be a significant challenge," Cybercrime expert Peter Sommer said.
McCann's parents are set to appear live on BBC's episode of "Crimewatch" next Monday to make a heartfelt plea to anyone who has any information on their daughter's disappearance.
Why Madeleine McCann May Still Be Alive
The show will feature a reconstruction on the latest, most detailed understanding of the events around the time McCann went missing. The McCanns are hopeful it will bring them a step closer to finding out what happened to their daughter.
Speculation has run rampant over the years about what happened the night McCann vanished. Some have speculated that the child could have been kidnapped by a sex trafficking organization, while a British newspaper recently asserted that she might have abducted as part of a robbery, after a series of break-ins in the area.
Scotland Yard would not comment on the investigation, but Detective Chief Inspector of the Metropolitan Police Andy Redwood said he believes there is hope she is alive.
''There is no clear, definitive proof that Madeleine McCann is dead, so on that basis I still genuinely believe that there is a possibility that she is alive,'' Redwood said.
Kate and Gerry McCann have maintained a website and a 24-hour tipline to keep their daughter's case in the public eye.