A strong earthquake shook southern Mexico on Saturday morning, the third temblor to hit the country this month.
Interested in
Mexico?
Add Mexico as an interest to stay up to date on the latest Mexico news, video, and analysis from ABC News.
The latest quake sent shock waves hundreds of miles out from its epicenter to Mexico City, causing buildings to sway and raising alarm in the capital still reeling from Tuesday's 7.1 magnitude earthquake that Mexican officials say has killed at least 300 people.
Once the shaking stopped, rescuers in Mexico City resumed searches inside collapsed buildings where people may still be buried alive.
Mexican President Enrique Pena Nieto, who declared three days of national mourning after the devastating seismic event, has said saving lives is the top priority and search and rescue efforts will be ongoing as long as survivors are believed to be beneath the rubble.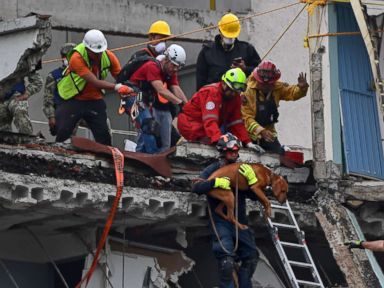 The earthquake on Saturday morning occurred around around 7:53 a.m. CT and had a 6.1 magnitude, according to the United States Geological Survey. It was centered about 11 miles south-southeast of Matias Romero in Oaxaca state, a region worst hit by the first earthquake this month -- an 8.1 magnitude temblor on Sept. 7 that killed at least 90 people.
So far, Saturday's quake caused the greatest damage to the Ixtaltepec bridge in Oaxaca, which needs to be rebuilt, as well to structures already damaged from previous quakes, according to Pena Nieto.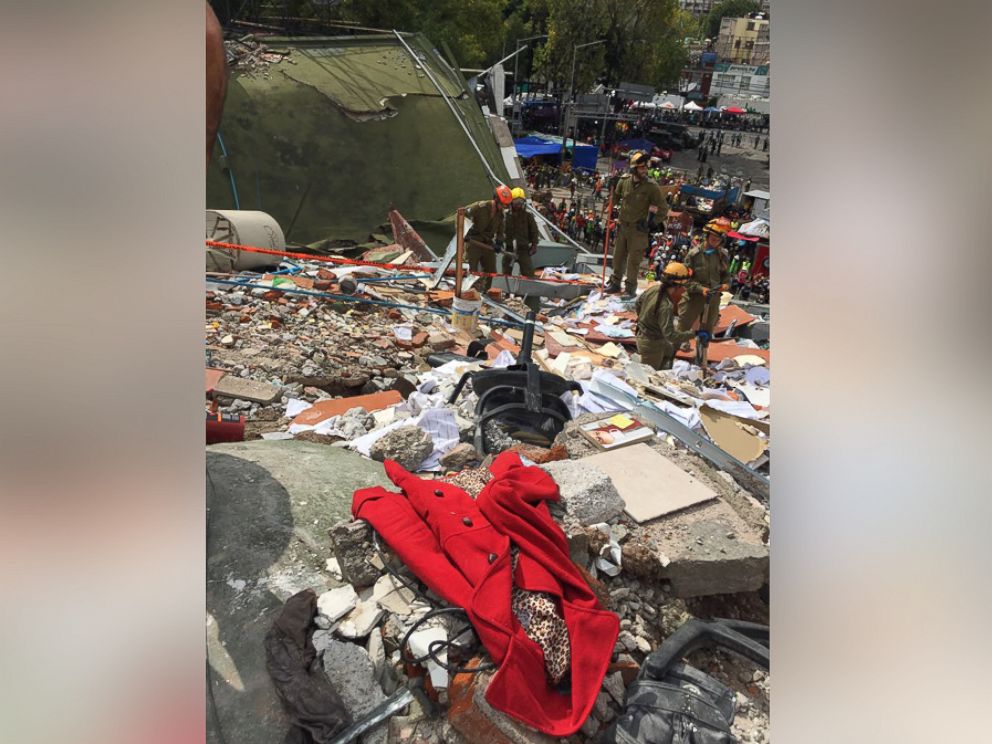 On Thursday, Pena Nieto said search and rescue efforts in Mexico City were ongoing at 38 buildings damaged from Tuesday's massive quake. But it was unclear Saturday how many collapsed buildings may contain survivors.
The powerful quake struck Tuesday afternoon, just hours after the region engaged in earthquake drills on the 32nd anniversary of a 1985 temblor that claimed thousands of lives in Mexico. It was centered near Raboso in Puebla state, some 75 miles southeast of Mexico City, according to the United States Geological Survey.
The disaster caused extensive damage across Mexico, leveling at least 44 buildings in the capital alone, including homes, schools and office buildings. Further southwest, in the Santiago Niltepec municipality of Oaxaca, more than 1,600 homes sustained damage -- 1,000 of which will have to be rebuilt because they are uninhabitable, according to Pena Nieto.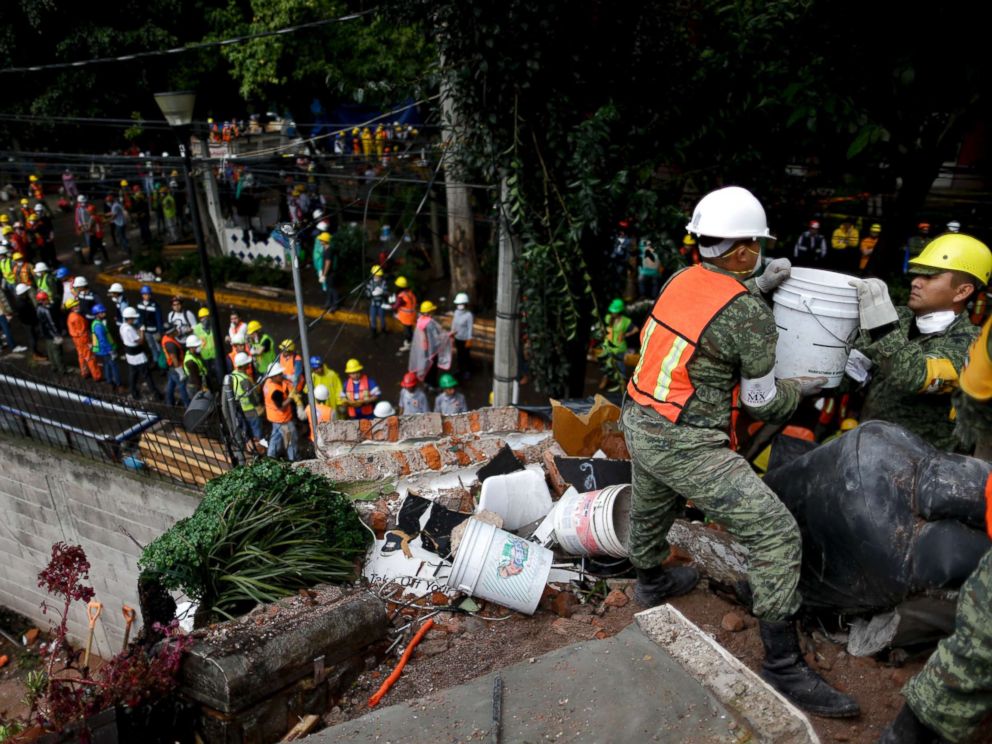 In Mexico City alone, more than 1,900 people have been treated in health facilities since the quake, according to Pena Nieto.
Out of the 307 people confirmed dead so far from Tuesday's quake, 169 perished in Mexico City, National Civil Protection chief Luis Felipe Puente announced on Twitter Saturday morning. The death toll is rising as rescuers continue to pull bodies from the piles of debris.
Much of the rescue effort in Mexico City focused on the Enrique Rebsamen primary and secondary school, where officials offered conflicting information on the death toll and whether there were pupils trapped beneath the cinderblock and rebar that once made up a wing of the three-story building.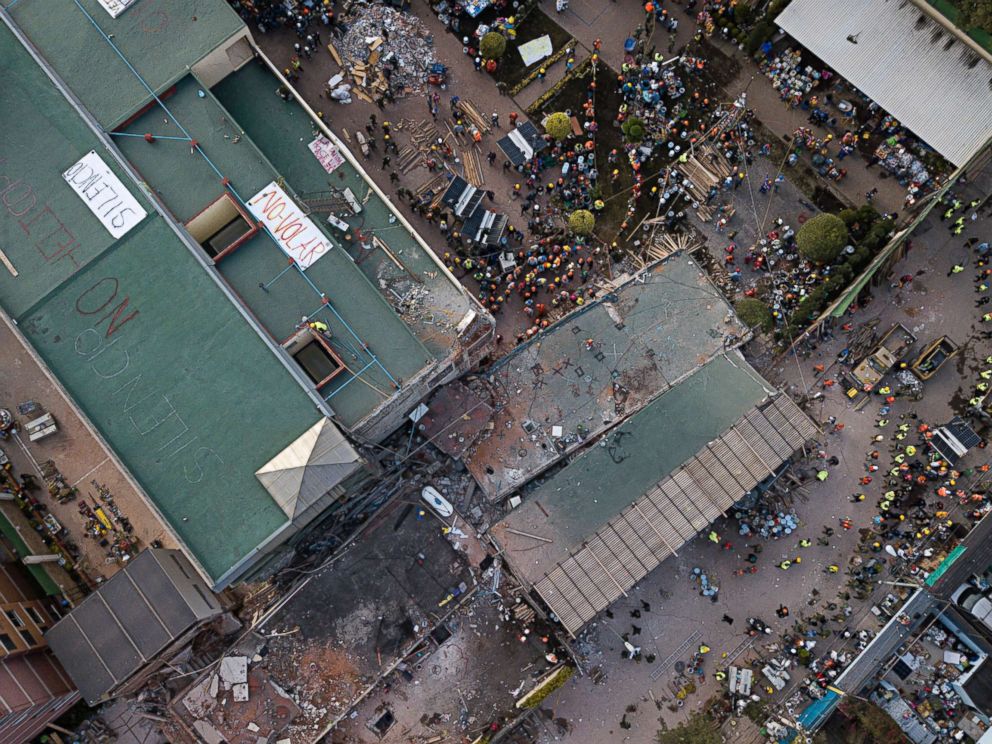 Rescuers spent days trying to tunnel inside the debris after Mexico's education minister said multiple students there -- including a 12-year-old girl -- were still alive within the pancaked piles of concrete slabs.
Then, in a stunning turn of events, Mexico's deputy minister of information told ABC News on Thursday afternoon it appeared no children remain trapped inside after cross-referencing all of the names of students and speaking with parents. He couldn't explain the discrepancy.
Members of the Los Angeles County Fire Department trained and equipped for urban search and rescue missions were deployed to Mexico City on Thursday by the United States Agency for International Development's Office of Foreign Disaster Assistance.
They swept through most of the collapsed school with canines and found no signs of life, though the team told ABC News they were only able to access about 75 percent of the rubble.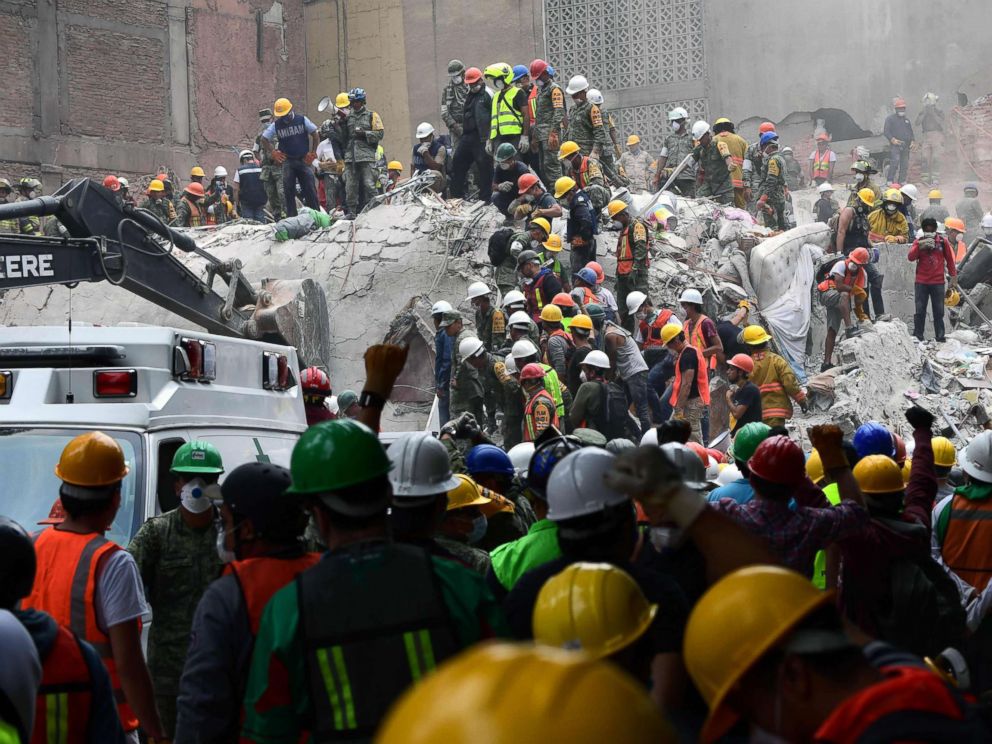 On Wednesday night, Mexico's president said 95 percent of electricity had been restored to the nearly 5 million customers in the country who lost power due to the huge temblor.
Mexico has accepted technical and specialized assistance from many countries, including the United States, Spain, Israel, Japan and several Latin American countries.
"We are all one when it comes to saving a life or helping a victim," Pena Nieto said.
ABC News' Benjamin Gittleson, Matt Gutman, Joshua Hoyos, Kirit Radia and Robert Zepeda contributed to this report.