RAEVSKY BASE, Russia— -- They are being described as the Olympics but with tanks.
Russia's International Army Games are running almost simultaneously with the Olympic Games in Rio de Janeiro this summer. Unlike the Brazilian event, however, competitors are not sportsmen but military personnel trying to best each other in driving heavy armor and completing special forces tasks.
A total of 121 teams from 19 countries are competing at the event, hosted by Russia and Kazakhstan, meant to test countries' troops' skills and equipment against each other. The games include events such as armored vehicle racing, "tank biathlons" -- when tanks race round a track, shooting and performing jumps -- as well as military engineering trials, anti-aircraft defense simulations and even a cooking competition.
Russia's Defense ministry launched the games for the first time in 2015 and Russian military commanders this year have been publicly pressing comparisons of the event with the Olympics (from which Russia was almost excluded over systemic doping among its athletes).
"The goal of any games is the same: bringing people closer together, in a competitive spirit, and to go beyond yourself and have the strongest win," Maj. Gen. Andrei Khozalov said after one race.
Besides the tanks, though, there is another major difference between Russia's military games and the athletic ones in Rio: the shortage of Western countries. The United States is not competing and Greece is the only NATO member participating in the games, though Germany is present as an observer.
Russian officials told ABC that they had invited the United States and other NATO countries, who declined.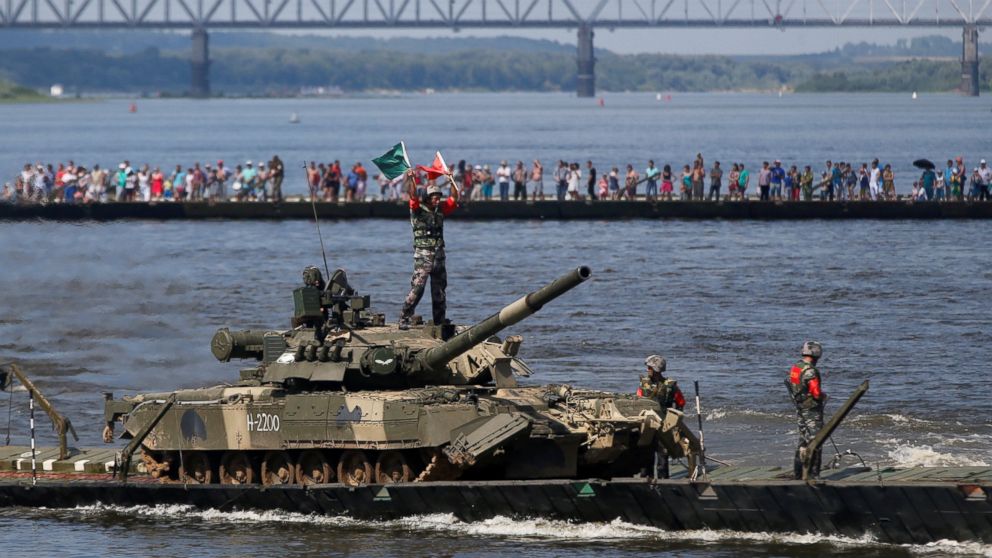 Instead, the most active competitors are countries allied with Russia, many with difficult relations with the United States, such as China, Venezuela and Iran. The participant list at an armored vehicle race in Anapa in southern Russia looked like a who's who of U.S. military rivals, plus the former Soviet Union.
The competition appears to be part of a drive to promote the military as a symbol of national pride in Russia, a trend that has emerged particularly strong after the country's seizure of Crimea from Ukraine in 2014. Over the past three years, besides a major modernization effort, the Russian army has undergone a significant rebranding, while the military has become a more and more central part of Russian public life.
Military-themed events take place most months, while state media celebrate the armed forces' prowess and army merchandise has become widespread. A chain of military-owned stores selling fashionable army-branded clothing has sprung up across Moscow, selling everything from hoodies to ski-gear.
Much of the Army Games itself is taking place in the newly constructed Park Patriot, a huge military amusement park opened by the government last year near Moscow.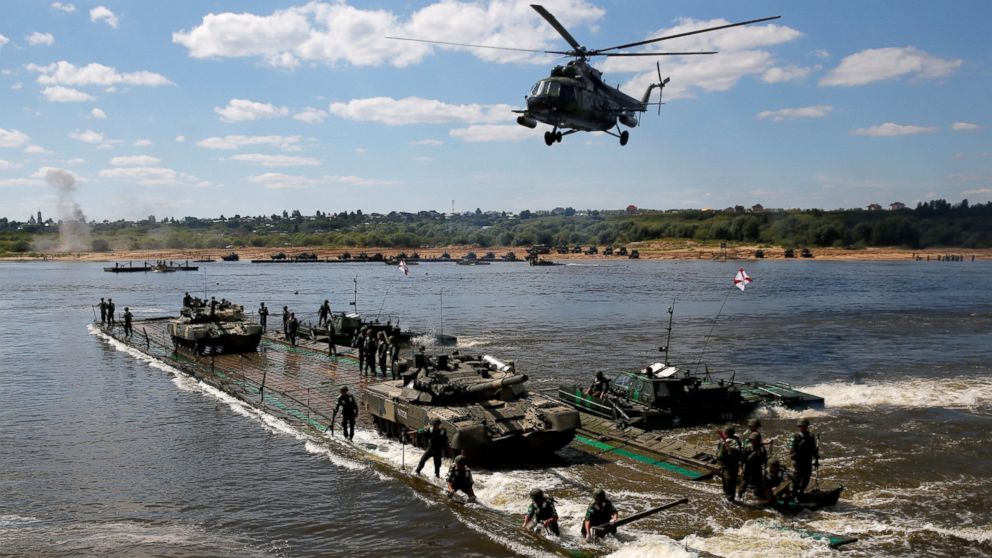 Russia's seizure of Crimea and incursions into eastern Ukraine and its intervention in Syria have recently worried U.S. military officials, concerned by what has appeared to be Moscow's significantly improved military capabilities. Russia has raised its defense spending considerably in recent years, though low oil prices and a weak currency have undercut this lately.
Russia's defense spending of $66.5 billion a year is, nonetheless, still a fraction of the United States', which stood at $596 billion in 2015, according to calculations by the Stockholm International Peace Research Institute (SIPRI).
Russia's real-life military entanglements mean that the games have taken on some macabre overtones, entertaining crowds with tank dances and staging artillery shooting, even as Russia's armed forces have been pounding the Syrian city of Aleppo with airstrikes, reportedly sometimes hitting hospitals.
Russian state media reported today that Russian aircraft were supporting a new offensive by Syrian government troops seeking to strengthen the siege of the city.