Flags flew at half-staff across Russia today, declared a national day of mourning by President Dmitry Medvedev in honor of the more than 100 people who died in a nightclub fire early Saturday morning in the city of Perm.
Four people were charged today in connection with the blaze, which was caused by fireworks. A fifth suspect, a co-owner of the Lame Horse club, where the incident occurred, has yet to be arrested because he was in the club at the time of the fire and has been hospitalized.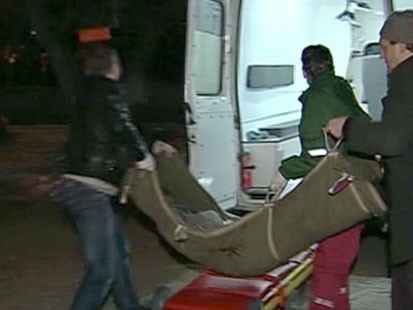 The death toll climbed to 113 today with the news that a 26-year-old woman died of her injuries. About 120 people are said to be in serious condition, while 100 have been flown to Moscow, St. Petersburg and Chelyabinsk for treatment, more than half of them are on respirators.
As Russia prepares to celebrate the New Year, the biggest holiday of the year, the country's emergency situations minister announced a ban on fireworks for mass gatherings until stricter laws can be drawn up. Nationwide fire inspections were also ordered for large venues.
Funerals continued today amid an outpouring of grief in the city of 1 million people. Sadness has quickly turned into rage as officials and citizens alike blasted lax fire regulations and the business of inspectors plying bribes out of owners who don't stay up to code.
"They have no brains and no shame," Medvedev said of the party's organizers. "They showed complete indifference to what was going on. I saw the reports, they even tried to flee. They need to be punished to the full extent."
The Lame Horse was celebrating its eighth anniversary Friday night when a fireworks display on stage ignited a suspended wicker ceiling. Amateur video shows a party in full swing when the master of ceremonies interrupts the show to tell the crowd, "Ladies and gentlemen, vacate the club, we are on fire."
With black smoke billowing, screams are heard as club goers panic and rush for the club's only exit. Scores were trampled and officials would later say that most died from smoke inhalation, burns and being crushed in the stampede for the door.
Medvedev Assails Club Owners for 'Gravity of the Crime'
"People were running over each other's heads," an eyewitness told the Associated Press. "There was only one exit, they broke the doors to get out. Everything was in smoke and I couldn't see anything."
Charred bodies were lined up in the street as rescue workers tried to get medical attention to the survivors. Friends and family scoured lists to find out the fate of loved ones.
Authorities were quick to assure a country still on edge after a terrorist attack on a train 10 days ago that the fire was not an act of terrorism.
Instead, they pointed the finger at club management, accusing the club's co-owner, managing director and art director of ignoring fire safety regulations. They were accused of violating the regulations that led to multiple deaths, a charge that could carry up to 7 years in prison. The man in charge of the fireworks display received a lesser charge of causing multiple deaths through negligence.
"The pyrotechnics installed on stage had no right to be used in any possible way," Emergency Situations Minister Sergei Shoigu told reporters Saturday.
Medvedev called for fire safety laws to be "much tougher.
"This is not a premeditated murder but this does not lessen the gravity of the crime," he said.
The fire is the worst to hit Russia in decades, a country where more than 15,000 died last year in fires. Recent years have seen blazes in retirement homes, hospitals and orphanages. Fire regulations are notoriously lax, with greased palms helping officials to look the other way.
"Companies that are perfect in terms of their fire security, they can also be fined," said Alexey Levinson, a sociologist at Moscow's Levada Center, an independent research organization. "The ones that are utterly bad in terms of fire security, they can be untouched. This is the way the corruption works."
The Lame Horse had been fined twice last year for violating the fire code and the Russian daily Kommersant reported that last December an inspector gave the club a year to fix eight different violations.
The club was due to be inspected again today.
"When will this complacency end?" the head of Perm's Investigative Committee asked angrily at a news conference over the weekend.
The club didn't even have fire extinguishers, she said.
As Russia Mourns, Authorities Ban Fireworks
Snow fell over Perm today as funeral services were held. Drivers honked their horns as residents lay flowers next to pictures of the dead in a park near the club.
Shoigu has issued a ban on fireworks at mass gatherings until stricter laws governing pyrotechnics can be passed. He has also ordered inspections of large venues ahead of New Year's celebrations, the biggest holiday of the year here.
"There is a need to carry out a series of unplanned inspections that would involve the ministry's senior officials, possibly including myself," Shoigu said. "A lot of people died [in Perm]. Children were orphaned. All this happened not as a result of some catastrophe but during a celebration event."