— -- Secretary of State Rex Tillerson said the U.S. is "ready for serious negotiations" if North Korea shows itself to be a "credible partner."
Tillerson made the remarks during a joint press conference with his Canadian counterpart at the conclusion of a global summit on the security situation on the Korean peninsula, known as the Vancouver Group.
"We had constructive discussions about how to push our diplomatic efforts forward, and prepare for the prospects of talks," Tillerson told reporters in Vancouver, British Columbia, on Tuesday. "But productive negotiations require a credible negotiating partner. North Korea has not yet shown themselves to be that credible partner."
He added that the U.S. has sent "clear messages" to North Korea that they are "ready for serious negotiations," but the regime must pause its nuclear and ballistic missile tests -- what Tillerson called an "indicator of whether the regime is truly ready to pursue a peaceful diplomatic solution to the security threat that it has created."
Tillerson would not comment on remarks President Donald Trump made to The Wall Street Journal last week that he had a "good relationship" with North Korean leader Kim Jong Un. Trump has accused The Wall Street Journal of misquoting him.
The Vancouver Group on Tuesday consisted of the original U.N. Command Sending States -- the countries that provided troops and supplies to U.N. forces to defend South Korea in the Korean War. Allies like South Korea, Japan, Sweden and India were also invited to the summit, but noticeably absent were China and Russia.
A senior State Department official defended the decision to not invite those nations, emphasizing they were not U.N. Command Sending States. The official said Tillerson will give readouts to his counterparts in Beijing and Moscow after the summit.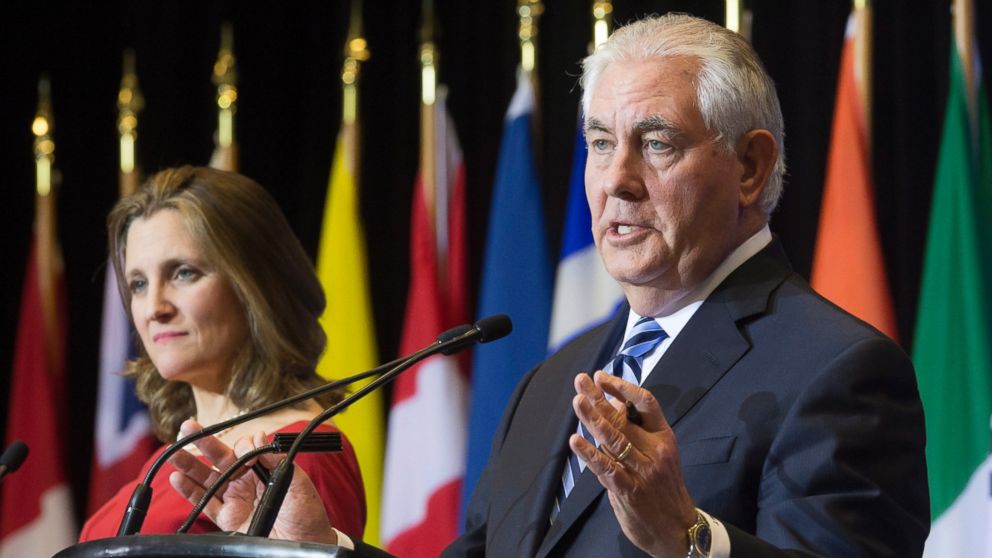 Tillerson said the "unity" with others in the region, "most particularly China and Russia," will remain despite North Korea's attempts to divide them. At the same time, the secretary called on China and Russia specifically to fully implement sanctions against North Korea agreed upon in U.N. Security Council resolutions.
Strengthening the enforcement of existing sanctions was a key goal of Tuesday's meeting, which included how nations can better counter sanctions evasion through smuggling. Tillerson called on nations to "strengthen global maritime interdiction operations to foil illicit ship to ship transfers."
"I think that because [North Korea is] feeling bite of sanctions, they're looking for ways to cheat and to smuggle illicit goods. And interdiction is juts one option," the senior State Department official said.
South Korea has already seized two ships accused of smuggling goods into North Korea, including a Hong Kong-flagged oil tanker in December.
The official emphasized that every country has a role to play in interdiction, whether it's reporting illegal activity, sharing intelligence, refusing to allow ships that have engaged in illicit activities from coming to their ports, or de-flagging ships found complicit in violating U.N. sanctions.
"No nation is too small to play an effective role implementing sanctions against North Korea, to deepen their financial and diplomatic isolation," the official said.
When asked about the threat of war with North Korea, Tillerson mentioned the regime's latest nuclear test in September, as well as progress made on their 15 ballistic missile tests in 2017, saying, "We have to recognize that that threat is growing and if North Korea does not choose the pathway of engagement, discussion, negotiation, then they themselves will trigger an option.
"The situation only gets worse, it gets worse with each step they take, it gets worse with time," Tillerson added. "That is not working to their objectives of wanting to be secure. They are not more secure; they are becoming less secure."
He said he did not believe that message was "resonating" with North Korea, but that there was a "realization" on the regime's part that the world would never accept them as a nuclear power.