— -- The State Department is offering a sum of $20 million for information that leads to the capture of four Islamic State group leaders.
The amounts announced Tuesday under the Rewards for Justice Program include $7 million for information on 'Abd al-Rahman Mustafa al-Qaduli; up to $5 million each for information on Abu Mohammed al-Adnani and Tarkhan Tayumurazovich Batirashvili; and up to $3 million for information on Tariq Bin-al-Tahar Bin al Falih al-'Awni al-Harzi.
A U.S. official, who spoke to ABC News on the condition of anonymity due the sensitivity of the program, said this new poster of the five ISIS leaders will be distributed both online and on the ground inside Iraq and Syria.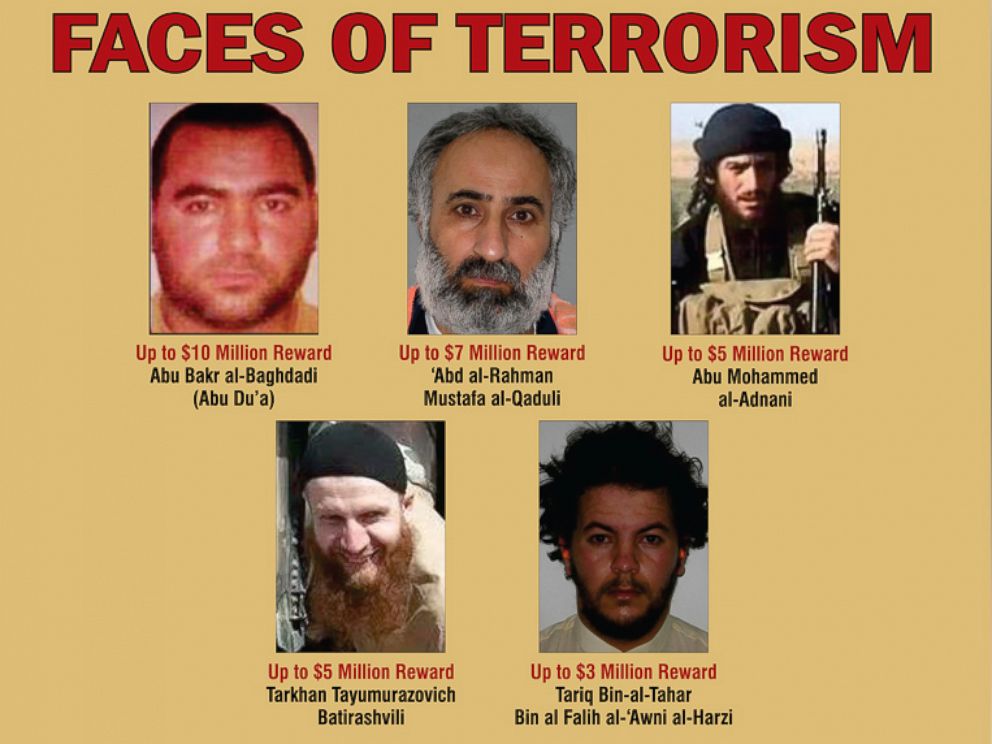 Until this announcement, only one other ISIS figure has appeared on the "Rewards for Justice" list: Abu Bakr al-Baghdadi, the infamous ISIS leader who remains at large and in command of the terrorist group. But al-Baghdadi was put on the list back in 2011 when he was considered a leader of al Qaeda in Iraq, a group whose influence in the region has been surpassed by ISIS.
The State Department has paid more than $125 million to more than 80 people who have provided information that has led to arrests since the program's inception in 1984, according to the program's website. The State Department's Office of Diplomatic Security, which administers the program, does not reveal the sources of those tips and, aside from a handful of of examples on its website, does not say how often the program has been successful.
One of the more recent success stories revealed on the website was the killing of Saddam Hussein's sons, Uday and Qusay Hussein, who were located on in July 2003 after a source provided information that was eventually passed to the U.S. military. Both sons died in a firefight with U.S. forces.
The most prominent success story posted on the Rewards for Justice website was the 1995 arrest inside Pakistan of Ramzi Yousef, who was responsible for the 1993 bombing of the World Trade Center in New York. In his case, the tipster saw the reward poster on the back of a matchbook. Pakistan has since banned the Rewards for Justice program from distributing matchbooks.
The highest reward ever offered was $25 million for Osama bin Laden, but no one ever collected that money. The White House said at the time that his death was the result of U.S. intelligence gathering. The operation involved a CIA doctor who offered free vaccinations and was able to collect biological data that led U.S. authorities to bin Laden. It's also been reported that Pakistan has since banned vaccinations in some places as a result.