North Korea today handed over what had been closely held documents detailing its nuclear programs and the amount of weapons-grade plutonium it has produced.
Within an hour of the release, President George W. Bush, in an early morning news conference, said that he would move to lift some trade sanctions against North Korea and take the country — which he once scorned as part of the "Axis of Evil" — off the list of countries that support "terror."
It was a remarkable development, for two governments that have openly loathed each other and for years refused even to hold direct talks.
While today's diplomatic exchange was a milestone in de-nuclearizing the austere North Korean regime, Bush made clear that lifting sanctions and taking North Korea off its terror list was dependent on the country continuing to comply with Western demands over the next 45 days.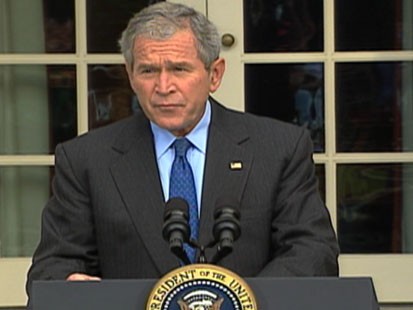 "We will trust you only to the extent you fulfill your promises," Bush said in his White House Rose Garden appearance. "I'm pleased with the progress. I'm under no illusions. This is the first step. This isn't the end of the process. It is the beginning of the process."
Destroying Cooling Tower
As part of North Korea's effort to demonstrate its cooperation, the country on Friday will blow up the cooling tower to its Yongbyon nuclear plant, where it had been manufacturing plutonium.
North Korea invited a small group of news organizations from around the world to witness the destruction. ABC News was the only American broadcast news organization allowed into the country today.
Destruction of the cooling tower is largely symbolic because the plant is already being disabled under the eyes of American monitors. But it is a high-profile way for North Korea to show the world it is complying with the agreement.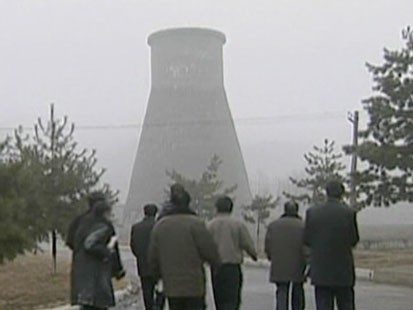 Not Big News in North Korea
While the transfer of documents made headlines throughout the West today, North Korea did not mention it on its evening newscast. And North Korea's Foreign Ministry aides, who are attached to each news organization, were unaware of what happened until they were informed by the foreign reporters.
During difficult and fitful negotiations over the last five years, North Korea has agreed with six nations led by the U.S. to give up its nuclear ambitions in exchange for energy assistance and the opportunity to improve diplomatic and economic relations.
The need for more power is evident in the energy-starved nation. Street lights in the capital were out at midnight, and rooms and public buildings, like the Yang Gak-Do Hotel where the delegation of journalists are being held, are dimly lit and elevators were turned off.
How Many Bombs?
A key component of the roughly 60 pages of documentation that North Korea handed over to China, and eventually to the U.S., is expected to detail how much plutonium it has produced.
U.S. weapons experts believe the country generated about 37 kilograms of plutonium, enough to make up about six nuclear bombs. They want to see if it's all been accounted for.
The U.S. is not relying solely on the documents to determine whether North Korea has come clean. It is insisting on on-site verification.
The North Koreans have agreed, according to U.S. officials, to provide access to their facilities, including the reactor core and waste sites.
"They will make available documents, records, operating manuals and the like," said National Security Adviser Stephen Hadley.
Significant parts of North Korea's nuclear program will not be in the dossier, including details about its nuclear arsenal. Also not included are documents related to its suspected program of developing weapons fueled by enriched uranium or how much help North Korea provided to Syria for its nuclear program, which was bombed last year by Israeli warplanes.
Those issues will be tackled in upcoming negotiations and could lead to further easing of sanctions against North Korea.
Hadley called the sanctions that were lifted today "relatively minor." North Korea is still heavily sanctioned by both the U.S. and the U.N.
Bush said that to end its isolation, North Korea must, for instance, dismantle all of its nuclear facilities and resolve outstanding questions on its highly enriched uranium and proliferation activities "and end these activities in a way that we can fully verify."
"If North Korea continues to make the right choices it can repair its relationship with the international community ... If North Korea makes the wrong choices, the United States and its partners in the six-party talks will act accordingly," Bush said.
The Associated Press contributed to this report.