He was hiding in plain sight. Europe's most wanted man, Radovan Karadzic, former president of the Serbian Republic and the alleged mastermind of the continent's worst genocide since World War II, was found living a secret "normal life" right in the Serbian capital Belgrade.
Karadzic was arrested Monday as he sat in a city bus.
In photographs released by authorities, the former president is seen with a long grey beard and hair, wearing oversized glasses. It was part of a disguise that apparently allowed him to live undetected in the shadows of southern Belgrade.
Officials had been looking for him for 13 years, after he was charged with several counts by the U.N. war crimes tribunal in The Hague, most notably for allegedly masterminding the 1995 slaughter of 8,000 Muslim men and boys in Srebrenica.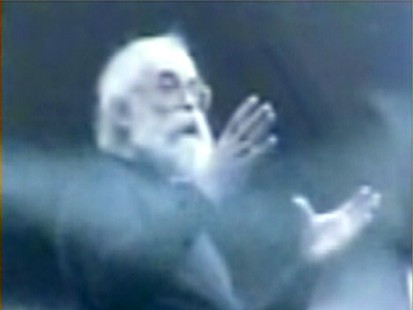 Serbian officials announced Tuesday that he had been living in New Belgrade, working as a doctor of alternative medicine under the alias of Dragan (David) Dabic.
"His false identity was very convincing," war crimes prosecutor Vladimir Vukcevic told reporters. "Even his landlords were unaware of his identity."
Karadzic, who trained in psychiatry, was so comfortable in his new role that he attended conferences and spoke publicly on occasions.
He gave a lecture in December 2007 in Smederevo, hosted by the new age magazine Healthy Life, entitled "The Similarities Between Meditation and Self-Reflection".
He even has his own Web site, which offers a variety of alternative treatments, including anti-stress programs and natural anti-aging remedies.
At the bottom of the site's home page contact details are listed, including an e-mail address for dddavid@psy-help-energy.com, along with two phone numbers, all believed to be part of Karadzic's alias.
The editor-in-chief of Healthy Life, a magazine to which Dragan Dabic regularly contributed, was shocked by the discovery, telling The Times, "He was a particularly nice person with profound knowledge of spirituality and spiritual healing techniques.
"There was no way we could have known this person was really Radovan Karadzic. It simply beggars belief. No fiction writer in the world could come up with such an outrageous idea."
Karadzic's whereabouts had been Europe's biggest mystery, with periodic reports that he was hiding in monasteries and mountain caves in remote eastern Bosnia.
Serbian security services found Karadzic while looking for another top war crimes suspect, police said today.
Karadzic appeared before a prosecuting judge today who ordered his transfer to the U.N. war crimes court in The Hague, Netherlands
He has three days to appeal the ruling. His lawyer, Sveta Vujacic, said he would fight extradition, also claiming that Karadzic was apprehended on Friday morning, not Monday, and held illegally for three days.
"By the law he should have been taken to the judge immediately, so no one knows who arrested him, who ordered that, and who kept him for three days until he was brought here tonight," said Vujacic, speaking outside the courthouse in Belgrade last night.
Tribunal officials in The Hague still have no clear idea exactly when they will take custody of their most-wanted fugitive.
"We simply have no details" about a possible transfer timetable, prosecution spokeswoman Olga Karvan said. "We expect him soon."
The arrest of Karadzic means that there are only two remaining war crimes fugitives from the 1990s Balkan conflict, Ratko Mladic, Karadzic's former military commander, and Goran Hadzic, a former Serb politician wanted for "ethnic cleansing" in Croatia.