Worried about a "9/11-style attack," India increased security at its airports today as the United States began an effort to convince Pakistan it needs to crack down on terrorist groups like the one believed responsible for the deaths of 171 people in Mumbai last week.
Indian intelligence and security officials tell ABC News they are worried terrorists may have infiltrated India either to attack airports or hijack planes to try and execute an act akin to Sept. 11.
Officials are concerned about a possible attack at the New Delhi airport terminal, while the threat to the Chennai and Bangalore airports is more based on fears of airliner hijacking. This comes just two days ahead of an anniversary of the controversial destruction of an Indian mosque.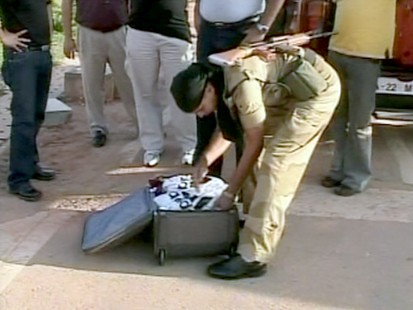 Today's warnings come a day after thousands of protesters took to the streets across India accusing the government of not doing enough to prevent last week's devastating attacks.
While tension in India increased today, the top United States diplomat and military adviser shuttled between India's and Pakistan's capitals, assuaging Indian fears and pushing Pakistan's government and military to move toward eliminating the eastern Pakistan sanctuaries in which terrorists train, U.S. officials say.
President George W. Bush dispatched Secretary of State Condoleezza Rice and Admiral Mike Mullen, the chairman of the joint chiefs of staff, to present new intelligence to the Pakistani government that people inside Pakistan had plotted and executed the attack in Mumbai, U.S. officials say. Bush, they say, was personally very angry over the attack.
As she left Islamabad, Rice said today that she was pleased with the Pakistani response, and U.S. diplomats say that Pakistan is mostly striking the right tone in the early days after the attack.
"I have found a Pakistani government that is focused on the threat and understands its responsibilities to respond to terrorism and extremism," Rice told reporters.
Pakistan's President, Asif Ali Zardari, has expressed doubt about the nationality of the lone surviving gunmen, who police officials in Mumbai tell ABC News is Pakistani. On CNN's Larry King, Zardari also blamed the attack on "stateless actors who have been operating all throughout the region."
Rice is pushing Zardari to go after anyone who the Indian government identifies as having planned the attack. "The fact is that non-state actors sometimes operate within the confines of a state, on the territory of the state, and when that is the case, then there has to be very direct and tough action against them," Rice said in New Delhi last night, standing next to India's foreign minister.
Rice and Mullen, U.S. officials say, have two main bargaining chips to convince Pakistan to act: the hundreds of millions of dollars of financial aid given to the Pakistani military every year, and Pakistan's current economic crisis. Pakistan's government needs IMF and World Bank money to pay its employees; the U.S. has major influence over both.
On the Indian side of the border, Rice and Mullen are here to calm government nerves, heightened by a huge groundswell of popular anger directed at Indian politicians who, people here believe, failed to prevent the attack despite numerous intelligence warnings.
The ruling Congress party faces national elections early next year and could be forced by popular anger to take a much more aggressive stance against Pakistan, Indian analysts say, than it normally would.
"They are trying these diplomatic moves to get Pakistan to cooperate: not merely in the investigation of this thing but closing these camps and coming down hard on these terrorists," says Brijesh Mishra, a former National Security Advisor and a current informal advisor to Indian Prime Minister, Manmohan Singh. "But the country is angry. And this government wants to survive. It has elections coming in four, five months time. How can it ignore public anger?"
The U.S. is leaning on India not to respond too aggressively in part because of a threat made by a senior Pakistani intelligence official: that the military would be willing to reduce its focus on fighting the war on terror.
Pakistani soldiers have been fighting the Taliban and its allies for months along the Afghanistan border -- a fight U.S. officials in Afghanistan say has saved American lives. But any move by India might prompt Pakistan to shift its soldiers from the western border to its eastern border.
"If they move more troops out of there," says Michael Scheuer, a former CIA agent, "basically, western Pakistan becomes a safe haven almost completely for the mujahideen, whether they're the Taliban or Al Qaeda or anyone else. That certainly bodes ill for the vastly undermanned force we have in Afghanistan."
In his visit, Admiral Mullen spoke to his Indian counterparts about help they might need, U.S. officials say, both in intelligence and in military hardware. The Indian media has roundly criticized the response time of the Indian commandos who ultimately freed the Taj Hotel, three days after the standoff began. They did not have a dedicated plan and they did not all have night vision goggles, media reports here say.
Rice used the word "prevent" or one of its derivatives half a dozen times during a press conference in New Delhi yesterday, saying, "The long pole in the tent here is prevention. And so any work that I hope to do with Indian officials is to talk about what we can contribute in terms of knowing how to use information, how to use leads toward prevention."
The Indian government is largely waiting for Pakistan to act, Indian analysts say. Vikram Sood, the former head of Pakistan's Research and Analysis Wing – the equivalent to the CIA – says the next step will be determined by how the Pakistanis react to Rice's message.
The reaction will also be dependent on politics. Immediately after the terror attacks, voters in New Delhi voted on whether to keep the current Congress party in power or give control of the capital's local government to the rival BJP, which has criticized the government for inadequately protecting the country.
If, when those results are released on Dec. 8, Congress has lost Delhi, it will be under even more pressure to act in order to save their hold on the federal government during next year's elections.