Israeli forces allowed a limited three-hour cease-fire today to permit the besieged people of Gaza to get food, water and medical care as diplomatic efforts to hammer out a more durable truce heated up.
Israel's guns went quiet starting at 1 p.m. local time (6 a.m. ET) around Gaza City, the largest population center. Hamas also honored the temporary truce.
Local television showed cars streaming into Gaza City intersections and people filling the previously empty streets. For the first time in days, the city's skyline was free of smoke and explosions.
The respite from gunfire resumed almost on schedule as Israeli forces resumed their attack shortly after 4 p.m. (9 a.m. ET) and a pair of Hamas rockets hit the Israeli town of Be'er-Sheva.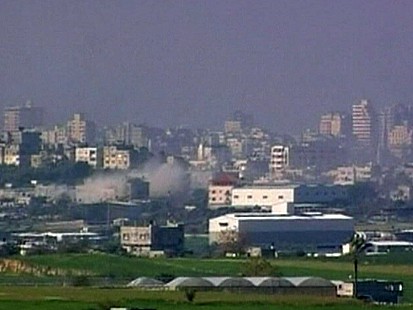 As the two sides went back to fighting, intense diplomatic efforts to halt the war proceeded in high level meetings around the world.
U.S. Secretary of State Condoleezza Rice said Wednesday she urged Israel to seriously consider an Egyptian cease-fire plan for Gaza. The Egyptian proposal, made in conjunction with France, calls for an end for Hamas rocket attacks on Israel, the opening of crossings in Gaza and an end to the smuggling of weapons into Gaza.
Rice said that the United States is supporting the initiative.
Sources in Jerusalem say Israel's Prime Minister Ehud Olmert has indicated his willingness to send a delegation to Cairo, Egypt, in the next few days to discuss the terms of a possible deal. Those discussions would be with Egyptian officials who, it is presumed, would mediate with Hamas representatives who have arrived in Cairo from Syria several days ago.
A critical part of any deal appears to be the posting of foreign troops or engineers on the Egyptian side of the border with Gaza to ensure that Hamas does not reconstruct its network of tunnels necessary to rearm itself.
Israel said it plans to enforce a second short-term truce Friday. Earlier today, the Israelis said they would allow an additional 80 trucks of humanitarian aid into Gaza today along with 120,000 gallons of fuel.
A United Nations representative in Gaza was keen to stress that these short term truces are not enough. About 750,000 people in Gaza are dependent on the U.N. for food. The U.N. says it needs at least a month-long cease-fire to restore Gaza's food supply.
"The situation in Gaza is tragic. People need a full cease fire in order to save what can be saved. Hundreds of homes have been destroyed." UNRWA spokesperson, Adnan Abu Hasna, told ABC News.
The supplies shipped in today are desperately needed. Hospitals are at a breaking point, according to medical workers. "People are dying now because of the lack of supplies," Dr. Mads Gilbert, a Norwegian volunteering in Gaza's main hospital, told the BBC Stockpiles of food are running low, as is fuel. Residents, deprived of power and water for days, occasionally brave the deserted streets to pick up essentials, but most remain barricaded at home.
"The people they are very sad. They are pessimistic because they believe these days that all places in Gaza are not safe at all," ABC News producer Sami Zyara reported from the besieged city.
Any industries that were operational, working off saved fuel, are on their last legs, Zyara reported, saying, "Most of them told us in a couple of days they will shut down because the store of the fuel is finished."
Today, many Gazans used the three hour cease-fire to bury the dead. They held a mass funeral today for the 43 Gazans killed during the shelling of a school run by the U.N. Relief and Works Agency yesterday.
The announcement of the limited cease-fire was met with a mixed response by the International Committee for the Red Cross.
"Israel's intent of opening an humanitarian corridor is welcome, but it is far from being enough," Anne Sophie Bonefeld, the group's delegation spokeswoman in Jerusalem, told ABC News.
Doctors for the International Committee for the Red Cross within Gaza are stranded in their homes and unable to get to work. The group's trucks carrying medical supplies cannot get through to the hospitals and the group's escorted ambulances cannot evacuate seriously wounded patients out of Gaza.
A Norwegian doctor, Dagflin Djorklid, managed to cross into Gaza from Egypt yesterday and immediately started helping his exhausted Palestinian colleagues. Gaza's Shifa Hospital today admitted another 148 wounded Palestinians -- 18 in critical condition.
"I have been working in severe conditions before, but this is really the worst I have ever seen -- really," Djorklid said.
40 Targets Struck Overnight
The Israeli military is grappling with how to coordinate with aid agencies, so that agency officials can deliver the aid and distribute it to needy Gazans in the midst of battle. The existing aid stored in warehouses in Gaza now needs to be transported to distribution centers.
Overnight the Israeli Air Force announced it struck more than 40 targets throughout Gaza, including rocket launching sites and bunkers. The military also released night vision video of soldiers entering and searching a Hamas tunnel. The Israeli military says Hamas has a vast network of tunnels throughout the Gaza Strip.
Palestinian medical sources say seven Gazans were killed in the fighting overnight in the northern part of the Gaza strip.
Those deaths follow the worst civilian loss of life from an Israeli attack so far in the 12-day siege. At least 42 Gazans were killed and an additional 50 were injured while taking refuge at a girl's school run by the U.N. Relief and Works Agency. Israel's Defense Force says its soldiers received mortar fire from the school and returned fire. The IDF also claims that two Hamas fighters were among the dead and that the incident is under investigation.
Christopher Gunness, spokesman for the U.N. Relief and Works Agency, says he is 99.9 percent sure that there was no mortar fire from the school or anywhere nearby. He said he can't be 100 percent sure though because "Gaza is a very noisy place these days."
Gunness said he could not account for the two Hamas fighters the Israeli military says were killed at the school because the Israeli military is releasing no information to the United Nations about the pair. Gunness said the building was "clearly, clearly marked" and called for an independent investigation.
Gunness said the Israeli military knows exactly where every single U.N. facility is in Gaza. In addition, say sources in Gaza, the building is two stories tall and has a U.N. flag on top.
At least one other U.N. school that was designated a temporary refuge by the United Nations was hit by Israeli fire this week.
Tuesday's strikes on the U.N. buildings have increased international pressure on Israel to halt the fighting. Responding to the grisly pictures of dead and injured, President-elect Barack Obama weighed in for the first time, saying, "The loss of civilian life in Gaza and Israel is a source of deep concern to me, and after Jan. 20 I am going to have plenty to say about the issue."
He promised that his administration would "engage effectively and consistently in trying to resolve the conflicts that exist in the Middle East."
Israeli and Palestinian Children Share Fear
The youngest victims -- Israeli and Palestinian children -- are separated by many things, but what they share is fear.
Abed, 12, was taking refuge in the U.N. school in northern Gaza when Israeli shells destroyed it. He escaped. Several friends did not.
"I don't know if they're alive or dead," he said. "It makes me worried and sad."
Across the border in Israel, danger from the sky has forced children to spend several hours a day in a bomb shelter that has been turned into a makeshift playroom underground. Even sleep is no relief for 10-year-old Amit.
"I dream mostly about rockets and sirens and the people who are injured and killed," she said.
Yousef, 9, lives just a couple miles away in Gaza. He is consumed with fear. 
"I don't go out at all. I'm afraid all the time," he said.
Latest Diplomatic Efforts to Halt Fighting
The Israeli newspaper Haaretz reported that the principal players in the Gaza offensive -- Prime Minister Ehud Olmert, Defense Minister Ehud Barak and Foreign Minister Tzipi Livni -- met Tuesday night to discuss the operation and will brief the Israeli Cabinet today.
The Israeli Cabinet will discuss its options in light of the mounting civilian casualties and diplomatic efforts moving on several fronts. Several reports indicate that the Israeli military believes it has achieved the bulk of its goals to this point and the question now is whether to expand the campaign or seek a negotiated settlement.
Sami Zyara contributed to the reporting of this story from Gaza; Simon McGregor-Wood, Bruno Nota and Dana Savir from Jerusalem; and Zoe Magee from London.