The United Nations Security Council has passed a resolution that calls for "an immediate, durable and fully respected cease-fire" between Israel and Hamas, which have been engaged in deadly battle over Hamas' firing of rockets into Israel for nearly two weeks.
Passing the resolution is no guarantee the fighting in the Gaza Strip will stop. But for the first time since the crisis started, the United States and Arab states that communicate with Hamas have agreed on terms for a cease-fire -- though officially, U.S. Secretary of State Condoleezza Rice abstained from the 14-0 vote.
The resolution called for an immediate truce, an immediate end to Israeli shelling and Hamas rocket fire, the reopening of Gaza crossing points and international guarantees Hamas will not be able to smuggle weapons in tunnels under the Egypt-Gaza border.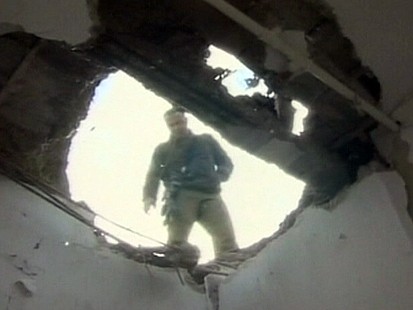 If the cease-fire is implemented and proves durable, the Security Council calls for an eventual end to the Israeli blockade of Gaza. It also calls for international guarantees Hamas will not be able to rearm.
The agreement was passed after a long day of back and forth between Arab, British, French and American foreign ministers, the culmination of three days of talks. Before the vote, British Foreign Minister David Miliband said the diplomats had built "genuine consensus."
Though Rice abstained, she praised the resolution as a "step towards our goal" of a sustainable peace in Gaza.
She said she abstained from voting because the United States first wanted to see the outcome of ongoing mediation efforts in Cairo, Egypt, but she stressed the United States supports the text and goals of the U.N. resolution.
"The work of the Egyptian president, President Mubarak, in the mediation efforts of Egypt, are not just applauded but supported," she said. "I believe it is those efforts that will ultimately help to lead to a durable cease-fire."
A Hamas delegation from Damascus, Syria, has been in Cairo for several days and Israel announced Wednesday night it would send Amos Gilad from its Defense Ministry to talk to Egyptian officials about ways of improving security on its border.
Although Israel and Hamas don't speak directly to each other, Egyptian officials in the past have mediated between the two.
In her statement, Rice spoke out against Hamas and their rocket fire, saying Hamas' "commitment to violence" puts Israelis and Palestinians in danger.
Rice also declared support for Palestinian President Mahmoud Abbas and his attempts to build a Palestinian state and Israel's right to defend its citizens.
Miliband added that the vote for an "immediate" and "fully respected" cease-fire sends a strong signal "about the determination of the whole international community to build a dignity for the people of Gaza and security for the people of Israel."
U.N. Secretary-General Ban Ki-Moon, who has been particularly vocal in calling for a cease-fire since Israel's ground invasion of Gaza on Saturday, also was pleased.
"I am heartened and relieved at the adoption by the council today of a resolution to bring an end to this tragic situation," he said. "This will open the way for the U.N. to resume urgently the delivery of humanitarian aid, food and medical supplies."
Deadly Fighting Goes On
But amid the diplomatic negotiations today, the fighting raged, as Israel shelled 25 Hamas targets.
Two Israeli soldiers were killed today after discovering roadside bombs and booby traps in Gaza homes.
More than 750 Palestinians, 245 of which are children, and 14 Israelis, have been killed in nearly two weeks of fighting between Israel and Hamas.
The violence has prompted the United Nations to suspend its relief efforts in Gaza, citing increased danger to U.N. aid workers in the area. The announcement came today after the United Nations said that the driver of a relief truck was killed after being struck by Israeli tank fire near the Israel-Gaza border.
John Ging, the director of the United Nations Relief and Works Agency, told ABC News, "I am suspending the UNRWA's operations until we are assured the safety of our staff."
The U.N. said the truck driver was picking up relief supplies for a shipment to Gaza and that the delivery had been coordinated with Israel.
Ging added that despite "repeated warnings ... we had a series of security incidents involving UNRWA's convoys and installations and which have placed our staff in jeopardy in the last days."
The Israeli army told ABC News it is investigating the report about the death of the U.N. truck driver.
Earlier this week, nearly 40 people were killed by Israeli mortar fire outside a U.N. school. Israel said its troops had come under fire by militants using the building for cover.
The U.N. action came after Israel announced another temporary cease-fire to allow humanitarian aid into Gaza. Israel had previously said the next humanitarian cease-fire would be Friday but decided around noon to allow for another three-hour cease-fire from 1 to 4 p.m. local time.
The brief cease-fire came despite four rockets evidently fired from Lebanon that landed in northern Israel Thursday. It was the first attack from South Lebanon since the 2006 war between Israel and the militant group Hezbollah.
Hezbollah, whose leader Hassan Nasrallah has threatened Israel daily, or one of the small Palestinian factions in Lebanon, are the prime suspects.
An official with Israel's Northern Command told ABC News the rockets from Lebanon "were presumably fired by Palestinian elements in Lebanon, wishing to drag Israel into war." One missile struck a retirement home injuring two people. The official said, "Israel holds the Lebanese army responsible for thwarting any further hostile activity."
Lebanese Prime Minister Fuad Saniora condemned both the attacks and Israel's retaliatory fire. The attacks are "the work of parties who stand to lose from the continued stability in Lebanon," Saniora said in a statement.
Lebanese officials tell ABC News they are investigating the incident and believe that a total of five rockets were fired into northern Israel by "Palestinian factions" in southern Lebanon.
Israeli investigators say the type of rockets used were older, not the more advanced rocket that Hezbollah has in its arsenal. That fact has led officials to conclude that the attack was meant to provoke Israel into a larger response.
In Gaza today, more horrid descriptions about the carnage inflicted on civilians are emerging. The International Committee for the Red Cross says ambulance drivers who were finally allowed into the Gaza City neighborhood of Zaytun reported finding the dead and wounded unattended.
In one house, they found "four small children next to their dead mother. … They were too weak to stand up on their own," the Red Cross group said. "One man was also found alive, too weak to stand up. In all there were at least 12 corpses lying on mattresses," inside this home.
The Red Cross group says Israeli Defense Forces ordered one team of medics to leave before they had a chance to check all the damaged houses. The Israeli army told ABC News that it had not received a complaint from the Red Cross and would not comment on the group's press releases.
In another case, a Palestinian ambulance came under Israeli fire Thursday, as its crew tried to recover an injured civilian. The medic was shot twice in the legs, forcing the team to leave the civilian behind. Palestinians claim 12 medics have been killed while tending to the wounded since the fighting began.
Meanwhile, Israel is on tenterhooks, concerned not only about its northern border with Lebanon, but also suicide bombers.
Local television news ran alerts about a possible suicide bomber incident at a gas station outside a Jewish settlement in the Israeli-controlled area of the West Bank.
Israeli police say a Palestinian man was shot and killed at a gas station outside the settlement Ma'ale Adummin after he began pouring gas on cars at the station and refused to heed police calls to stop.
This follows the heaviest night of fighting yet. In its daily summary of activity, Israel's Defense Forces say its military hit 60 targets throughout Gaza. Smuggling tunnels and suspected weapons storage sites appeared to be the focus.
Late Wednesday evening, Israeli planes dropped leaflets in the city of Rafah, which straddles the Gaza-Egypt border, telling residents they had 30 minutes to evacuate. Heavy fighting was reported in the area throughout the night.
The renewed fighting followed a temporary cease-fire that allowed humanitarian groups to move aid into Gaza and its residents to access distribution centers. Israel allowed 80 trucks of aid to move through its border crossings into Gaza. Medical supplies were also allowed in, with several Gaza hospitals reporting that they are running low on bandages, beds and medicine. Several of the critically injured were also evacuated from Gaza into Egypt through the border crossing at Rafah.
For the first time the Israeli military allowed journalists from the BBC to accompany troops.
One Gazan said, "I came out to try to find some basic needs for my family, items that have gone away. This is the first time i left home. I used to go out of the building but there was a serious fear to leave, to come [to] downtown Gaza because they were bombing here."
When asked about the civilian casualties and the misery in Gaza, an Israeli soldier said, "You don't enjoy seeing the houses that are ruined and families that have to go out from it. But you have to remember that the Palestinians, they chose Hamas and Hamas is the terror organizations and this [is] exactly what they got."
While the fighting in Gaza grinds on, there are reports that Israel's top leadership is divided on how to proceed. Three of Israel's largest newspapers reported splits between the top three policymakers on the war -- Prime Minister Ehud Olmert, Defense Minister Ehud Barak and Foreign Minister Tzipi Livni.
News reports indicate the top leadership wants to widen the offensive, maintain it at its current level, pull out with no deal or pull out with a deal.
Barak, who has been most associated with the current campaign, was quoted in the newspaper Ma'ariv as expressing concern about the next phase of the ground campaign.
"Expanding the operation will come with a heavy toll," said Barak. "We should pursue an agreement with Hamas. If they break it, we will hit them again. Hopefully they have learned their lesson."
The Israeli Cabinet met for several hours Wednesday to discuss strategy in Gaza. There was consensus that the offensive in Gaza should not be expanded without first giving the diplomatic process a chance to make progress.
The Associated Press and ABC's Sami Zyara contributed to the reporting of this story from Gaza; ABC's Miguel Marquez, Simon McGregor-Wood, Nasser Atta, Matthew McGarry, Michal Mentch, Bruno Nota, Dana Savir from Jerusalem; Leena Saidi from Beirut; and Aaron Katersky and Ayana Harry from New York.