North Korea unleashed another round of war threats today against South Korea, leading Korean experts to wonder if this time it means it or if it is merely more blustering triggered by the newly installed and more hard-line leadership in Seoul.
Rodong Sinmun. the leading state-run newspaper, said today the government would "destroy and wipe out" an invasion if South Korea's "war maniacs ignite the fire of war."
Officials in Seoul played down the North's threat, saying most of the comments are a repeat from the past, but unnamed government sources have been quoted in local media as saying the threat deserves more consideration. The South Korean military has beefed up its surveillance.
On Saturday more threats were made on state-run television, delivered by a North Korean military spokesman who appeared in full uniform, an unusual move, observers said, to accuse Seoul of plotting an invasion.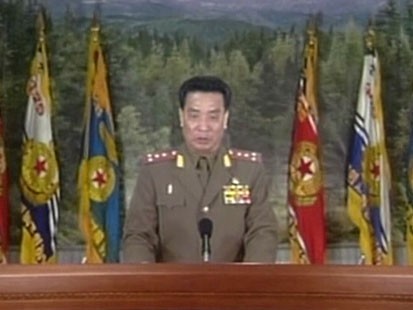 The spokesman blasted South Korea's conservative new government lead by President Lee-Myung-bak saying, "Our revolutionary armed forces will launch into an all-out confrontational posture to crush the South."
Just days before, North Korea sent a message to President-elect Barack Obama's incoming administration through an American scholar who was visiting Pyongyang. Selig Harrison, director of the Washington-based Center for International Policy's Asia Program, told reporters in Beijing, "North Korea said very categorically and repeatedly on my visit that the 30.8 kilograms of plutonium ... has been weaponized."
That sent defense experts in the region guessing as to what North Korea actually meant by "weaponizing." "North Koreans want to make it kind of elusive, make the other side guess as to where they are. And that's, of course, what is beautiful about bluffing," said Jung-Hoon Lee, a professor of international relations at Yonsei University in Seoul.
Although North Korea has a long track record of bluffing, threatening and sometimes lying, many experts warn that this time, the world should at least pay attention.
"They have been continuously stressing not only within, but to the outside world, that this is not a bluff," said Moo-Jin Yang, professor of North Korean studies at Kyungnam University. "There is a good chance that they will provoke military confrontation, especially in the West Sea, sometime in the near future."
The two Koreas engaged in naval skirmishes over the disputed western sea border in 1999 and 2002.
Despite the warnings, most South Koreans seem oblivious to North Korea's belligerent threat.
"North and South, we are close. If they attack us, then it will damage them too," said high school student Min-Jung Hwang, in the streets of Seoul.
"From what I know, North Koreans don't like to fight. There's no way they are going to use those nuclear weapons against us," said Hwe-Seung Choi, who claims he is well aware of the nuclear issue because he completed the mandatory military service.
Most analysts agreed that the recent series of threats have a purpose. Rather than launch those nuclear warheads, the North may be looking to grab attention from the world to help sustain the impoverished communist regime.
Domestically, political scientists point out it is an effective method to prop up people's support and tighten control. International aid agencies have reported winter famine killing hundreds of thousands of people, and rumors swirled that the health of its autocratic leader Kim Jong il is deteriorating.
Externally though, North Korea watchers said this could be the country's way of holding out an olive branch. "North Koreans are people of pride, but they also know that they are the weak. So they're trying to set the stage starting tough. But what they really want is the economic aid that follows normalization," said Yang.
ABC News' Jessica Kim and The Associated Press contributed to the reporting of this story.