As the countdown to the Oscars continues, celebrities flocked to London Sunday night for the prestigious BAFTA awards. Kate Winslet, Brangelina and "Slumdog Millionaire" star Dev Patel worked the red carpet, pausing on the sidelines for interviews and autographs.
Meanwhile, Sharon Stone, Meryl Streep, Kristin Scott Thomas and Penelope Cruz-ed up the runway, too busy pouting for small talk.
"Slumdog Millionaire" picked up seven awards. The unpredicted success of the Indian romantic thriller continues to surpass expectations and defy the controversy surrounding the title and pay rates for the poor children acting in the film.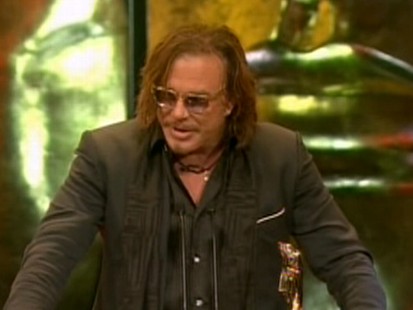 Film critic Mark Kermode dismissed all such criticism. "My own opinion is that 'Slumdog Millionaire' is head and shoulders above the other films," Kermode told ABC News. "There's no such thing as a hot awards contester that doesn't have controversy surrounding it. That's probably even more true in the U.S. with the Oscars."
Winslet outdid Jolie, Streep, Thomas and her own performance in "Revolutionary Road," as she came away with the BAFTA for leading actress in her role as a Nazi concentration camp guard in "The Reader." Winslet managed not to gush like her performance at the Golden Globes; instead, she produced a well-delivered speech expressing gratitude to her parents. After the ceremony, Winslet told ABC News how grateful she was "to be rewarded in this way at home."
The "Curious Case of Benjamin Button" scooped up three BAFTAs, but Brad Pitt missed out on the leading actor award, which went to the most memorable star of the night, Mickey Rourke.
As if being awarded the most highly sought BAFTA was not enough, Rourke made a real impression in his expletive-laden acceptance speech. The actor thanked his "rescuer" (his agent) for putting his career in jeopardy by representing him. And the industry for giving him a second chance "after f------ up my career for 15 years."
The audience loved it. Streep gasped, Brangelina giggled and Stone put her make-up at risk by crying.
Rourke 'Will Win at the Oscars'
Despite the bad language, Rourke was humble; he thanked the film for bringing him out of the darkness and was the first to acknowledge his own shortcomings: "I know I'm not a walk in the park to deal with," Rourke said.
The eccentric returner also thanked his dogs, and Bruce Springsteen. In that order.
His gratitude was palpable; obviously, there was a large element of risk in casting Rourke because of his previous downfall. Fifteen years ago it would have been a joke to suggest that he would be a serious BAFTA, or Oscar, contender. But, as Kermode explained, "when people watch 'The Wrestler,' they are not just seeing a wrestler going in for one last fight, they are seeing Rourke getting back into the ring and saying, 'Alright, let's go.'"
Kermode has no doubt that Rourke was the most deserving contester. "It is hard to think of a role that is more suited to an actor," the film critic said. "I'm pretty certain he will win at the Oscars."
After the ceremony, Rourke, with a BAFTA in one hand and a bottle of champagne in the other, recounted his journey of the past few decades.
"I lost everybody's trust," he told ABC News. "Growing up, there were no rules, I didn't care about repercussions. I just didn't have the tools, or wasn't educated enough to understand that the movie industry is a business and it is political. I always had problems in the past with dealing with authority, but after 13 years of therapy, after losing everything, I have learned that hardness is a weakness."
But, for now, Rourke is in London, saying, "It's just really nice to be here."
Rourke vowed to be consistent from now on (and not just with his profanities). "I'm going to take the same work ethic for every f------ movie I do from now on."