For Mir Hussein Mousav, this is a moment of truth. The opposition leader continues to urge his supporters to defy the regime. But Mousavi himself hasn't been seen in public since Saturday.
"He has to show his mettle. People have been saying we are going to risk our lives in coming to the streets. Now he has to show, by being physically present among the people, that he is also with them," said Azar Nafisi, author of "Reading Lolita in Tehran" and "Things I've Been Silent About."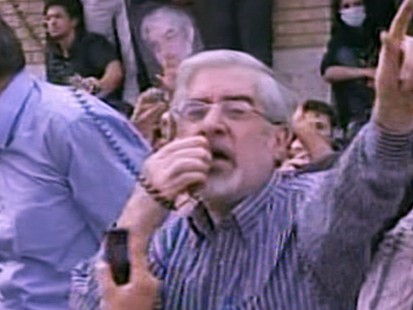 The regime is clearly doing its best to
intimidate Mousavi
. They have arrested his top lieutenants and his prominent supporters, including the daughter of former President Hashemi Rafsanjani.
Moreover, Mousavi is increasingly isolated. According to some supporters, he is under virtual house arrest.
"He is under control of secret police," said Mohsen Makhmalbaf, a filmmaker in Paris with close ties to the opposition leader. "He is under their control but he is trying to come to [the] street."
In some ways, Mousavi is an unlikely figure to lead this revolt. A protege of the late Ayatollah Khomeini, and a former prime minister during the 1980s, he was one of the architects of Iran's Islamic regime.
"Mousavi at the time was considered a radical Islamist," said Susan Maloney, who studies Iran for the Brookings Institution. "Someone with left-wing economic views in particular and fairly fierce views on foreign policy issues. Not someone who was terribly pro-American."
Nafisi notes that when women protested for greater freedom of expression during the 1980s, the paramilitary forces who cracked down on them were under Mousavi's command.
Even today, Mousavi's Web site refers to the paramilitary thugs who are beating up the protesters as "brothers" and "protectors of our revolution and regime."
It's impossible to know if he's being diplomatic, or just dialing it back -- it's impossible to know if Mousavi is leading the revolution, or if the revolution is leading him.
"He has to prove himself. He has to prove himself," Nafisi said.
At this point, the genie is out of the bottle. But it's not clear if Mousavi can command it.
"If Mousavi wants to remain popular and wants to have credibility, he has to go on with the movement. He is already a little bit behind, but he has to move forward with the movement," said Nafisi.
What is clear is that his political future depends on all of them.