— -- A gunman who burst into a Sydney chocolate shop and took hostages has been killed, along with two of the hostages, Australian police said.
The suspect was identified by police as Man Haron Monis. He was declared dead at the scene, New South Wales Deputy Commissioner Catherine Burn said. Tori Johnson, a manager of the store, was killed, according to Lindt Chocolate Cafe Australia. The other hostage who was killed was identified as attorney and mother of three Katrina Dawson, 38, according to the New South Wales Bar Association. Six people at the scene were treated for injuries.
Burn said that "from what I have heard, there were shots fired and an emergency plan was followed" but she could not confirm whether the gunman fired shots at the hostages. She said that Monis was on bail for another crime and police believe he was mentally unstable.
Police stormed the Lindt Chocolat Cafe in the early hours of Tuesday morning, ending the siege.
New South Wales Police Commissioner Andrew Scipione said that the decision to enter the premises came after they heard gunshots coming from inside. Scipione also confirmed that, in total, Monis had been holding 17 people hostage, though up to 12 of those individuals had been able to get out of the store before police began their assault.
Scipione and New South Wales Premier Mike Baird said that Monis was a "lone gunman" and no explosives had been found in the area surrounding the Lindt Chocolat Cafe.
"We have lost some of our own in an attack we never thought we would see here in our own city," Baird said at a news conference Tuesday morning, local time.
Explosions of what were believed to be flash bang grenades were heard when police stormed the shop and while there were many loud noises, it is not clear if or how many shots were fired by either police or Monis during the face off.
At 10:19 a.m. ET, a group of at least seven heavily armed police officers went into the Lindt cafe under the cover of loud bangs of what local news Channel 9 is calling stun grenades. Shortly after the police stormed the café, at least two hostages emerged, looking visibly shaken.
A few minutes later, a few paramedics were seen entering the café behind police officers with medical packs -- followed by at least two stretchers. The explosive police action came shortly after a new wave of hostages emerged from the shop.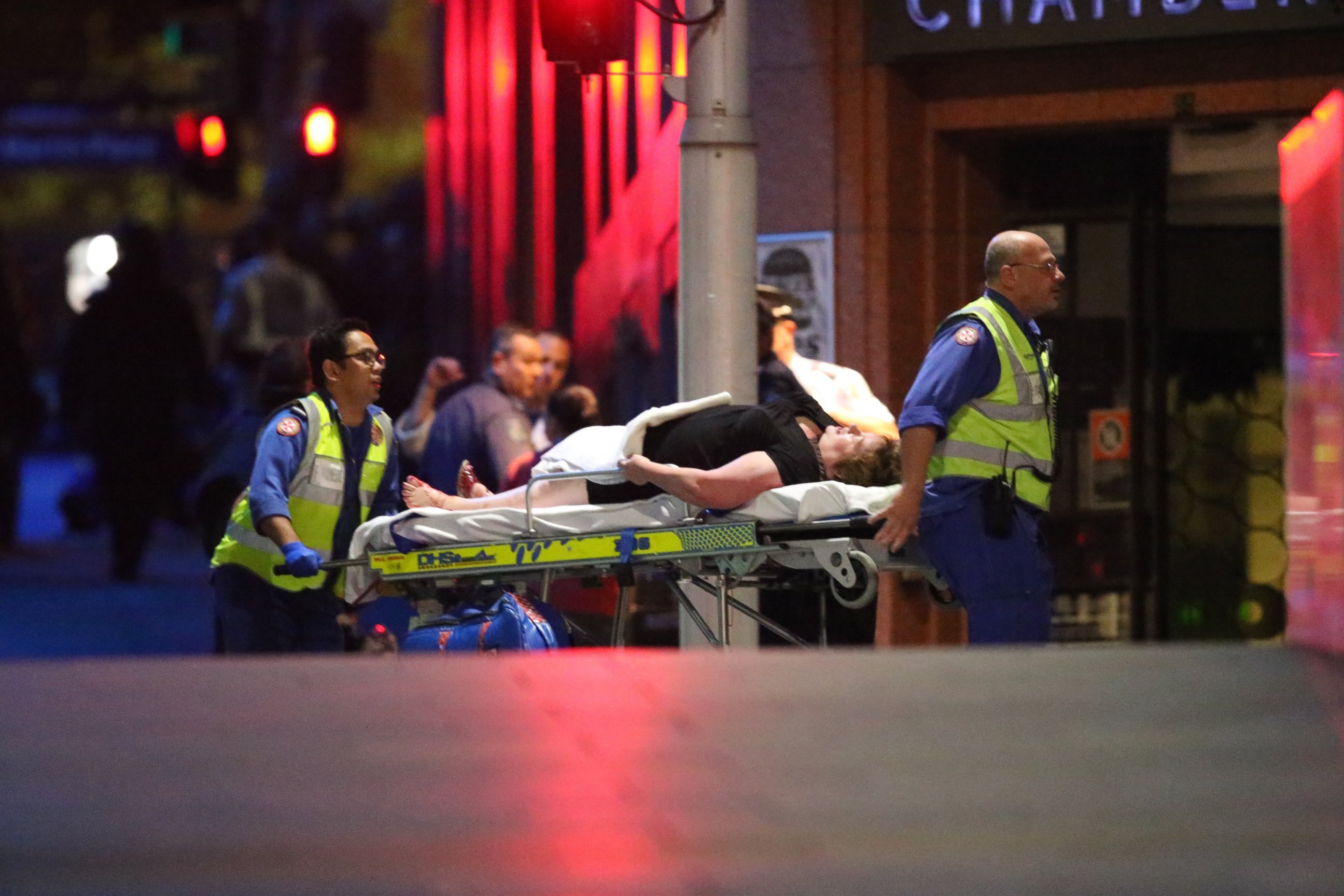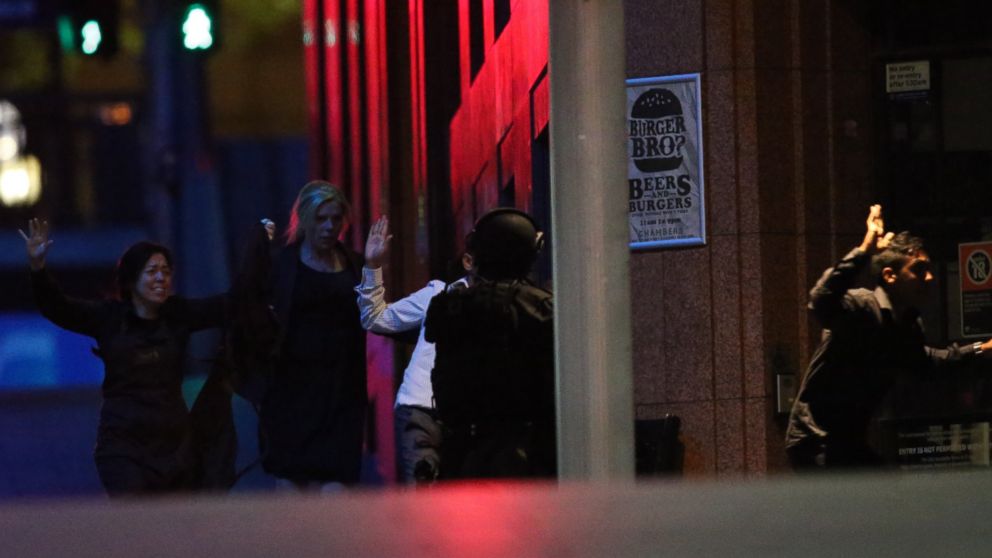 Monis was believed to be a self-proclaimed Islamic "sheikh" who is known to Australian police because he was allegedly involved in dozens of counts of sexual assault, according to Australia's 9News.
He was born in Iran as Manteghi Bourjerdi and migrated to Australia in 1996, according to the station.
Earlier in the day, seven new people fled from the popular Sydney cafe after they had been taken hostage -- with others still held inside as neighboring blocks remain locked down, authorities said.
Two people inside the cafe were seen holding up a flag with Arabic writing on it that has been used by extremists in the past -- raising fears that a terror attack was unfolding in Australia's largest city.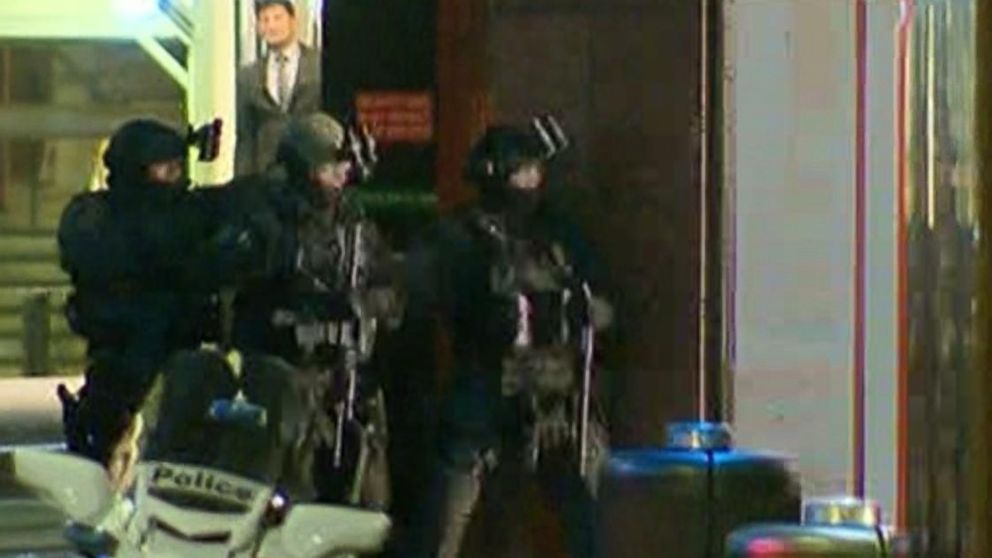 Video also emerged early in the standoff showing people being held inside the shop with their hands held in the air.
The first three people who fled sprinted out of the Lindt Chocolat Cafe about six hours into the standoff, while two women -- wearing aprons -- frantically ran from a side exit and into the arms of heavily-armed SWAT team police officers waiting outside.
At the same time, media personalities said they received calls from hostages during the standoff.
It is unclear exactly how many people remain inside the cafe.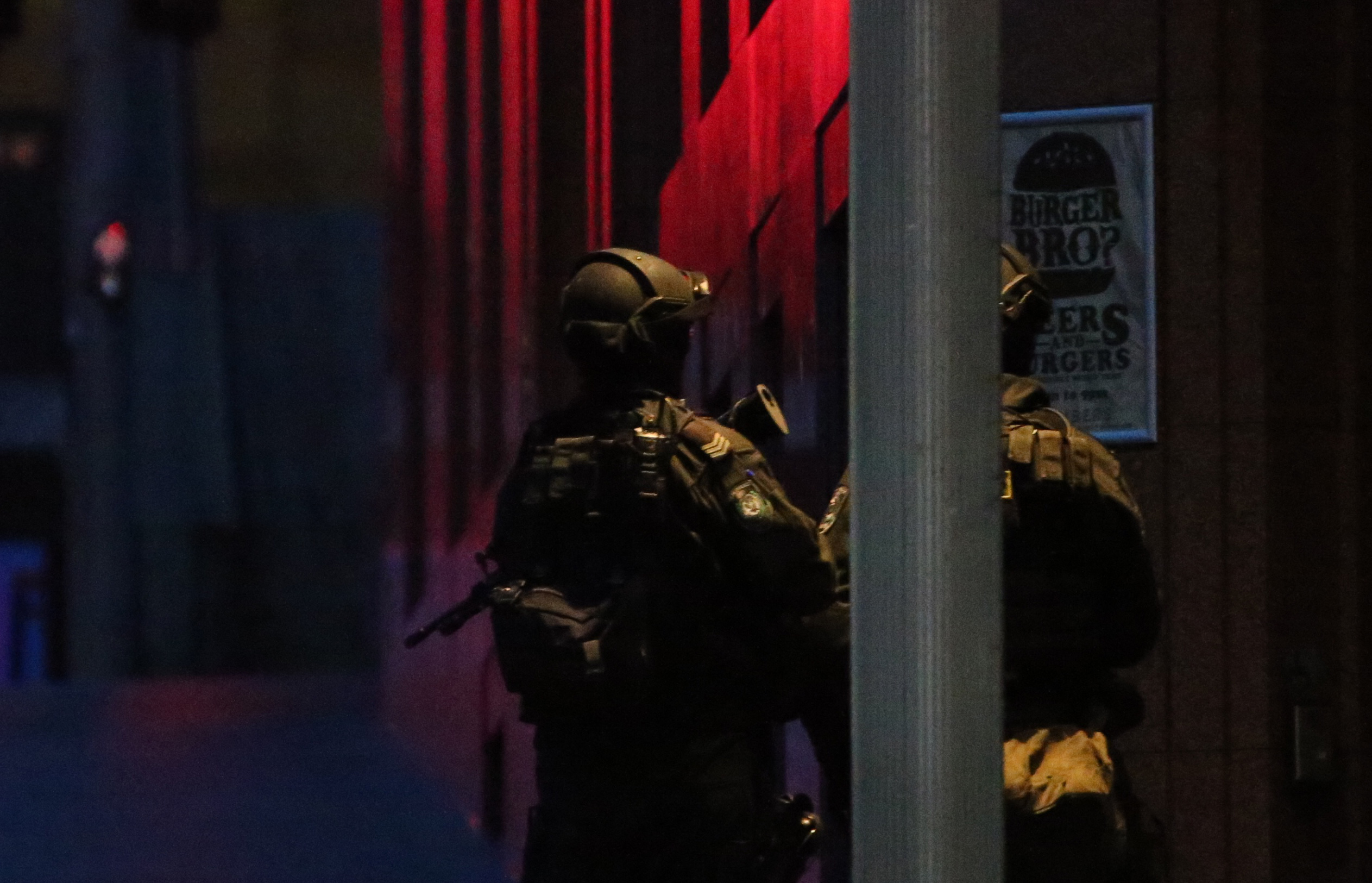 New South Wales Police Commissioner Andrew Scipione, speaking at a news conference as the situation stretched into the night, said authorities remain committed on ensuring that the hostages are safely released.
"We have the very best negotiators in the world on the job," Scipione said.
New South Wales Premier Mike Baird said people should proceed as usual on Tuesday morning, but should work from home if their offices are located within an exclusion zone near the standoff.
Police negotiators were in contact with the armed hostage-taker during the stand off, but the motive remains unclear, New South Wales Deputy Police Commissioner Catherine Burn said.
Burn said authorities are monitoring all forms of communication, including social media, for any information that might help resolve the standoff.
Earlier in the day, Scipione said there is at least one armed person holding the hostages in the cafe, who have been kept there against their will since 9:30 a.m. local time on Monday.
In a statement on Facebook, Lindt said, "We would like to thank everyone for their thoughts and kind support over the current situation at the Lindt Chocolate Café at Martin Place. We are deeply concerned over this serious incident and our thoughts and prayers are with the staff and customers involved and all their friends and families. The matter is being dealt with by the authorities and we are waiting for any updates from them."
Meanwhile, Muslim leaders in Australia condemned the attack on Facebook, saying they "condemn this criminal act unequivocally and reiterate that such actions are denounced in part and in whole in Islam."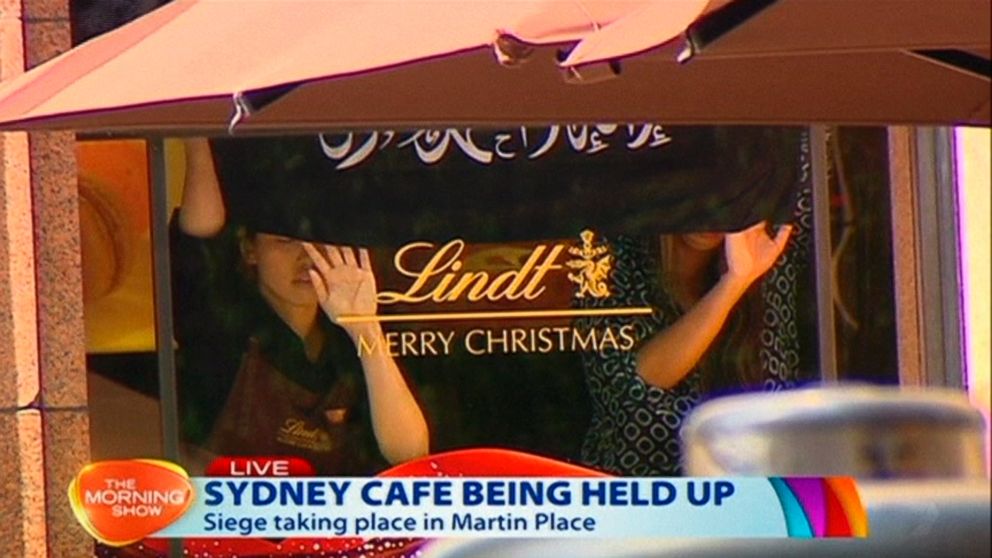 "We don't yet know the motivation of the perpetrator," Australian Prime Minister Tony Abbott said at a news conference earlier in the day.
"We don't know that this is politically motivated although there is some indications that it could be. We have to appreciate that even in a society such as ours, there are people who would wish to do us harm."
Several nearby offices were evacuated as a precaution, police said.
The State Department said the nearby U.S. consulate was evacuated.
People inside buildings in the neighboring streets were directed to remain indoors and stay away from open windows.
"There's a real sense of alertness, awareness and a bit of shock to be honest," said Lisa Martin, who works in an office nearby the cafe and was in lockdown. "To know that there are so many people just having coffee and a chocolate are now in a hostage situation is really sobering."
Abbott, the prime minister, said the country's National Security Committee of Cabinet has convened for briefings on the situation.
"This is obviously a deeply concerning incident but all Australians should be reassured that our law enforcement and security agencies are well trained and equipped and are responding in a thorough and professional manner," he said.
Get real-time updates as this story unfolds. To start, just "star" this story in ABC News' phone app. Download ABC News for iPhone here or ABC News for Android here. To be notified about our live weekend digital reports, tap here.