Dozens of men dressed in camouflage lined a short stretch of a main road at midnight in a light drizzle, some stopping vehicles while others huddled around camp fires or made small chat on the muddy side of the road.
Interested in
?
Add as an interest to stay up to date on the latest news, video, and analysis from ABC News.
The checkpoint that sprang up on the outskirts of the city of Sevastopol on Wednesday illustrated the growing hostility between this autonomous region of southeastern Ukraine -- whose majority is ethnically and culturally Russian -- and those who have been demonstrating in the Ukrainian capital of Kiev for the past several months to oust pro-Russian President Viktor Yanukovich and move Ukraine away from Russia.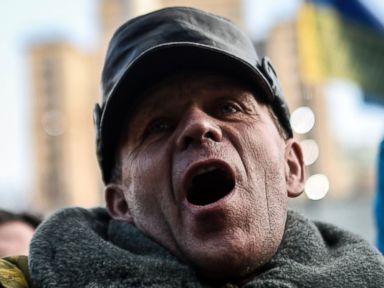 Several of the men manning the checkpoint told ABC News they were looking for armed "radicals" like those who fought in deadly battles against riot police on Kiev's Independence Square.
They stopped large transport trucks and smaller private cars, usually waving them through after a cursory glance at the driver and in the trunk. A large armored military vehicle idled nearby, privately-owned and normally used to ferry tourists.
"Now the situation in Ukraine is such that if you're Russian you're an enemy," said Vitaly Georgev, a 56-year-old driver from a nearby village.
"Until today, everything was peaceful, now everyone's scared," he added. "I have two sons and two grandsons, I just want to protect them."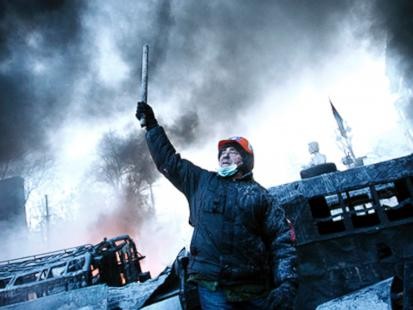 While there's no indication of any armed groups coming from the western part of the country to fight against anyone here, the fear highlighted the deep divisions in this country between the majority in Crimea who consider themselves an extension of Russia and Ukrainians who would like to be more aligned with Europe.
Earlier in the day, the two sides clashed outside the parliament building in the Crimean capital Simferopol. Thousands of Russian Crimeans carried signs and waved flags, chanting "Russia" and "Glory to Berkut," the riot police accused of gunning down scores of protesters.
Thousands more Crimean Tatars -- a Muslim ethnic minority here that supported the ousting of the government -- responded with "Glory to Ukraine." Emotions boiled over and the two sides surged at one another as police frantically tried to keep them apart. A man reportedly died of a heart attack in the melee.
"It's better for Crimea if we'll be with Russia because we are Russian people," said Irina Grafova, protesting on the pro-Russia side. "I'm not Ukrainian, I don't feel Ukrainian. My future and the future of my son is Russia."
There have been calls in the Russian parliament to give ethnic Russians here Russian passports, fuelling speculation that Russia could intervene militarily or even try to annex Crimea. Russia's Black Sea Fleet is based in Stevastopol with some 25,000 troops. The United States has repeatedly warned against anyone violating Ukraine's "territorial integrity."
"We have confirmed our principled position to not interfere in Ukraine's internal affairs and expect all [foreign powers] to follow a similar logic," Russian Foreign Minister Sergei Lavrov said on Tuesday.
Then, Russian President Vladimir Putin announced a review of Russian military forces' sudden combat readiness. The defense minister denied that it was related to the tension in Ukraine but added that "steps are being taken to ensure the safety of our facilities" of the Black Sea Fleet.
Meanwhile, the hunt continues for impeached Ukrainian President Yanukovich, who fled Kiev on Friday for eastern Ukraine and has been placed on the international wanted list for his role in the deadly violence last week. Rumors are rampant that he is being sheltered at a Russian base in Crimea. Russian officials have refused to comment.
"We have information indicating Yanukovych is still in Ukraine," deputy general prosecutor Mykola Golomcha told reporters on Wednesday.