After a day of meetings with top Chinese officials, Defense Secretary James Mattis and Secretary of State Rex Tillerson said the U.S. and China have made progress on a handful of issues and are pushing ahead on pressuring North Korea -- despite President Donald Trump's claim that "it has not worked."
Interested in
Trump Administration?
Add Trump Administration as an interest to stay up to date on the latest Trump Administration news, video, and analysis from ABC News.
"China continues to work these issues," Mattis told reporters.
"They have a diplomatic responsibility to assert much greater economic and diplomatic pressure on the regime if they want to prevent further escalation in the region," said Tillerson, at Mattis's side.
So what did Trump mean by his tweet on Tuesday then?
While I greatly appreciate the efforts of President Xi & China to help with North Korea, it has not worked out. At least I know China tried!

— Donald J. Trump (@realDonaldTrump) June 20, 2017
"He represents the American people's view of North Korea right now," said Mattis, referencing anger over the death of Otto Warmbier, held captive by the regime for over a year.
"We see a young man go over there healthy, and with a minor act of mischief, come home dead, basically. ... What you're seeing, I think, is the American people's frustration with a regime that provokes and provokes and provokes and basically plays outside the rules, plays fast and loose with the truth," he said.
It was another strongly worded warning to North Korea, but given the administration's different statements, it's unclear what it will do next.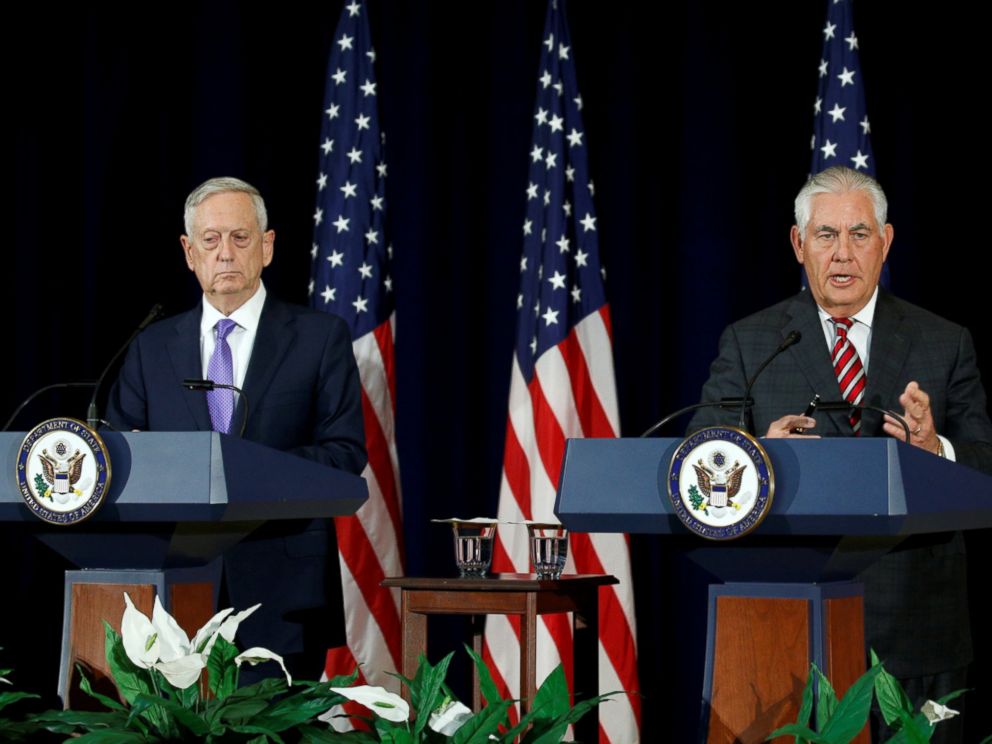 For his part, Tillerson doubled down on the current strategy, saying both the U.S. and China agreed to stop doing business with U.N.-sanctioned North Koreans. But with their Chinese counterparts absent from the press conference, there was no word from China on whether or not they will finally fully do that.
"We reaffirmed our commitment to implement in full all relevant U.N. Security Council resolutions. For example, we both agree that our companies should not do business with any U.N.-designated North Korean entities," said Tillerson -- adding more positive spin on the summit later when he said two delegations also had a "frank exchange of views" on the South China Sea, but that China said it was committed to resolving the disputes there peacefully.
In the meantime, the U.S. will continue to fly, sail and operate wherever the freedom of navigation allows, according to Mattis.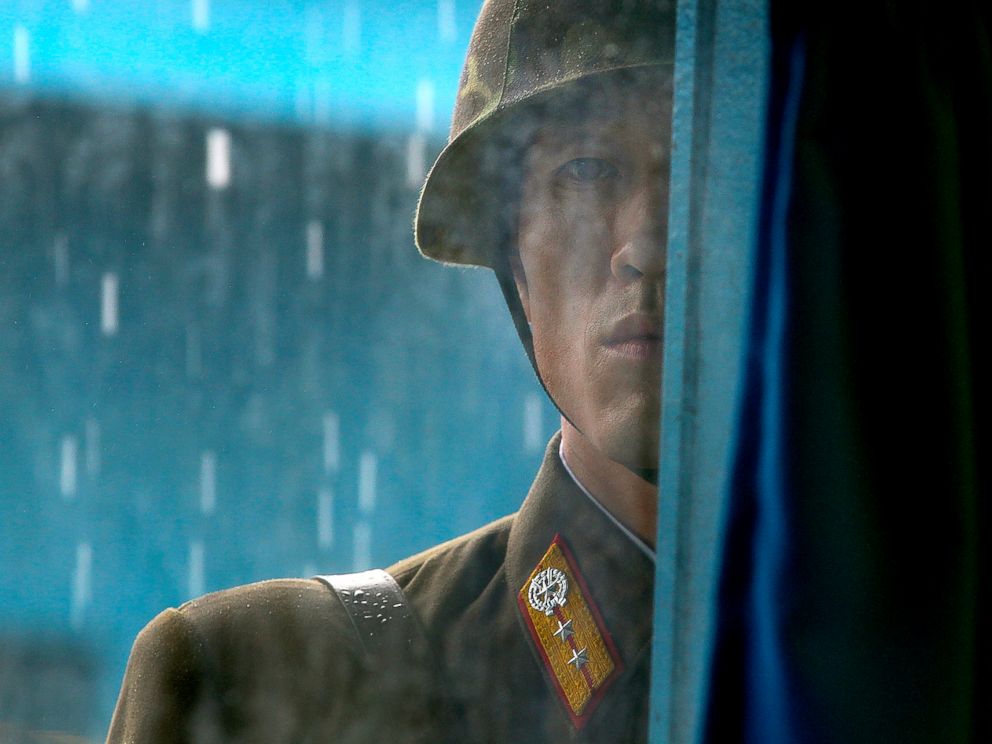 In general, both secretaries praised their summit, formally known as the Diplomatic and Security Dialogue, for involving higher level officials in both civilian and military posts than in the past and for laying the groundwork for greater engagement, better communication and reducing the risk of dangerous incidents going forward. Chinese State Councilor Yang Jiechi and Gen. Fang Fenghui, the chief of the People's Liberation Army's Joint Staff, led their country's delegation.
The American delegation also included Amb. Joseph Yun, who just returned from North Korea to secure Warmbier's release; Amb. Terry Branstad, the longtime Iowa governor who will soon begin his time as ambassador to China; and Gen. Joseph Dunford, chairman of the Joint Chiefs of Staff.
"This has been a unique opportunity for our nations to engage in philosophical level discussions about how we discuss these issues and discuss the way ahead," said Mattis. "While competition between our nations is bound to occur, conflict is not inevitable."
Today's meetings consisted of four working sessions, each focused on a couple of top security issues, like North Korea and the South China Sea.
The U.S. wants China to do more on defeating ISIS as well -- in particular, helping the Iraqi government to ensure long-term stability and economic growth, according to Tillerson.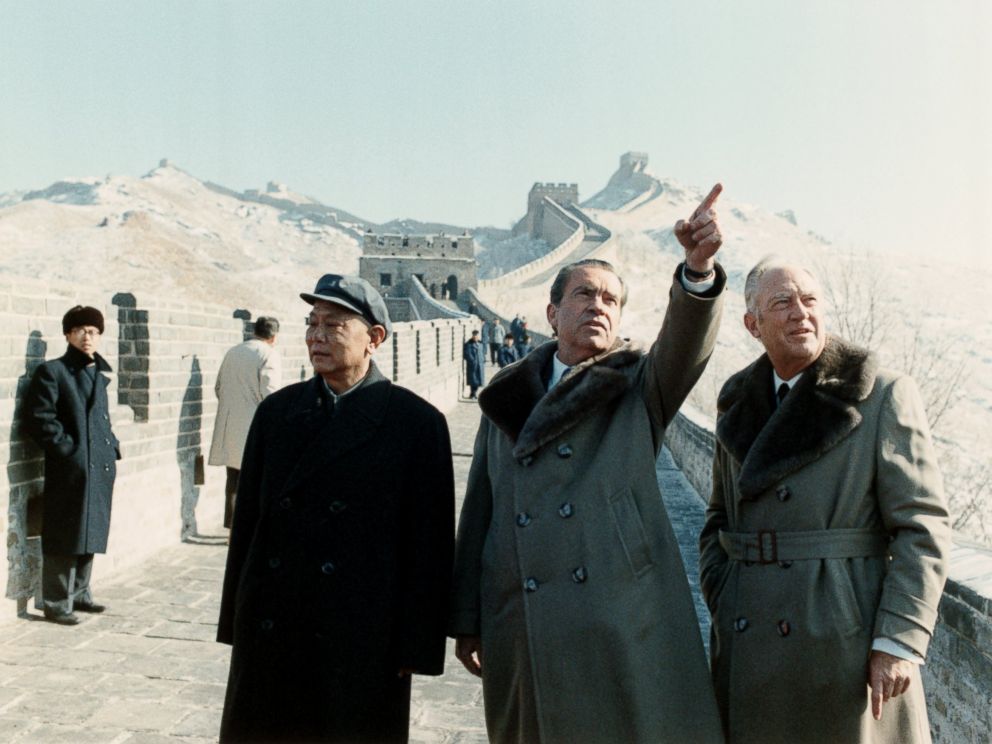 Tillerson also made a public nudge on human rights, something he's been hesitant to do otherwise.
"We will not be shy about raising our concerns about China's human rights record, and I was direct and candid in our meetings today," he said.
Later in the year, high-level representatives from both countries will meet for an economic dialogue, a law enforcement and cyber dialogue, and a social and people-to-people dialogue.