Boy Who Couldn't Afford Football Equipment for Tryouts Gets Surprise From Stranger
"I was on my way to a job interview and I rode past him," Earl Davis told "GMA."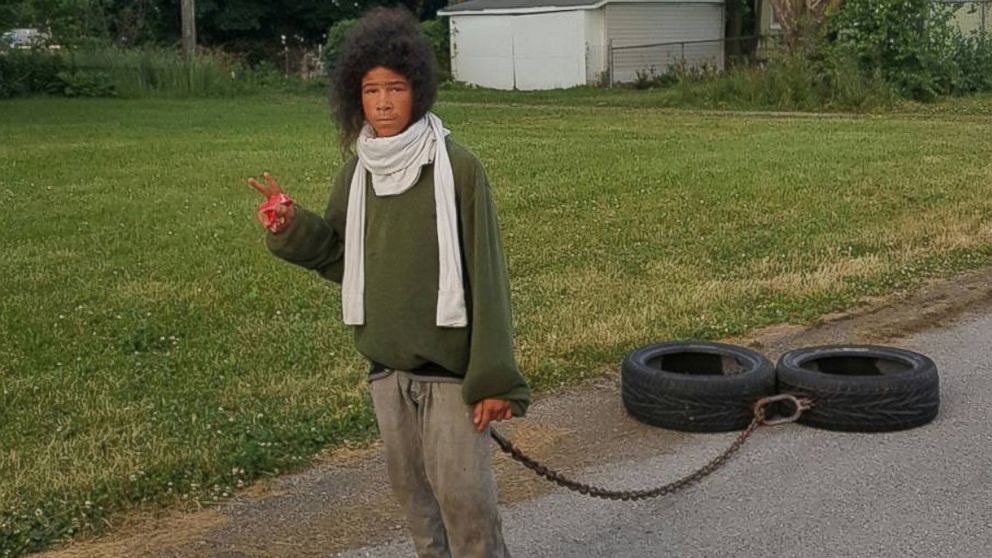 — -- A chance encounter between a teen and a stranger passing by has turned into a viral sensation resulting in some major surprises for 15-year-old Demarco Bailey.
"I was on my way to a job interview and I rode past him," Earl Davis, of Fort Wayne, Indiana, said of the first time he met Demarco, who was working out on the side of the road with tires chained around his waist for strength training.
After the two started chatting, Demarco explained that he made the homemade equipment to train himself so he could make the football team at school next year when he's a sophomore. His family couldn't afford real equipment, but that certainly wasn't going to dampen his spirits or slow Demarco down.
"He's so small and he looks about the same age as my kids that I coach," Davis, who coaches football for Metro Youth Sports, recalled of their initial conversation. "So I saw him and I was like, 'Wow.' My two boys play football and they were home asleep. They work hard, I can't say that they don't, but I wanted to take his picture to come home to show them his dedication."
Davis was so moved by the young man that he posted Demarco's photo, proudly displaying his homemade gear and well-worn clothes to Facebook, in order to inspire others that if they work hard enough they can achieve their goals. The photo quickly went viral with nearly 35,000 shares and 1,400 comments.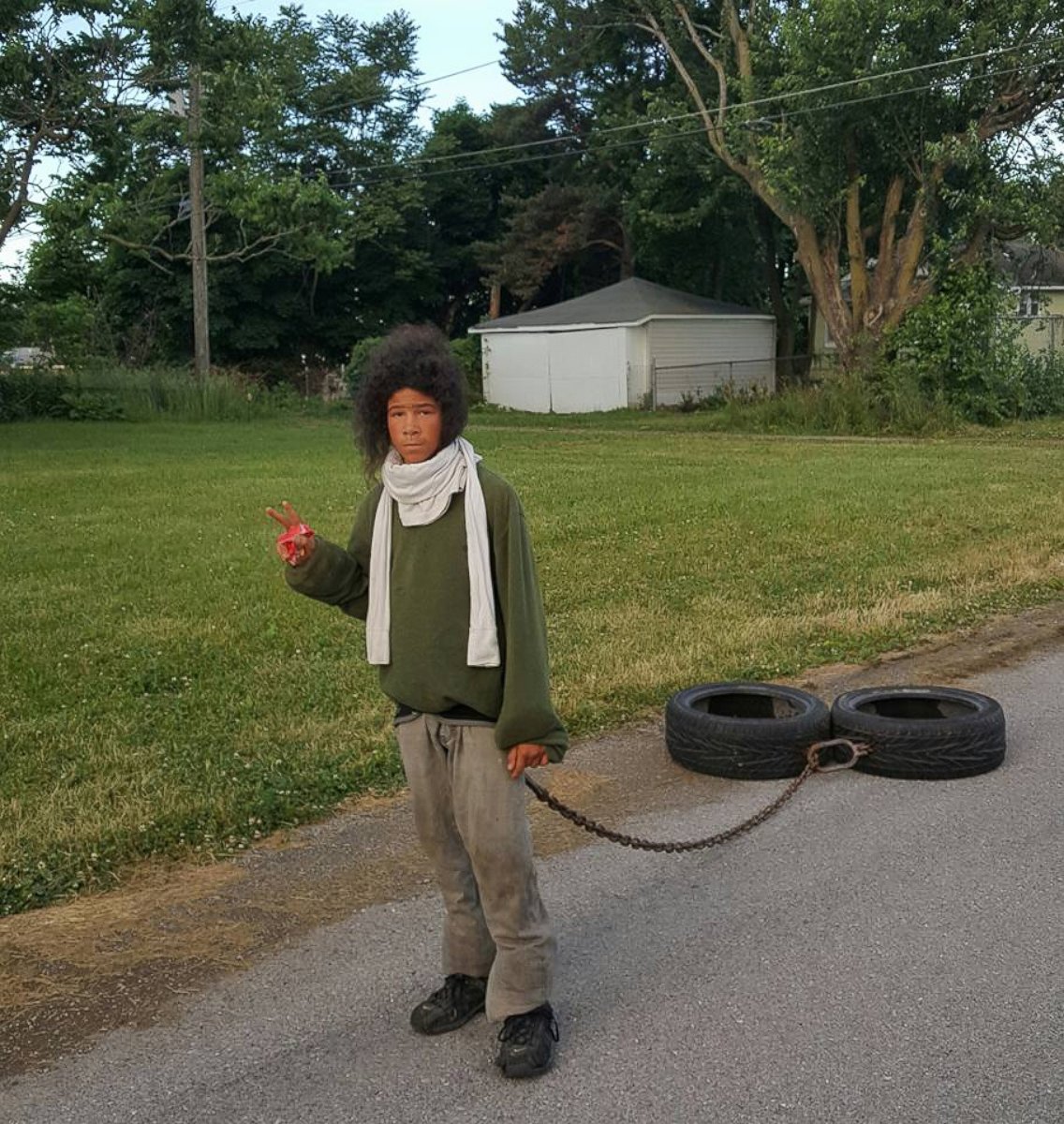 The Facebook post read, in part, "I gave him my name and number so he can work out with my boys, told him we have sleds, parachutes, resistant bands, weights, [etc.] He was geeked up. Best part of all, the whole conversation took place while he was still jogging. He said, 'Sorry to be rude coach but you gotta drive while I jog. I gotta stay moving.' He didn't wanna stop long enough to take a pic! When a kid wants to succeed as bad as they wanna breathe........then they will be successful."
Comments began pouring in from strangers wanting to help Demarco out, some even suggesting Davis launch a GoFundMe page for the teen to get new training gear. He listened to that advice, and the page has already surpassed its $5,000 goal.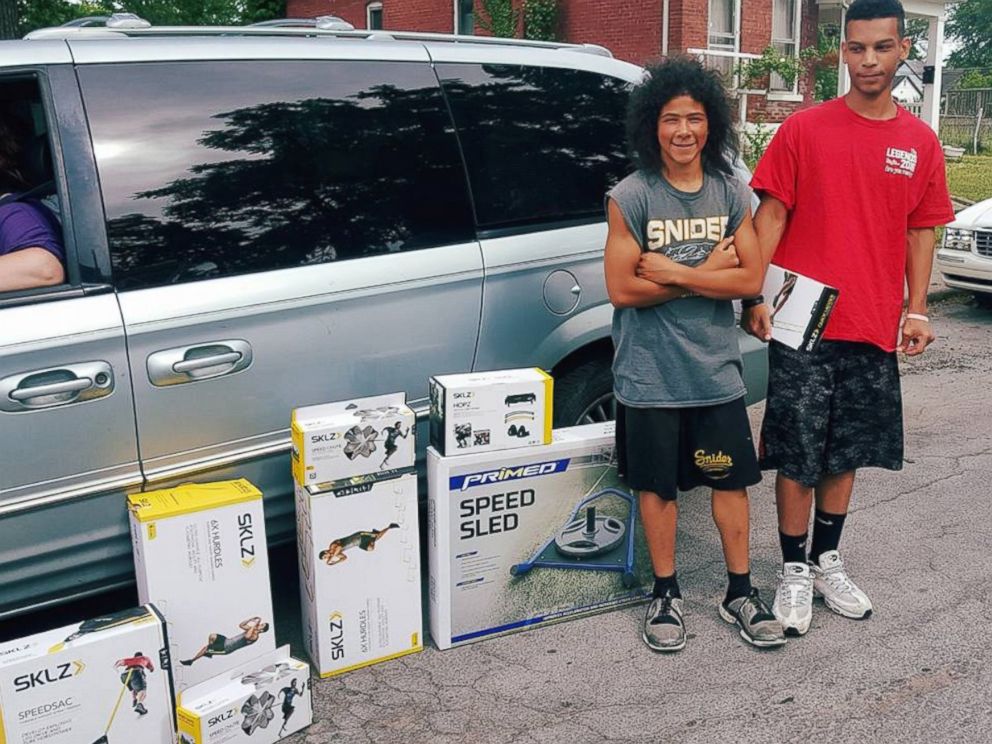 "I went back and met his mom and told her about the demand for the GoFundMe," said Davis. "I talked to his dad a couple times. On Sunday we all went out to Dairy Queen. They are so humble. It's a fight to get Marco to even spend the money that was donated for him. He doesn't want to spend it. He doesn't feel like he worked for it. He wants to take the stuff that was donated to him and get some equipment, but then donate the rest to others."
Davis has used some of the funds to purchase Demarco all new gear to get him started, but still wants to add to the collection. Demarco has even been training with Davis' sons at the gym to help give him the proper skills and background to play well on the field.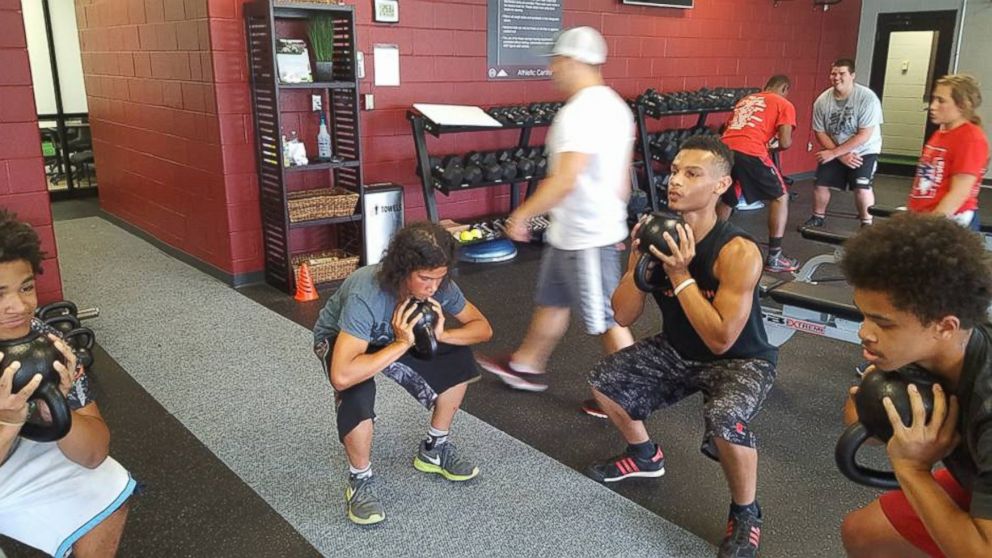 "He played football in eighth grade and had two concussions and that's why his mom wouldn't let him play freshman year, but now she's turning around on the idea," Davis explained. "She said that he is super aggressive on the football field, but he's never been trained to play the proper way, so that's where the concussions came from. With the proper training, she's willing to try it again."
Demarco's family is currently looking for new housing and is unsure of which school he'll be attending at the start of the school year, but it's safe to say with his new equipment and headstrong determination, he'll be more than ready for tryouts to begin.
"I can't really believe it," Davis said of all the attention his heartwarming post has gotten. "Demarco is so calm about everything. You never meet a kid like that. He doesn't like the attention, he just wants to keep working out."