— -- One restaurant in Chicago is serving up a modern twist on a Thanksgiving classic: clear pumpkin pie.
Chefs at Alinea created a stunning slice of pie without its traditional orange pigment for the restaurant's 20-course fall tasting menu.
Simon Davies, chef de cuisine at the three-star Michelin restaurant, posted a video on Instagram of a small translucent slice with the hashtag surrealism.
"It fits into our menu in a playful way and allows our guests to experience something new," Davies wrote. "We by no means are trying to re-create a classic. It's just our way of having some fun."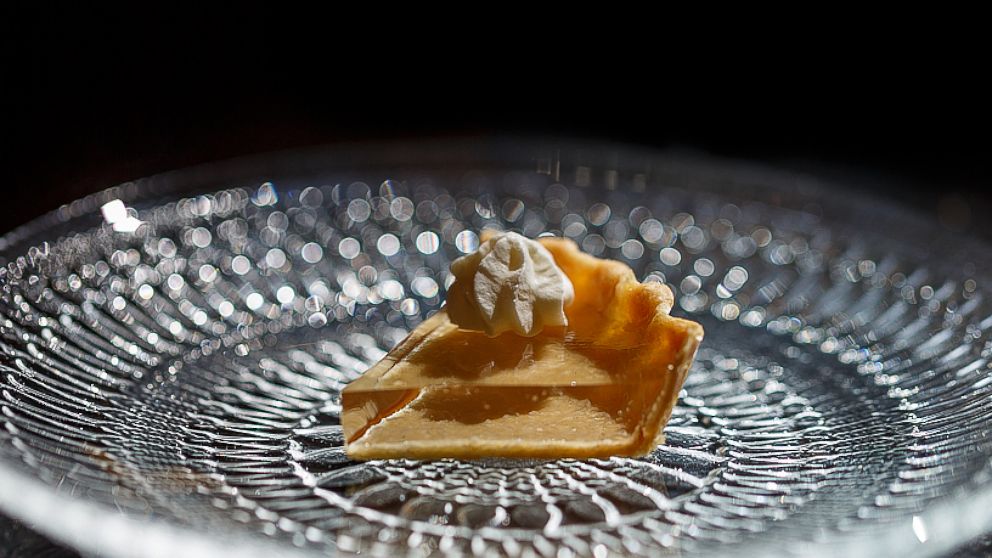 Davies listed off the ingredients used in the pie: pumpkins from an organic farm 20 miles outside Chicago, cinnamon, clove and ginger powder that he said are distilled down to create the crystal clear filling. For the simple and more traditional crust, the chef uses all-purpose flour, butter, water, heavy cream, Tahitian vanilla, sugar and salt.
While Davies did not explicitly explain his technique, he did say the filling is "slightly gelled."
Alinea's founder, Grant Achatz, also posted a photo of the sleek modern pumpkin pie topped with a tiny dollop of whipped cream. It has received nearly 30,000 likes on Instagram.
Allen Hemberger, a photographer and author of "The Alinea Project," told ABC News that aside from the "drastic visual difference" from traditional pumpkin pie, this treat still tastes like the orange-hued holiday favorite.
"[Its] texture is completely indistinguishable from the pumpkin pie most of us grew up with," Hemberger said. "This is by design. If it tasted drastically different, the dish would just be weird for the sake of weird."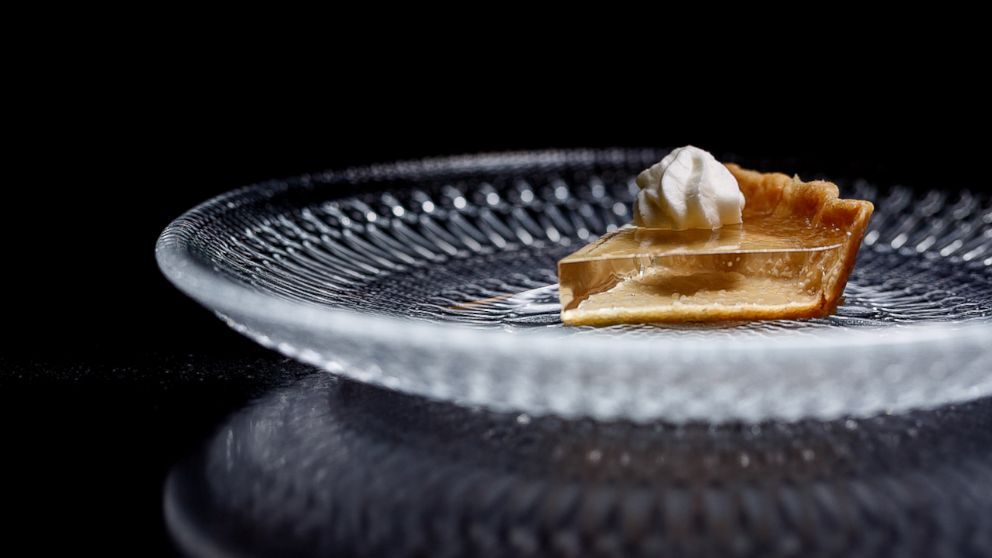 He added, "The emotional payoff of it is the fact that it does taste completely familiar, almost identical to the nostalgic flavor most people have banked away in their childhood memories. The chefs wouldn't have put it on the menu if it didn't taste exactly right. Without the flavor recognition, it's not magic."
Alinea offers the whimsical pie as part of its most exclusive menu experience. Prices per seat vary according to the date and time of reservation.