Dad Delivers Highway Baby Just in Time for Father's Day: 'I've Never Been That Nervous'
Everett Asher Eakes was born at 1:51 a.m. on the side of Highway 105.
— -- A Texas dad received, er, delivered, his Father's Day gift early this year when he unexpectedly helped bring his newborn son into the world.
"Immediately, this rush came over me," Bo Eakes of Montgomery, Texas, told ABC News today of the Thursday morning incident. "It was wild. I've never been that nervous in my whole life."
He added: "The only thing I could think of that made me respond the way that I did was my second child, Evelyn: I helped deliver her. I was nudging the doctor [to help]. Also being in the military, we have medical training we do on a regular basis. I think everything just came back."
Eakes said it was around 1 a.m. Thursday when his wife, Kristen, woke him up and announced she was in labor.
"Kristen said, 'We got to go now,'" Eakes recalled. "It takes about 7 or 8 minutes to get out of our neighborhood. She just started having heavy contractions and said, 'Oh, my God, I feel like I'm pushing. I don't think I'm going to make it.' I said, 'Don't worry, hon, we're going to make it.'"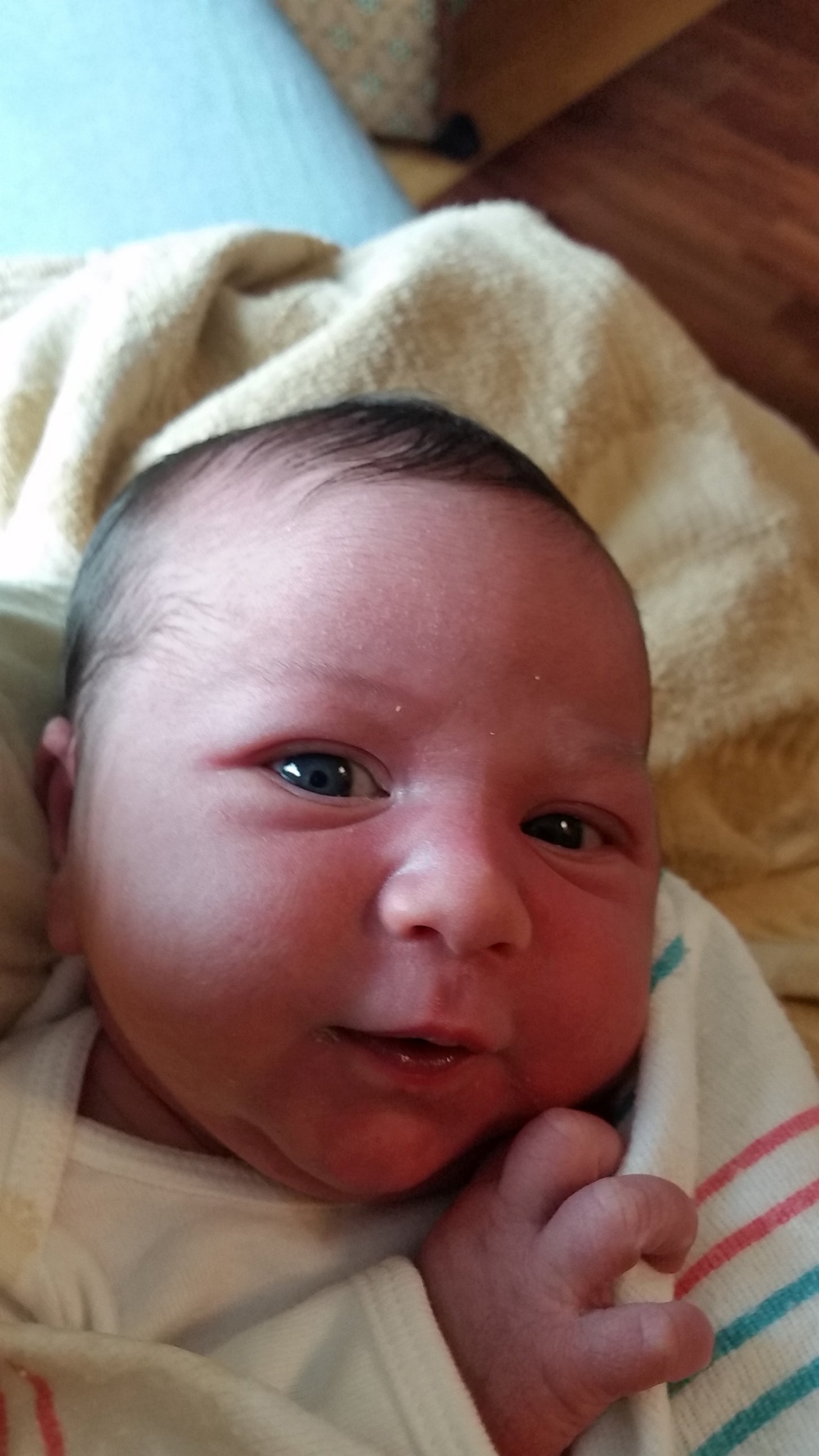 Eakes said he began picking up the pace on Highway 105 en route to CHI St. Luke's Health-The Vintage Hospital in Houston, which is about 35 minutes away from their home. They were planning to reroute to a closer hospital, but Kristen informed her husband that the baby's head had already crowned.
With his three children sitting in the backseat, Eakes pulled over and dialed 911.
"My oldest daughter, Kaitlyn, was timing the contractions on an app," Eakes said. "I finally reached 911 and informed the dispatch of our location. Kristen's just screaming in the background. She said, 'I need you to get off the phone. I need your help.'"
Eakes dropped the phone on the hood of the car and walked around to the passenger side where his wife was giving birth in the front seat.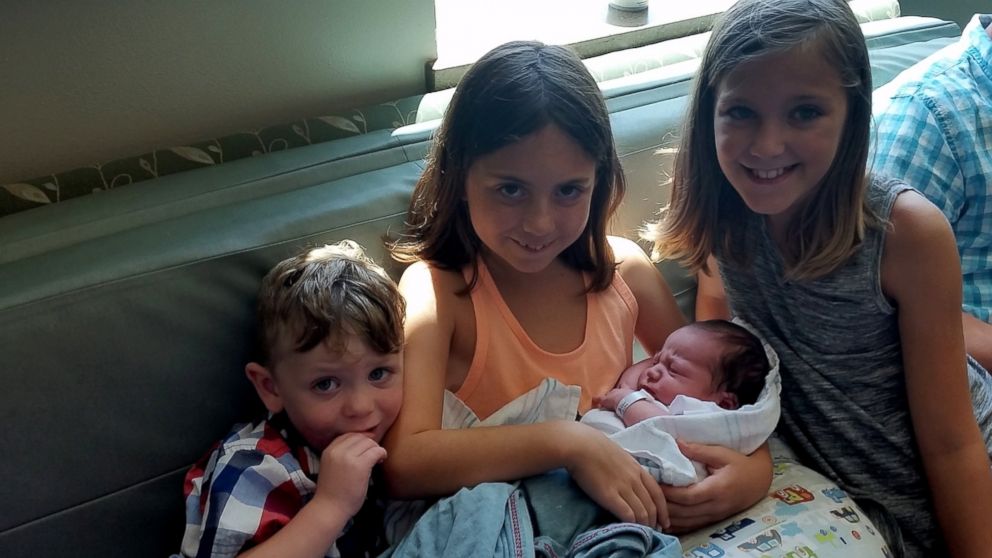 "In my head, I'm saying, 'Don't push, hold him in,' but I didn't have control over it anymore," Kristen Eakes told ABC News. "It felt like forever but all of a sudden my husband said, 'Oh, my God, it's a boy."
At 1:51 a.m., Everett Asher Eakes was born. He was 8 pounds, 11 ounces.
"I finally got back on the phone with the dispatch who said, 'I'll walk you through this delivery and I said, 'Well, I already delivered him,'" Eakes said, laughing. "The kids were just ecstatic, cheering her on, saying, 'Good job, mom.'"
The paramedics of Montgomery County Hospital District arrived at the scene minutes after Kristen gave birth to Everett.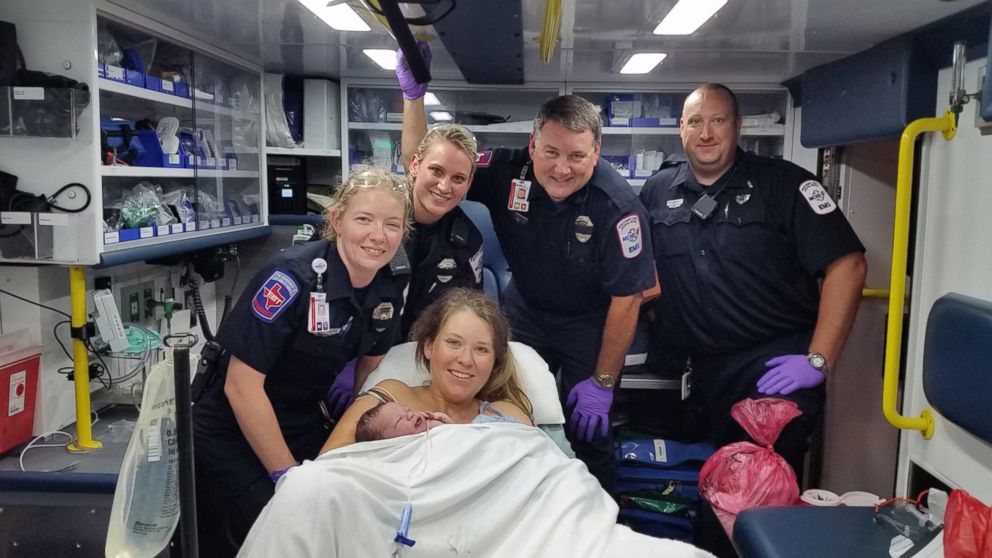 Terry Carpenter, the in-charge paramedic that day, said he was impressed when he and his team arrived on the scene. Carpenter even helped Eakes cut the umbilical cord.
"Mom and dad did such a great job that it made my his life easy," Carpenter said in a statement to ABC News.
Although Everett's arrival was quite the surprise, the Eakes family said he's doing fantastic and they couldn't be happier.
"I was joking with the nurse, 'he's got his Father's Day gift,'" Kristen said of her husband. "Just the experience alone, for him to be the first one to hold him has been amazing for him."